In this post we take a look at this collection of religious birthday prayers to encourage someone on their birthday. Great for anyone in the family or a friend. So, let's get started!
After writing Birthday Bible Verses and Birthday Blessings I thought it would be nice to add a post on birthday prayers. These prayers below are not just birthday wishes but heartfelt prayers to God for the birthday person.
Birthdays are a fantastic way to celebrate someone you love and make amazing memories. One of the ways we can do that is by sharing a message or prayer.
As a Christian, I believe in the power of prayer. I believe it can transform your life and change your destiny. And that's my heart for this post that it wouldn't just a nice little list of birthday prayers but that these would be prayers you would sincerely pray to the Lord for the person receiving them.
Just like I have done in my other posts here is a table of content to help you navigate through the blessings. But I encourage you to just scroll through as a lot of these can be changed up to fit for your mom, dad, wife, husband, son, daughter, friend…etc.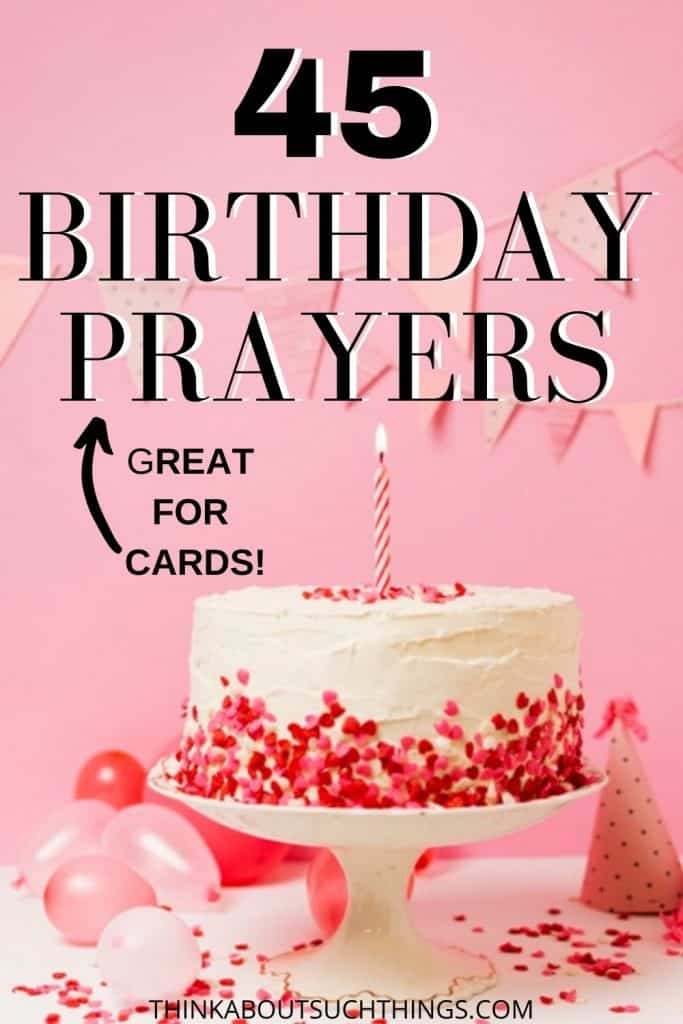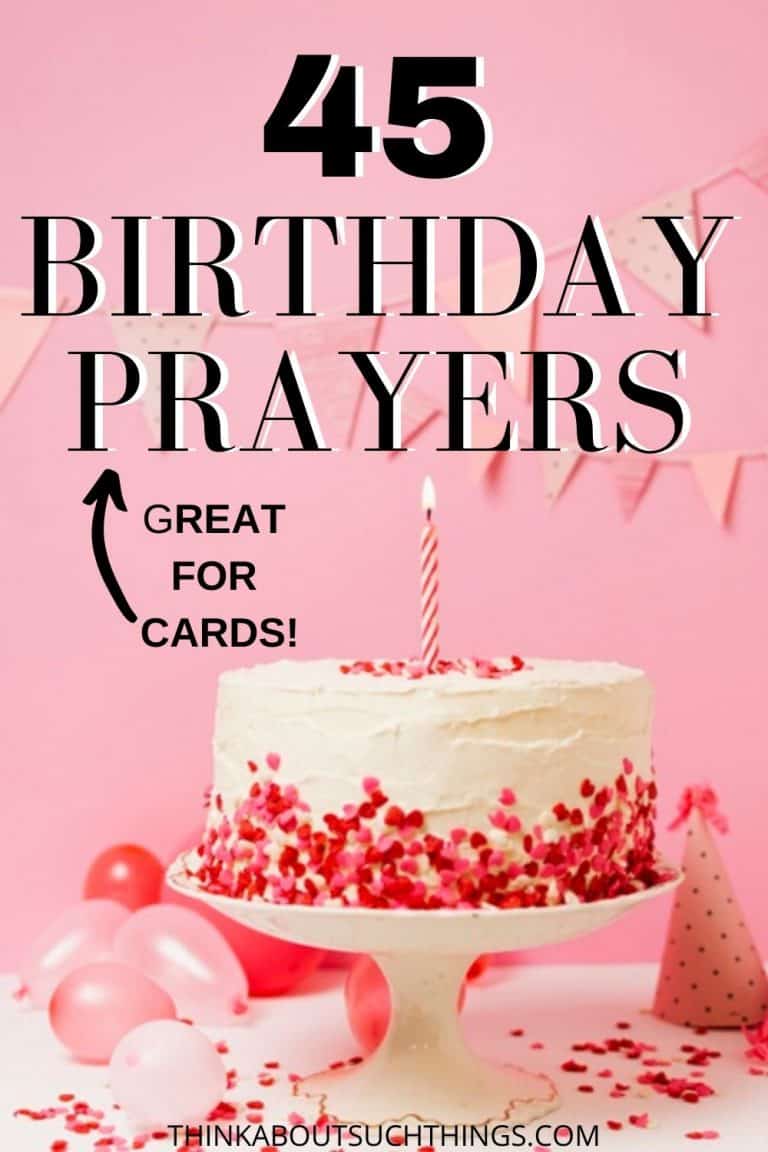 Before we start I do want to encourage you to let the Holy Spirit guide you as you read through these prayers and also be open to Him directing you to pray something straight from your heart for the birthday person!
How To Use And Share Birthday Prayers?
Much like Birthday Bible verses and Blessings. They can be used in a number of different ways. Here are some ideas on how to use birthday prayers:
MOST POWERFUL – Pray them over the birthday person. Meet up with them or give them a call. Ask to pray over them for their birthday. Trust me it will bless them incredible.
Write the prayer in a card, text message or an email
Share one of the images below on their social media! (Check out more birthday images here)
In a gift example: write the prayer on the inside flap of a book or Bible
Birthday Prayers To Celebrate Someone Special
If you have been around Think About Such Things or have read my posts on prayer. You will know I believe that prayers should come from a sincere place in your heart. So, I really do encourage you that you let these prayers inspire you to make a custom prayer, but at the same time feel the freedom to just use them the way they are.
Some of these prayers were written by me. If they are not they will be noted by their source or Bible reference. Feel free to use them and the images for personal use to bless the birthday person.
General Birthday Prayers
I pray that the Lord would bless you and enlarge your territory! That God's hand would be with you, and keep you from harm so that you will be free from pain. (Taken and modified from the prayer of Jabez 1 Chronicles 4:10)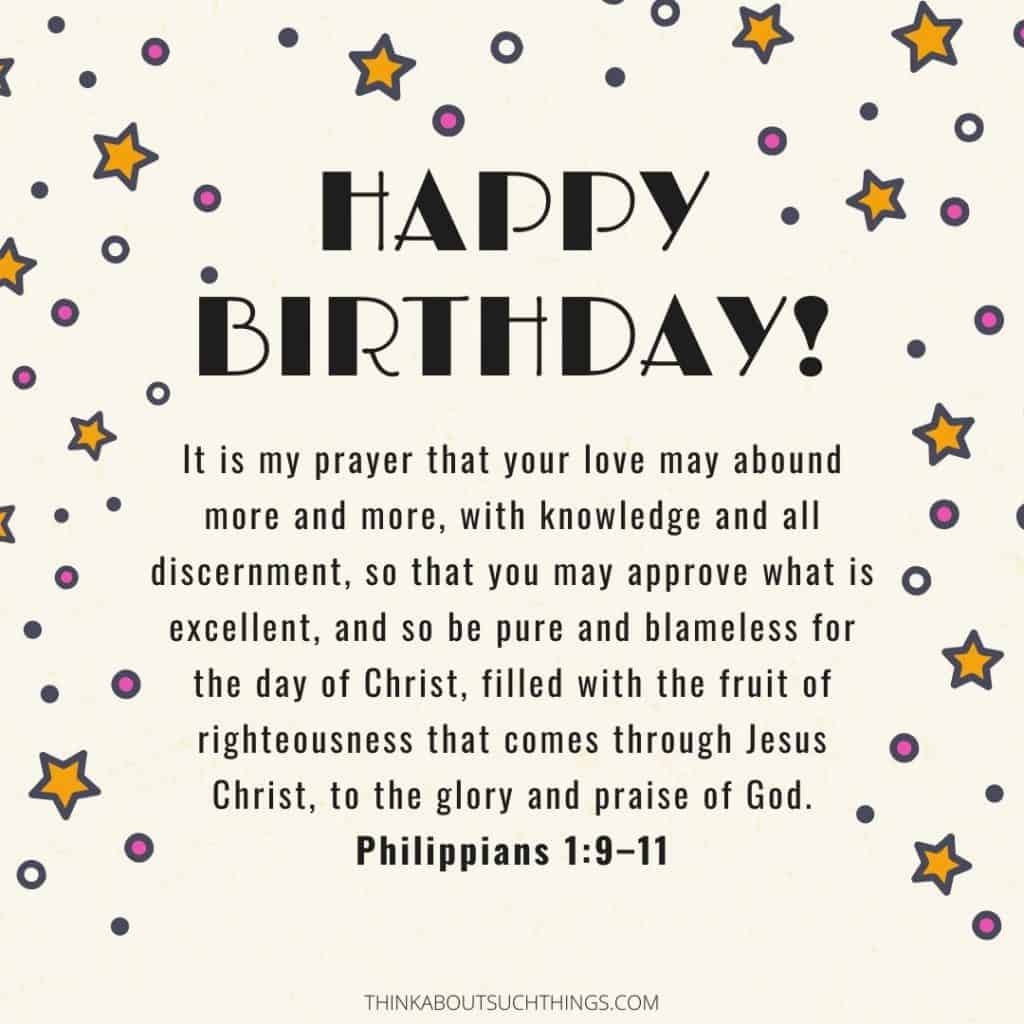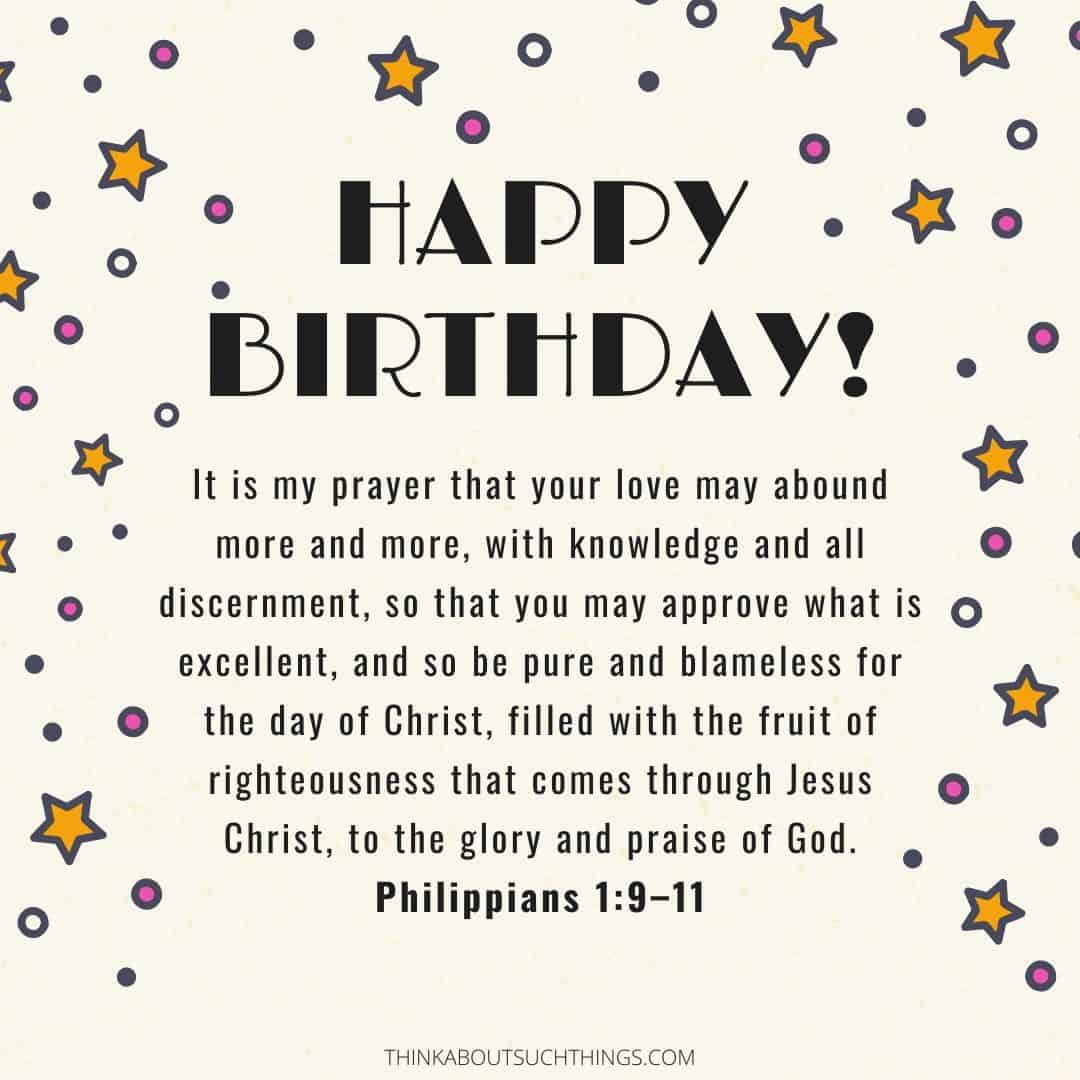 My prayer for you today on your Birthday. Is that the Lord would give you an abundance of peace and joy.
Happy Birthday! I pray that our Lord Jesus would bless this new year and provide for all your needs.
Heavenly Father, today we celebrate (insert name) birthday. We pray that you would bless (insert name) with your love and favor. That their inner man would be strengthen in you O' Lord. That they would be filled with your Holy Spirit and run the race with excellecent.
Do not cease to give thanks for you, making mention of you in my prayers: that the God of our Lord Jesus Christ, the Father of glory, may give to you the spirit of wisdom and revelation in the knowledge of Him, the eyes of your understanding being enlightened; that you may know what is the hope of His calling, what are the riches of the glory of His inheritance in the saints, and what is the exceeding greatness of His power toward us who believe, according to the working of His mighty power which He worked in Christ when He raised Him from the dead and seated Him at His right hand in the heavenly places, far above all principality and power and might and dominion, and every name that is named, not only in this age but also in that which is to come. – Ephesians 1:16-21 NKJ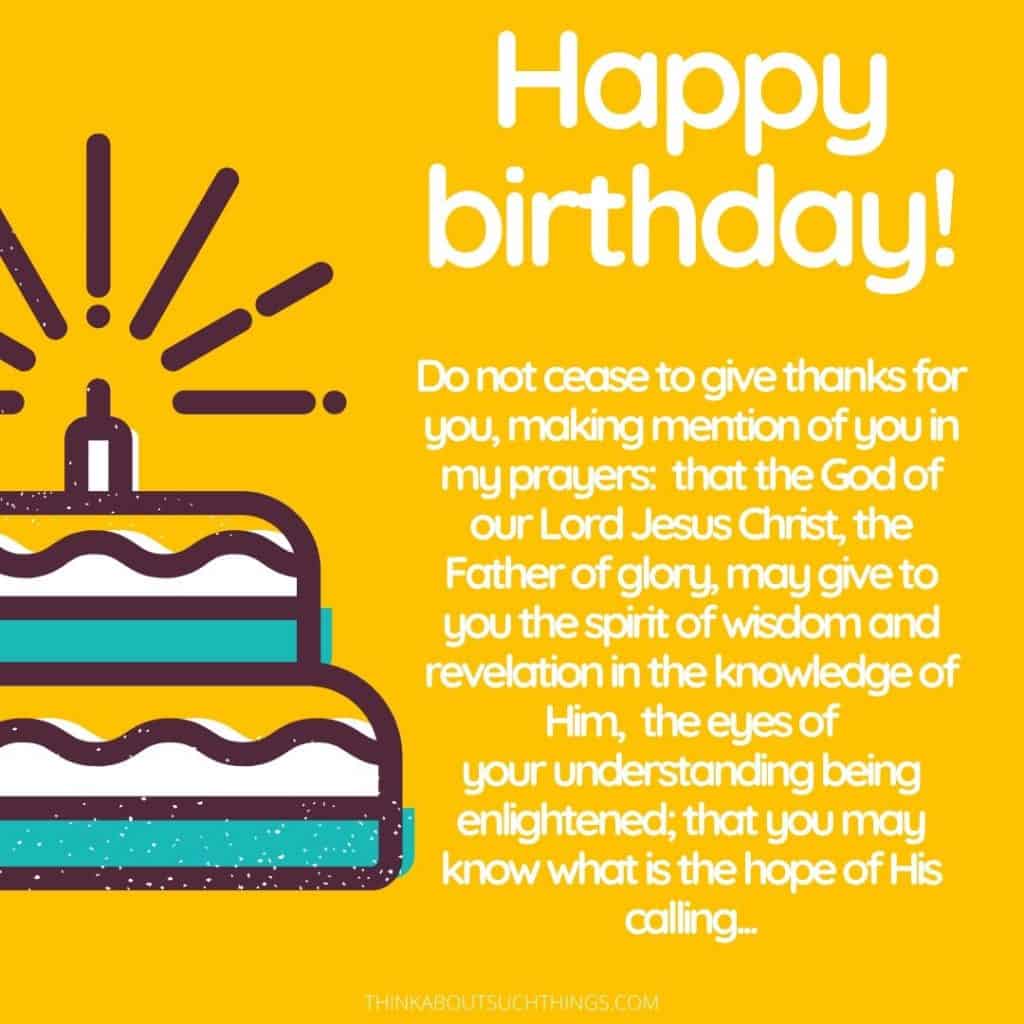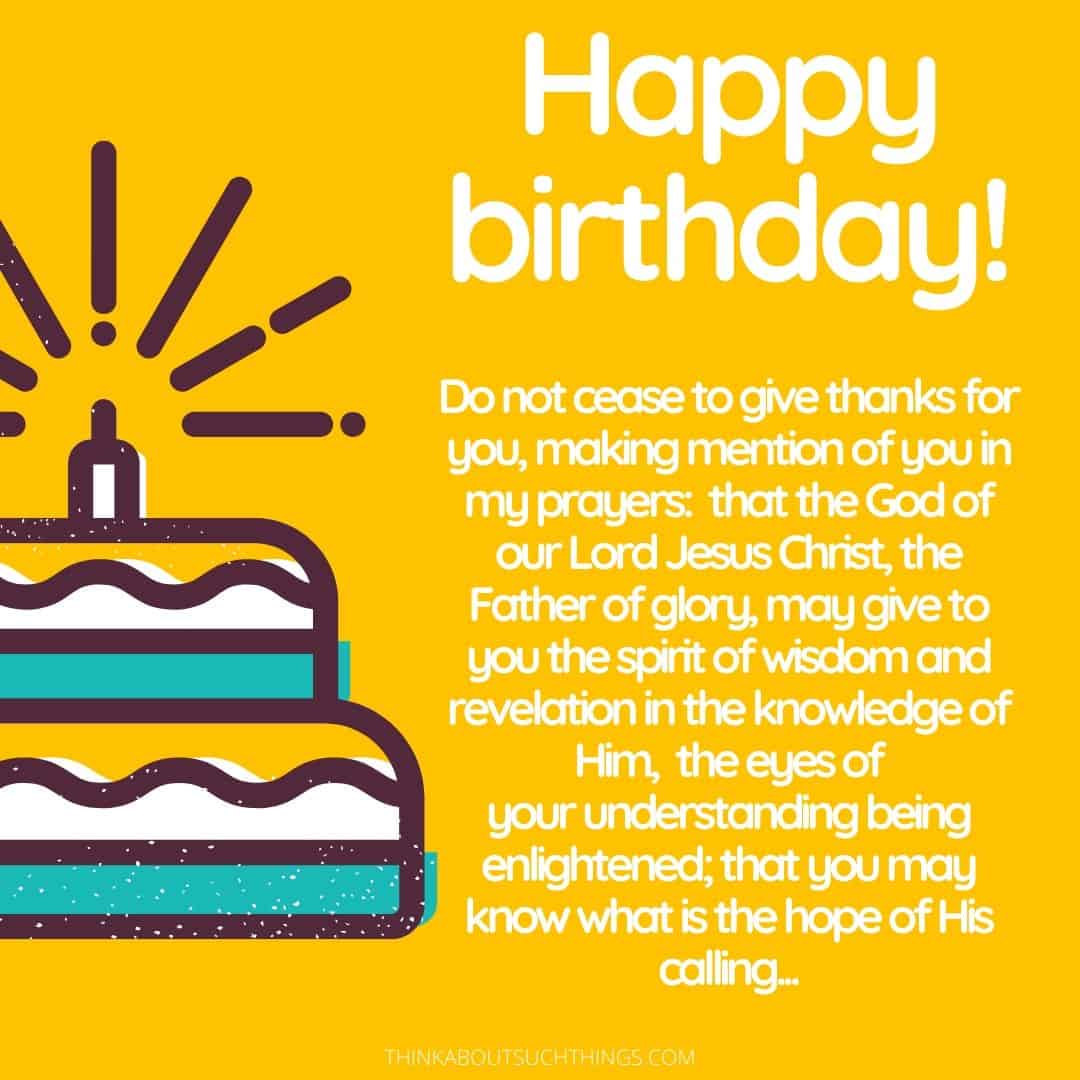 Another year of life upon this earth: I hope that you have used it full and well.
And yet another starting now, today:
Perhaps you should rededicate your life,
And give it to the Lord, who gave you yours.
For all that went before has passed behind;
Your future lies before you like a road.
And so I pray the Lord will be with you,
And dwell with you, and keep you as His own,
And walk with you, beside you, down the road.
And now I pray that He will make today
The finest birthday that you ever had. – by Rev. Bill McGinnis
God of all creation, we offer you grateful praise for the gift of life. Hear the prayers for (insert names), your servant, who recalls today the day of his/her birth and rejoices in your gifts of life and love, family and friends. Bless him/her with your presence and surround him/her with your love, that he/she may enjoy many happy years, all of them pleasing to you. We ask this through Christ our savior. Amen.
– United Methodist Book of Worship
O God our times are in your hand; Look with favor we pray, on your servant (insert names), as he/she begins another year. Grant that he/she may grow in wisdom and grace, and strengthen his/her trust in your goodness all the days of his/her life; through Jesus Christ our Lord. Amen. – By Charles Price
May God give you…
For every storm, a rainbow,
For every tear, a smile,
For every care, a promise,
And a blessing in each trial.
For every problem life sends,
A faithful friend to share,
For every sigh, a sweet song,
And an answer for each prayer. – An Irish Prayer
It is my prayer that your love may abound more and more, with knowledge and all discernment, so that you may approve what is excellent, and so be pure and blameless for the day of Christ, filled with the fruit of righteousness that comes through Jesus Christ, to the glory and praise of God. -Philippians 1:9–11
We have not ceased to pray for you, asking that you may be filled with the knowledge of his will in all spiritual wisdom and understanding, so as to walk in a manner worthy of the Lord, fully pleasing to him: bearing fruit in every good work and increasing in the knowledge of God. -Colossians 1:9–10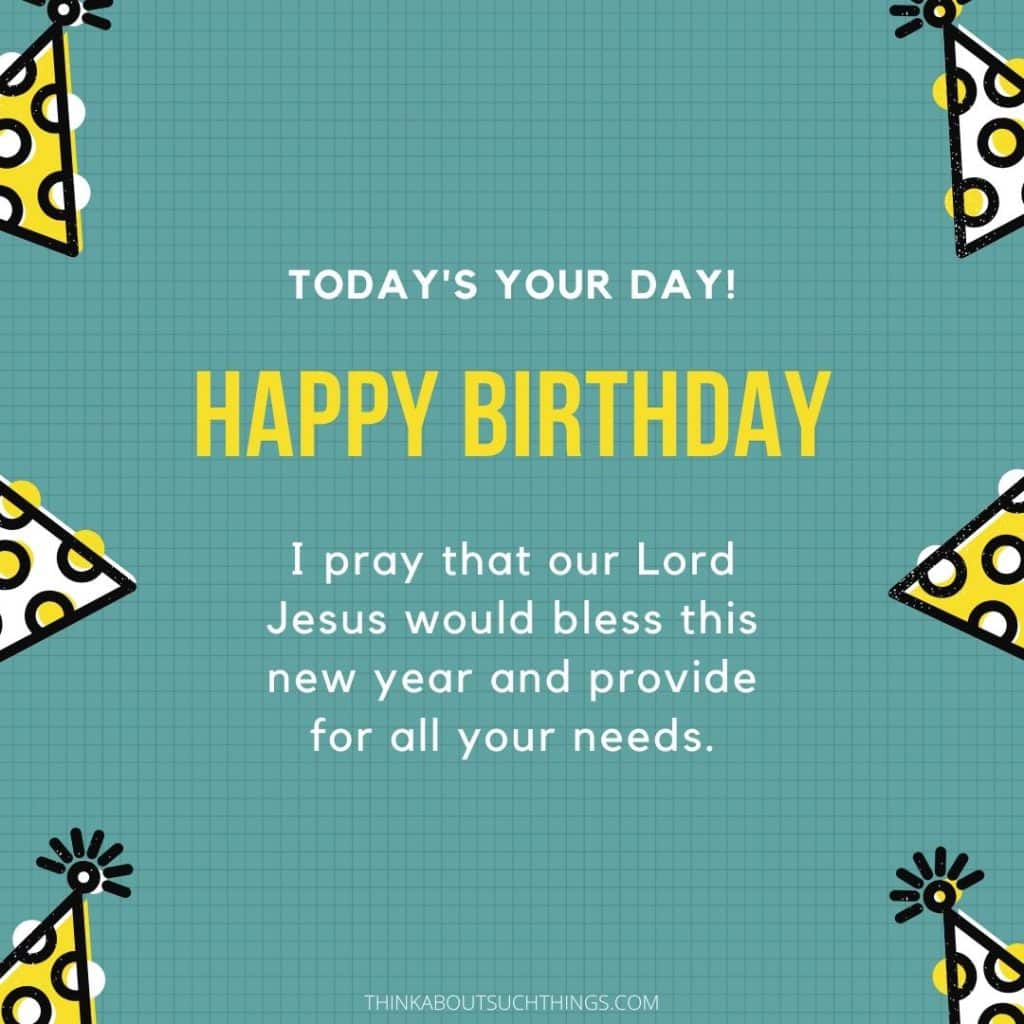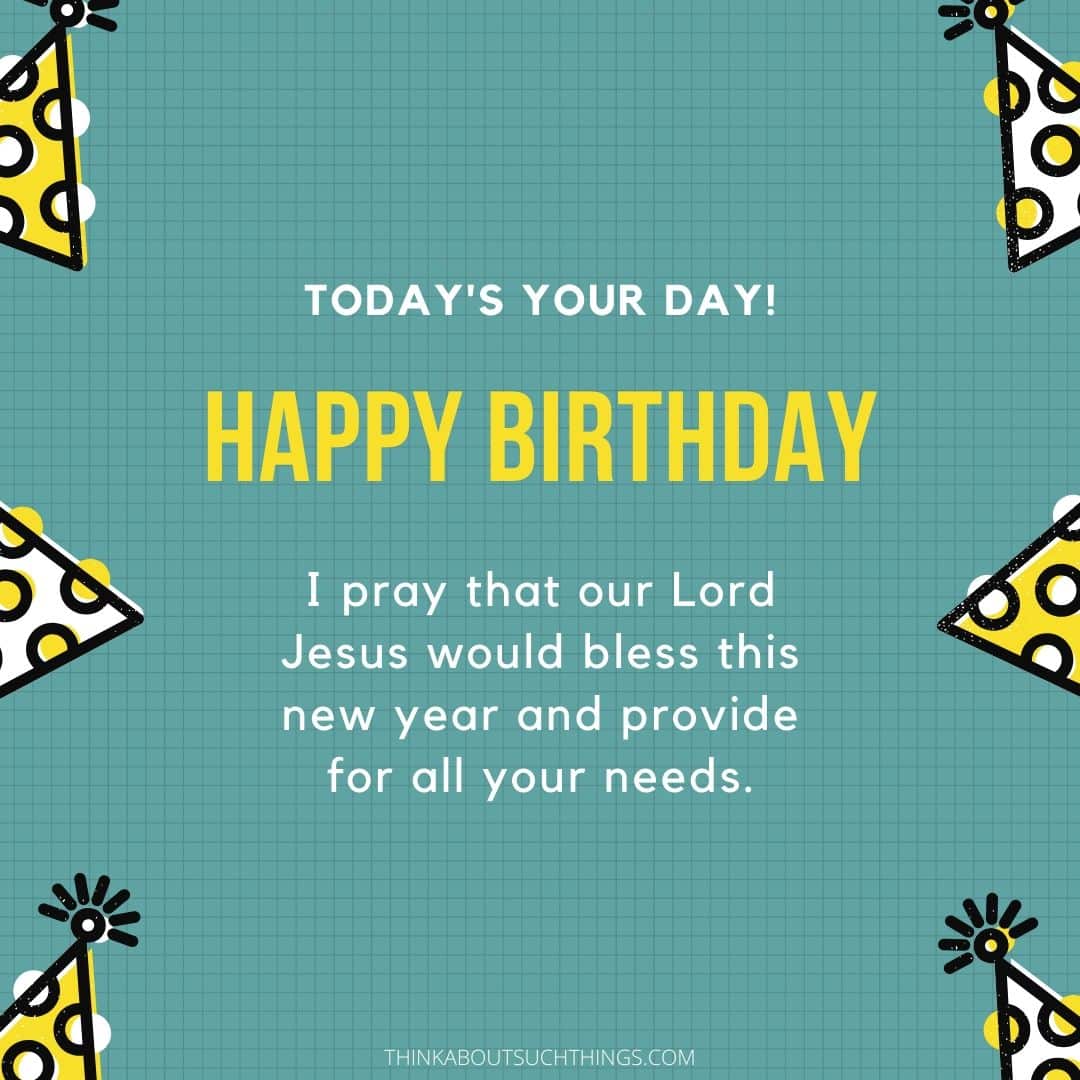 Jesus said, "I am the light of the world" May the birthday candles that represent the years of your life. Be a reflection to others of your love for Christ. – Unknown
I pray on your birthday that your faith in God continues to grow as you grow older, and that you find comfort in God's love for you. Wishing you many blessings on your special day. -Unknown
I said a prayer for you today
And know God must have heard.
I felt the answer in my heart,
Although He spoke no word.
I didn't ask for wealth or fame,
I knew you wouldn't mind.
I asked Him to send treasures
Of a far more lasting kind.
I asked that He be near you
At the start of each new day
To grant you health and blessings
And friends to share your way.
I asked for happiness for you
In all things, great and small,
But it was for His loving care
I prayed for most of all.
– Author Unknown
Birthday Prayers For Mom
I thank God for you Mom! I pray that this birthday will be the start of a season of blessing and joy.
Happy birthday, mom! My prayer for you is that this coming year is full of beauty. That God would overflow your life with His love and bless you.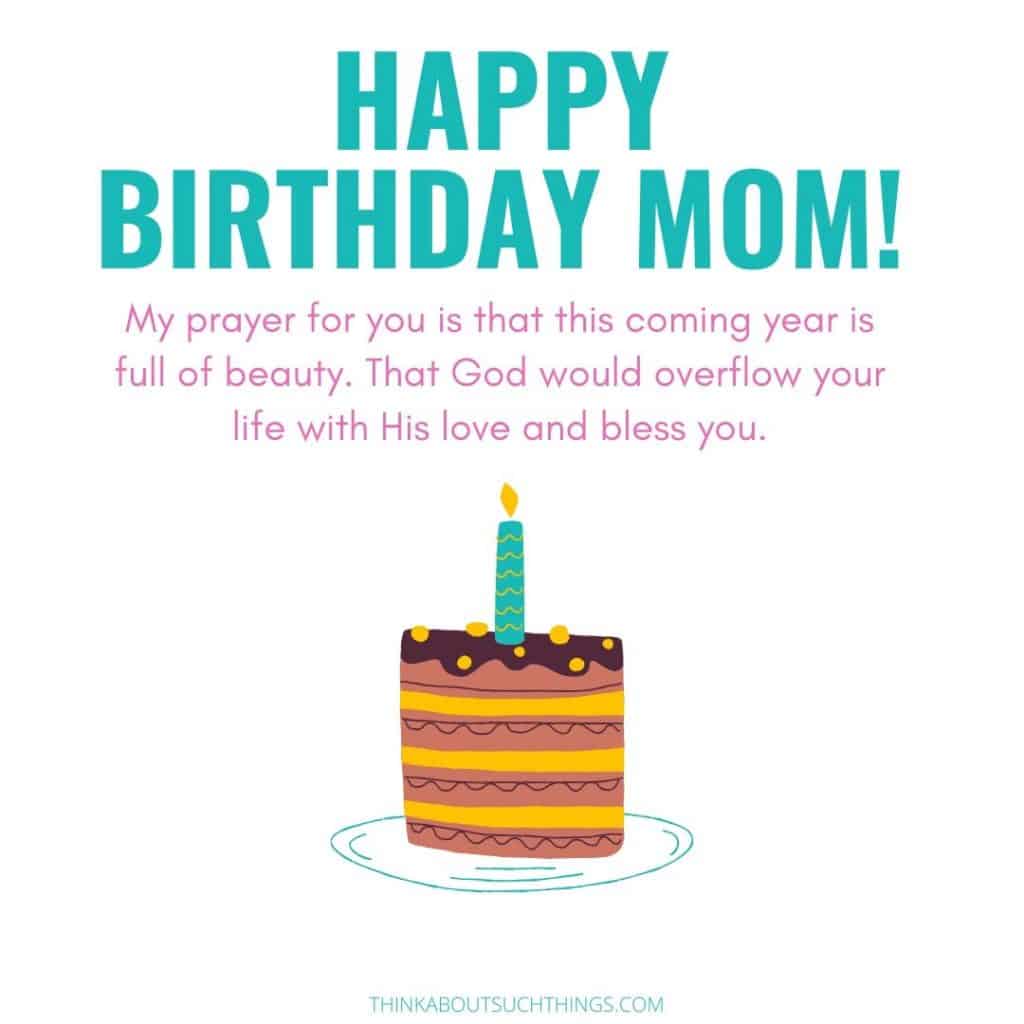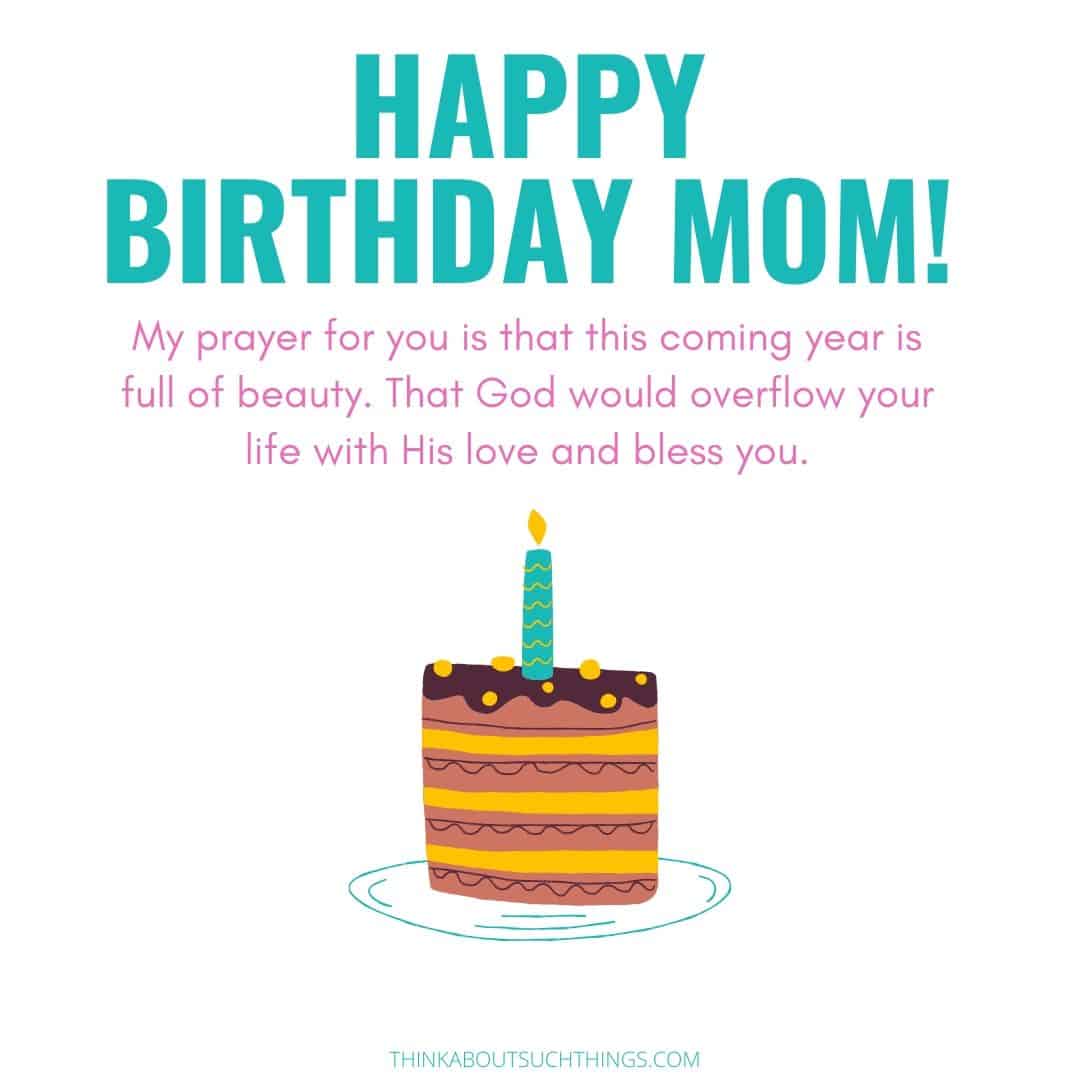 Mom, it's your birthday! Words cannot express how thankful I am for you. My heart's prayer is that you would prosper in everything you do and that God would bless you and every person you adore.
Birthday Prayers For Dad
Happy birthday to the best Dad! I pray that God would keep you in good health and watch over you. That He would pour out His blessing over you and that your love for Jesus would grow.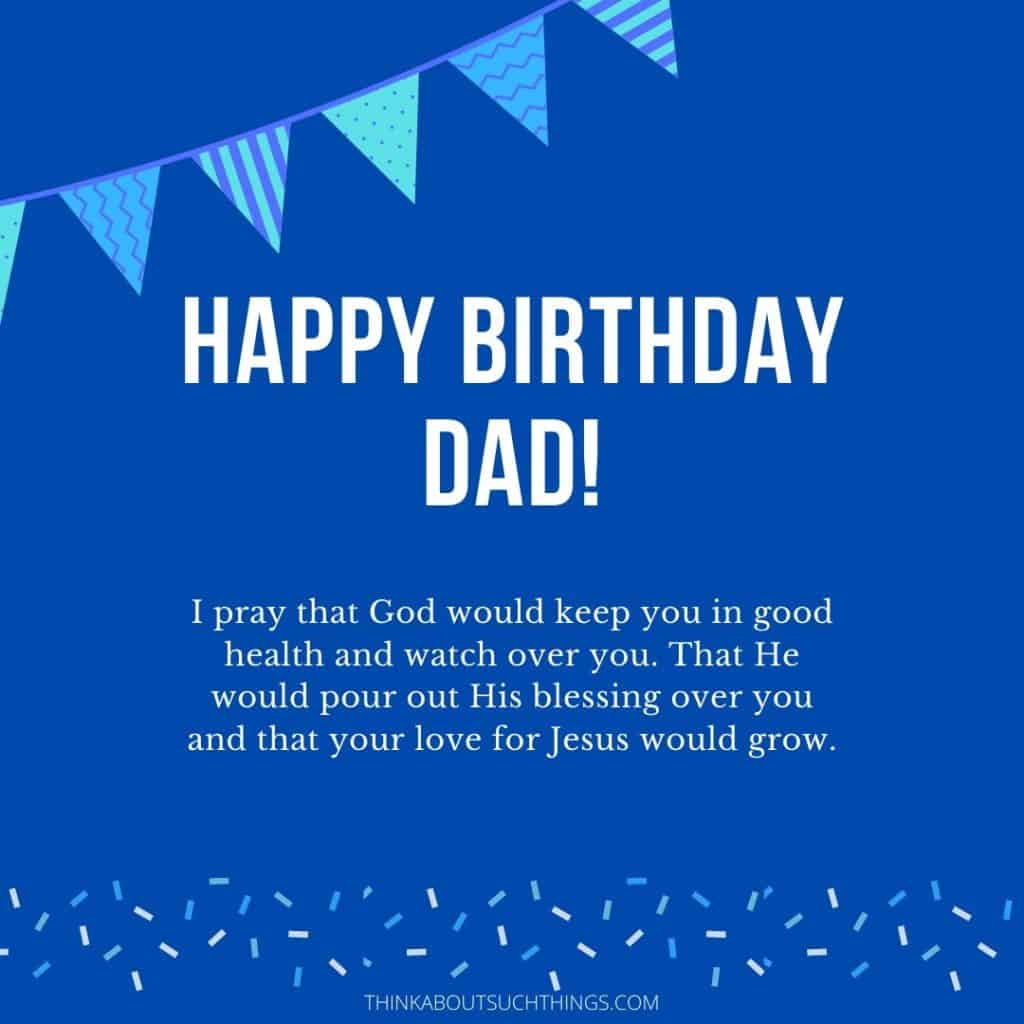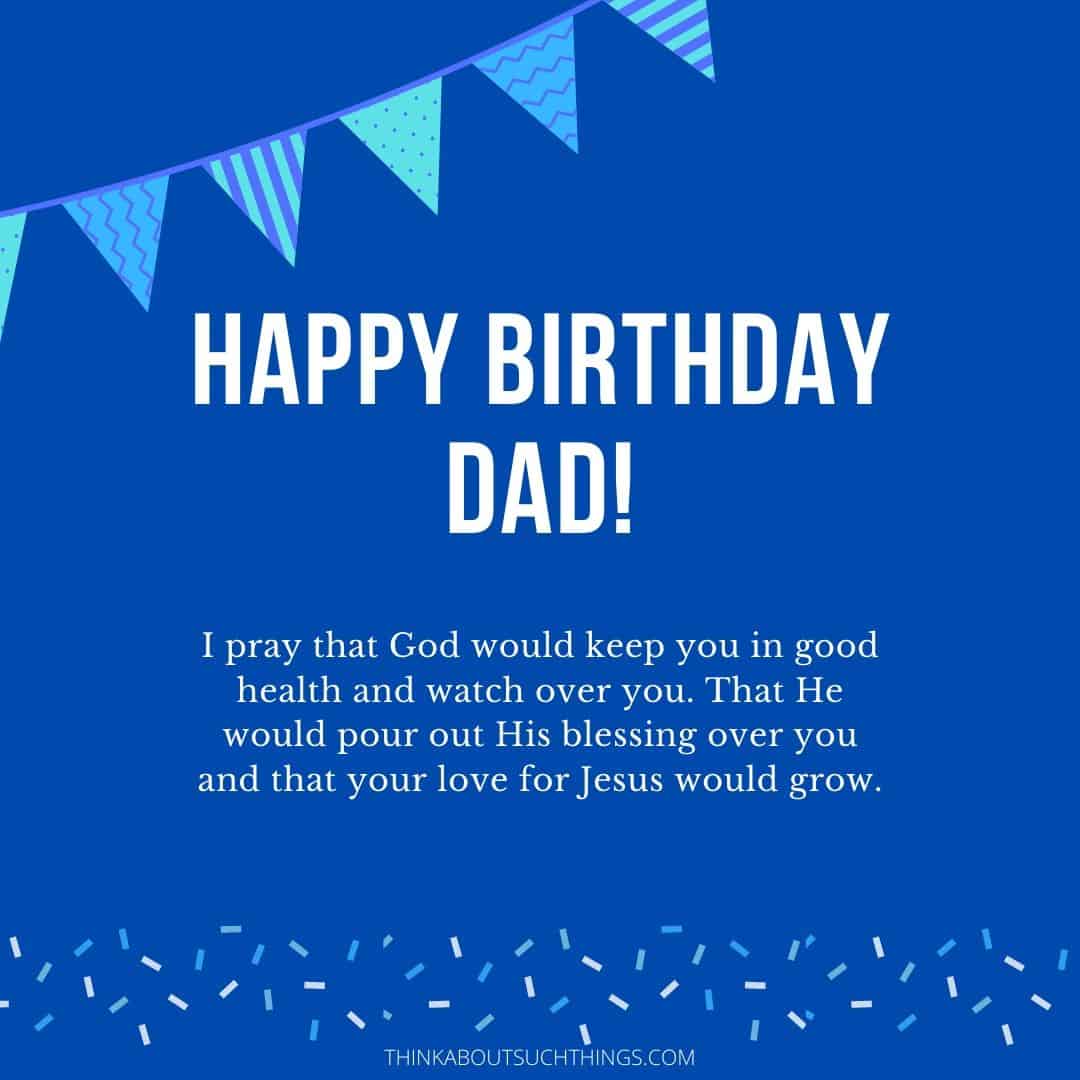 Dad, Happy Birthday! My prayer is that Jesus would give you grace and favor. Many blessings to you!
Thank you, dad for everything you have done for me. I hope and pray that this birthday will just be one of many, many more happy, healthy, and prosperous years. God bless!
Birthday Prayers For Wife
To my beautiful wife on her birthday…. I pray God stands with you when you need strength, He comforts you in times of sorrow, and blesses the work of your hands. You are a joy to me always. God bless you!
God blessed me when He gave you as my wife. I hope and pray that this birthday is filled with His precious love.
Happy Birthday to my wonderful wife! I pray God shines His face upon you, and answers your prayers. Let this year be one of the best years.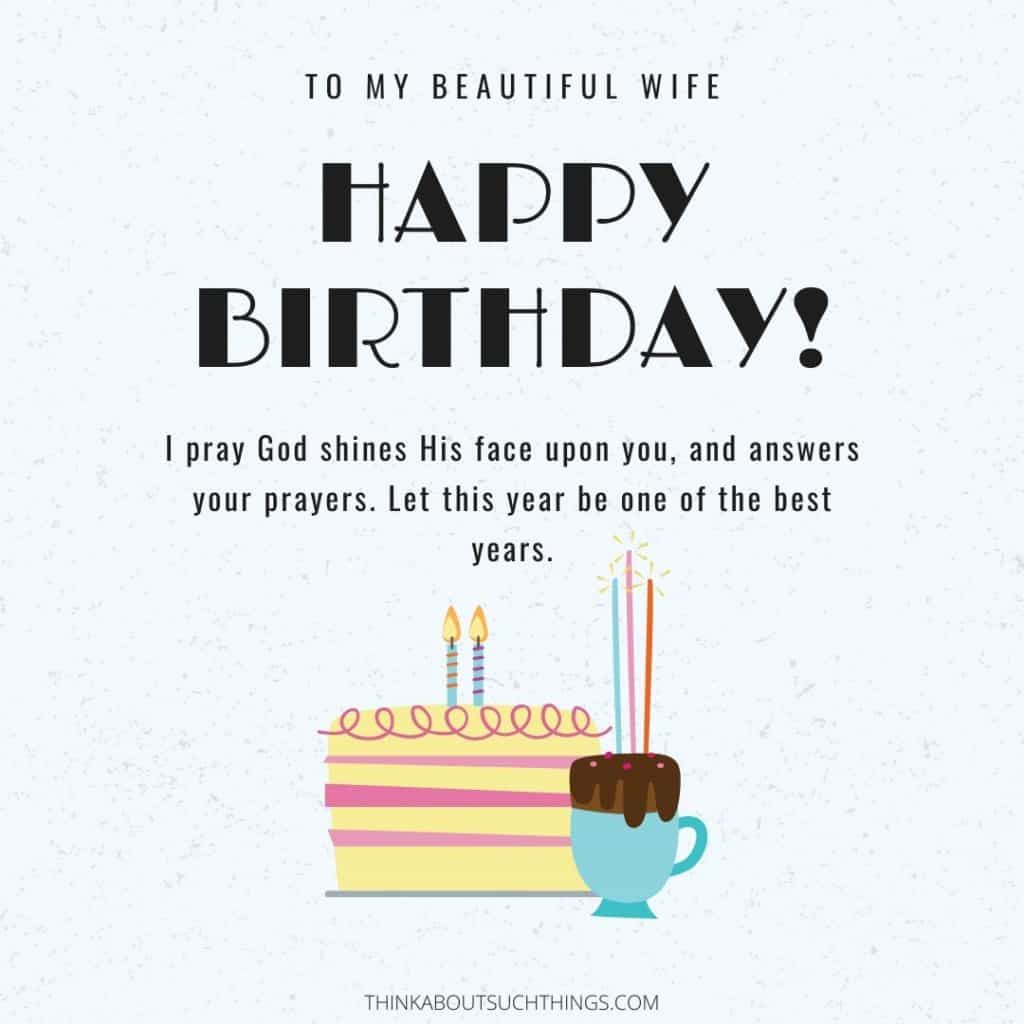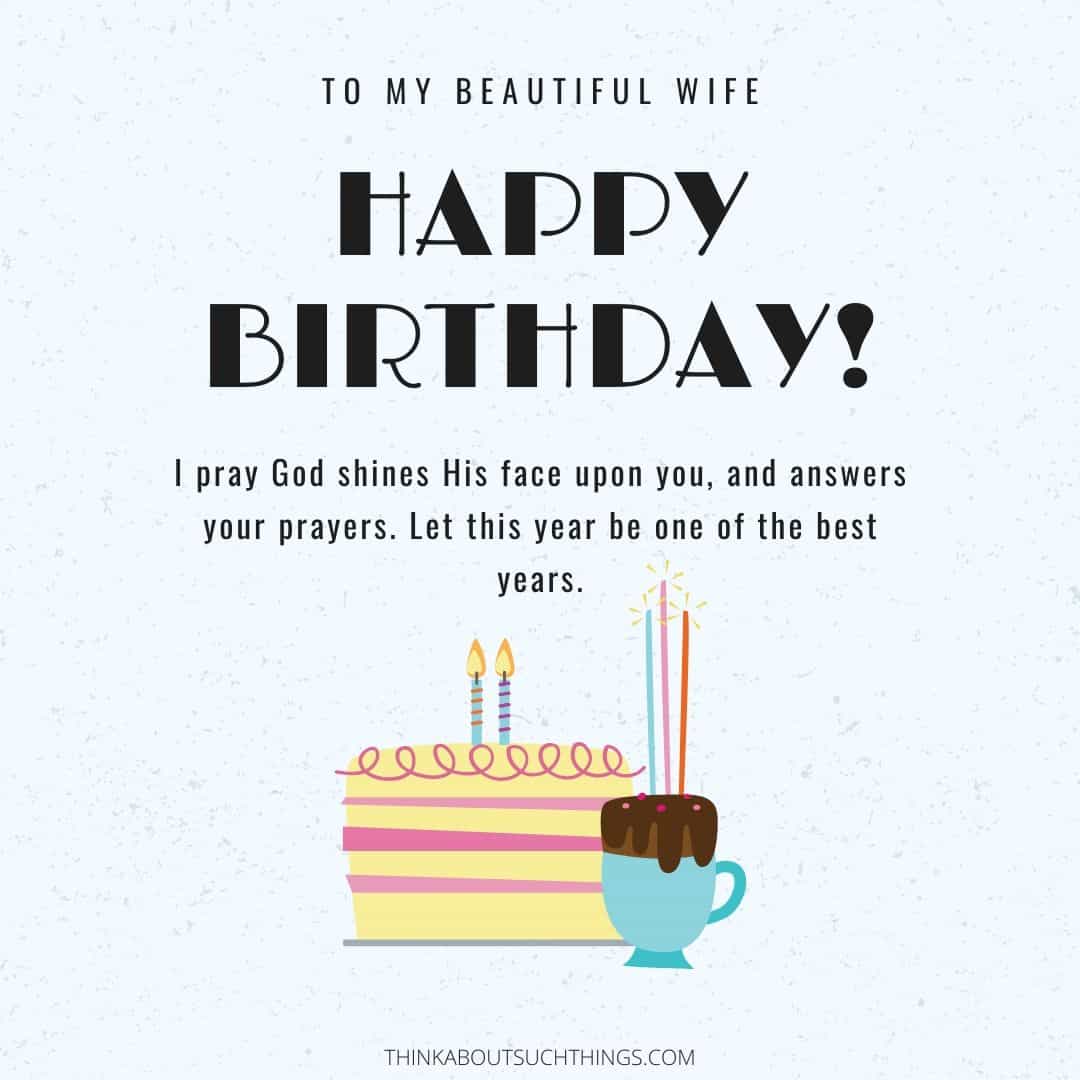 The Bible says, He who finds a wife finds a good thing, And obtains favor from the Lord. And you are my good thing! Happy Birthday my sweet wife.
Birthday Prayers For Husband
Heavenly Father, I ask on my husband's birthday that you would give him his heart's desire and that he would draw close to you. May this coming year be a year of wonderous blessings and grace for him.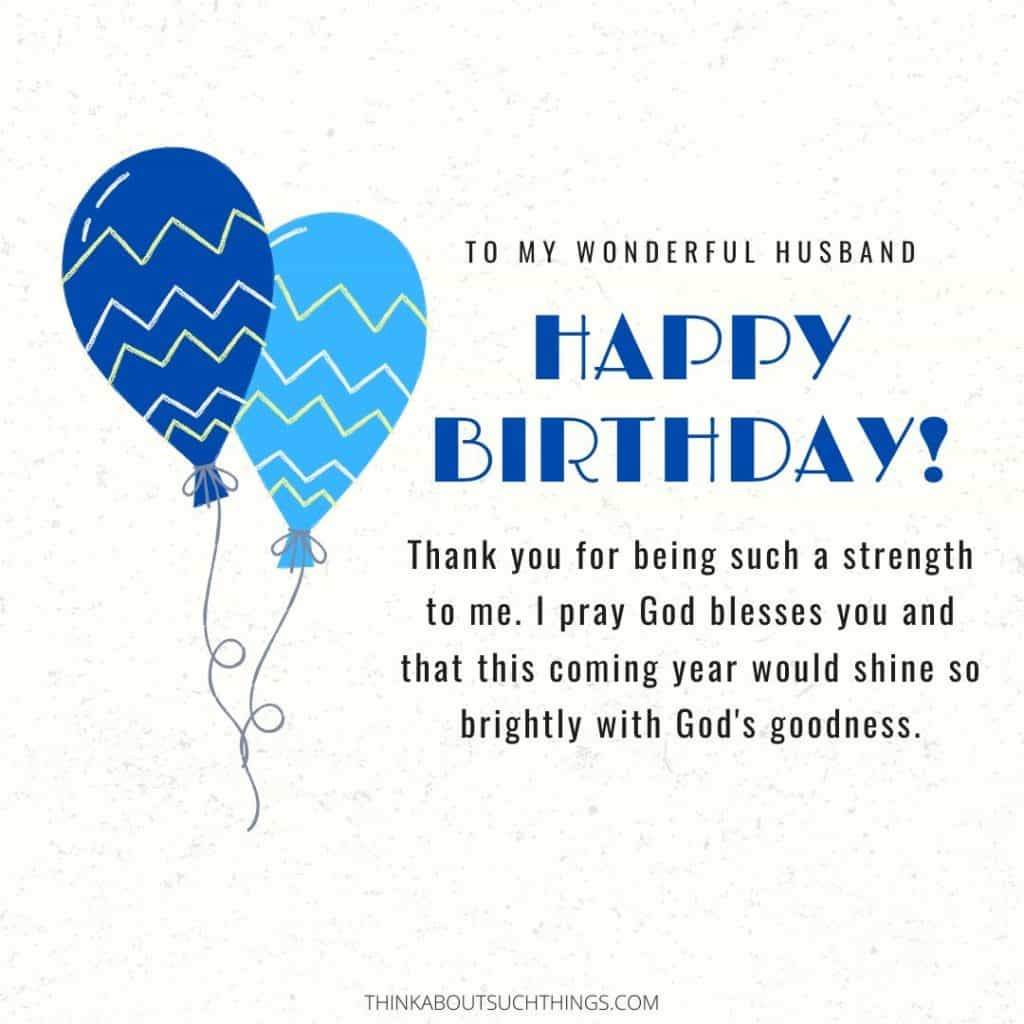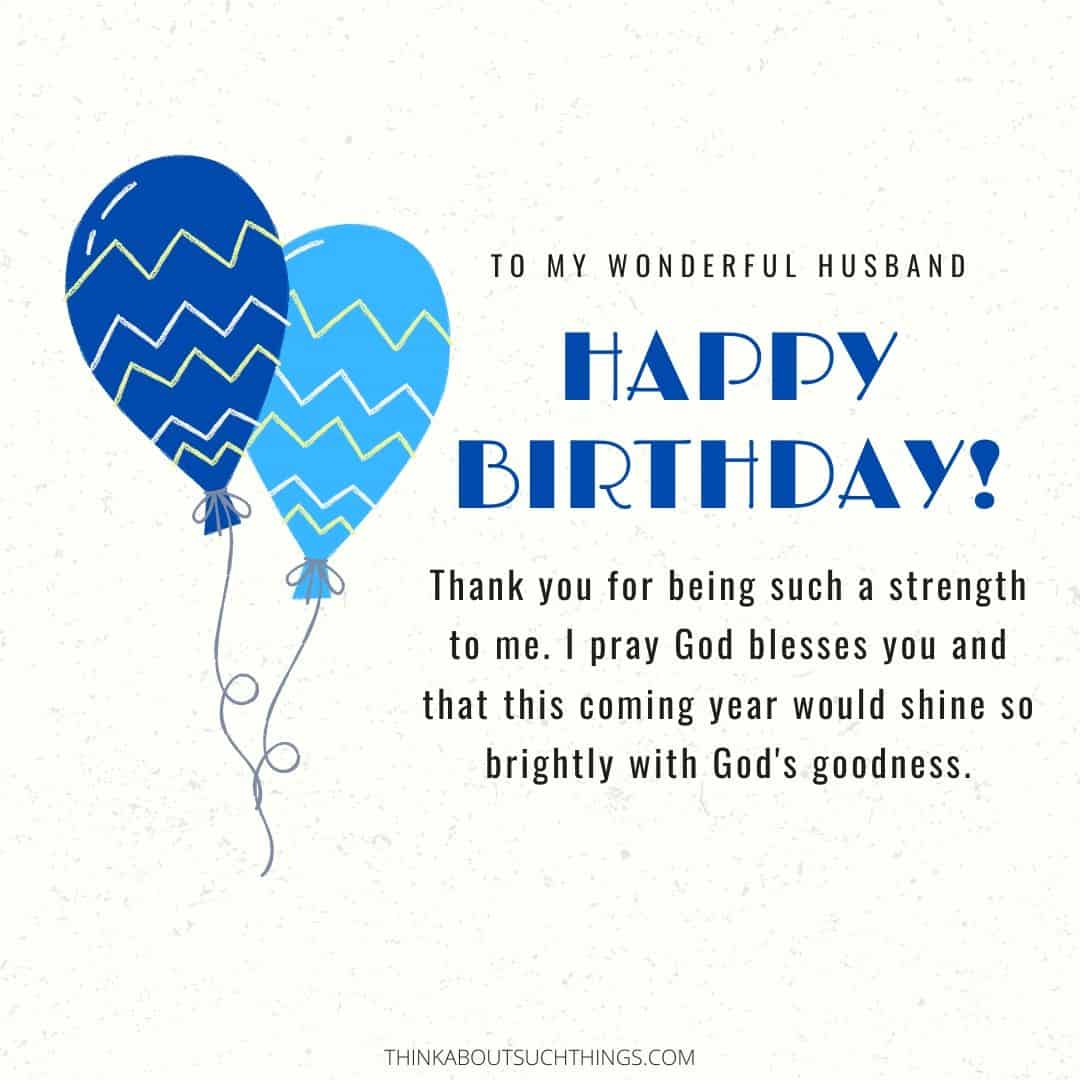 Happy Birthday, to my wonderful husband! Thank you for being such a strength to me. I pray God blesses you and that this coming year would shine so brightly with God's goodness. May you have favor and joy in all that you do and may He bless the work of your hands.
Dear Lord, thank you for my husband. This marriage has been a gift and I pray that his birthday would be blessed beyond measure and that you would give him many more years of joy, love, and peace.
Birthday Prayers For Daughter
Happy Birthday to my sweet daughter! My prayer is that you would find such joy this coming year and that the Lord would guide and minister to you.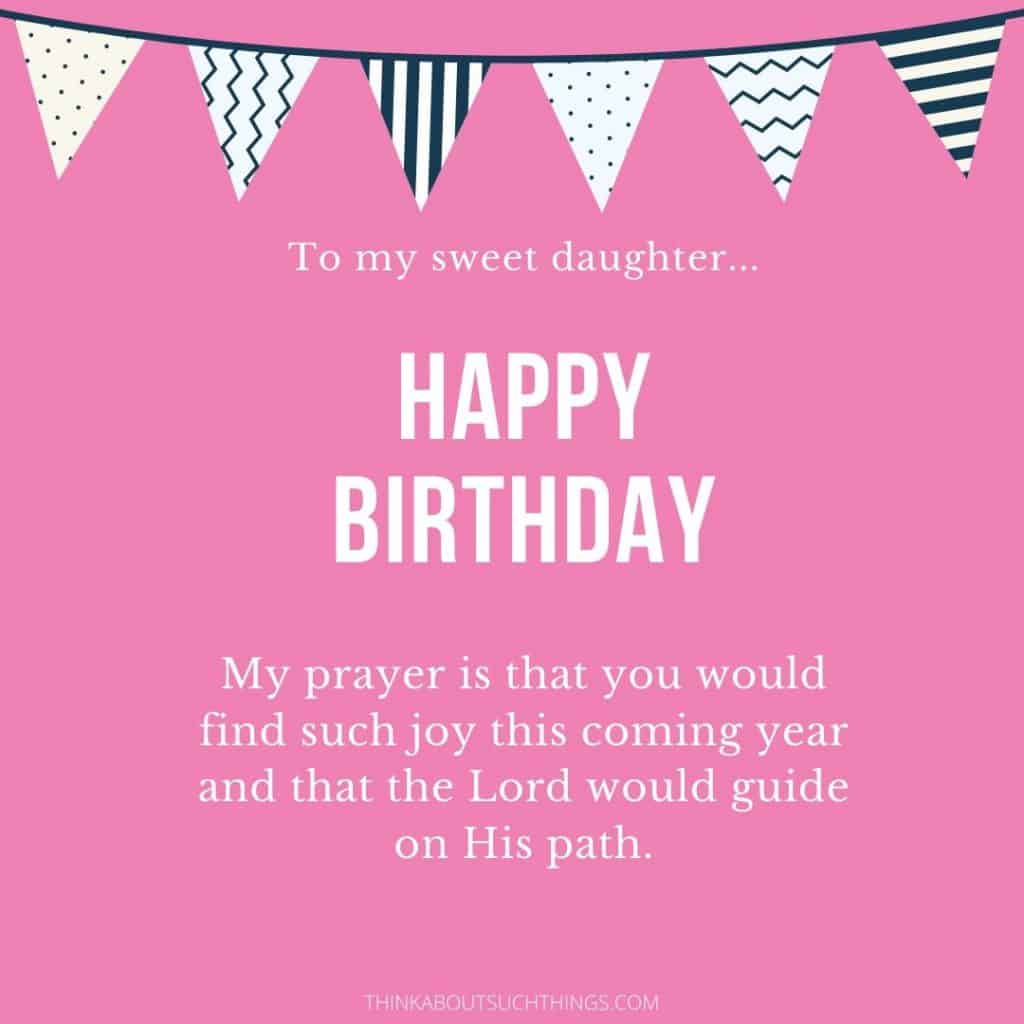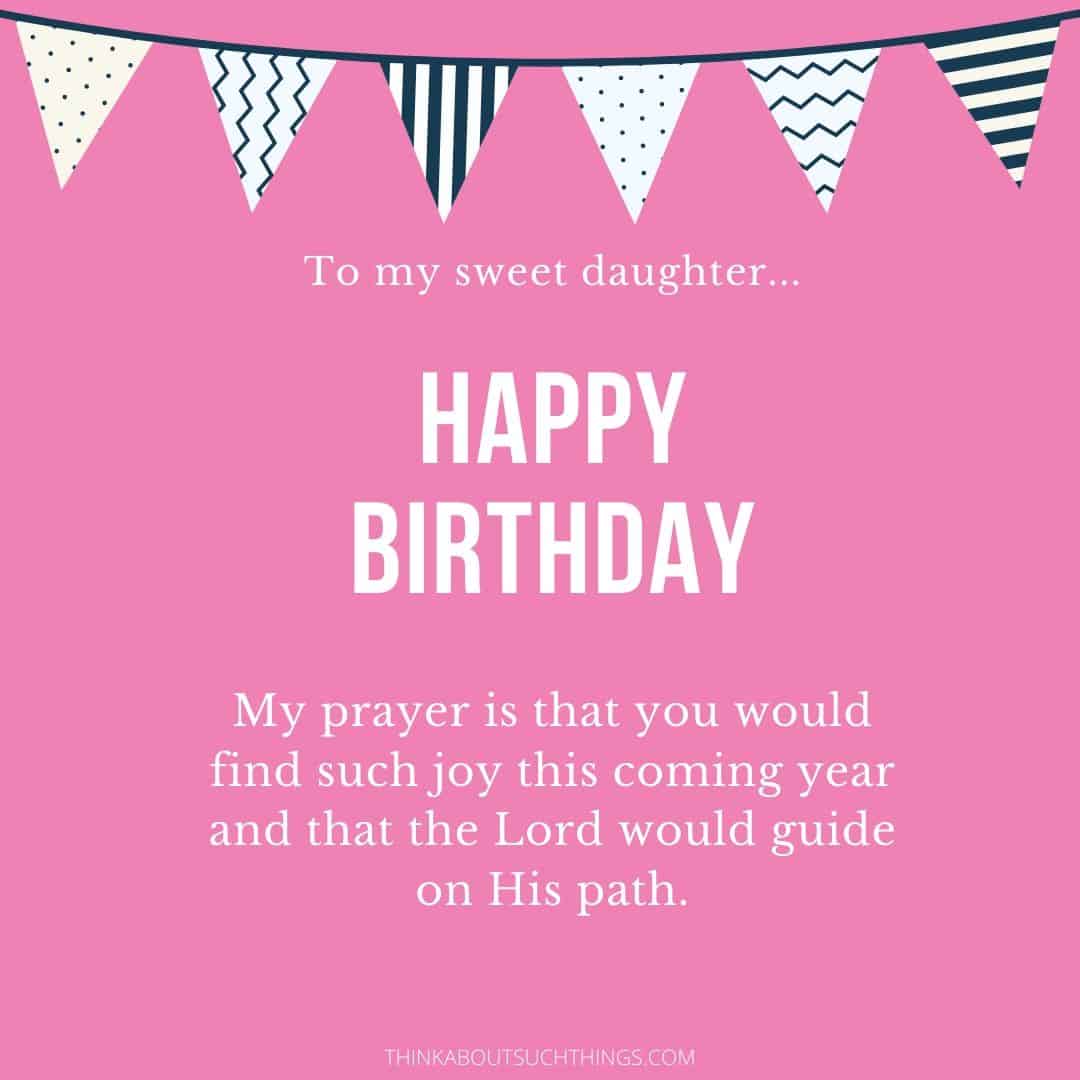 Daughter, you are a light that shines for God. I pray that this coming year is full of fulfilled prayers, hopes, and dreams. That your relationship with God would deepen and flourish.
Heavenly Father, I am so thankful for my daughter! Bless her on her birthday and I pray you cover her all the days of her life. That you would be her shield and protector. Her strong tower and prince of peace.
Birthday Prayers For Son
Heavenly Father, thank you for my son! I pray today and over the next year with the strength that he needs for his work, a deeper relationship with you, and joy in all he does.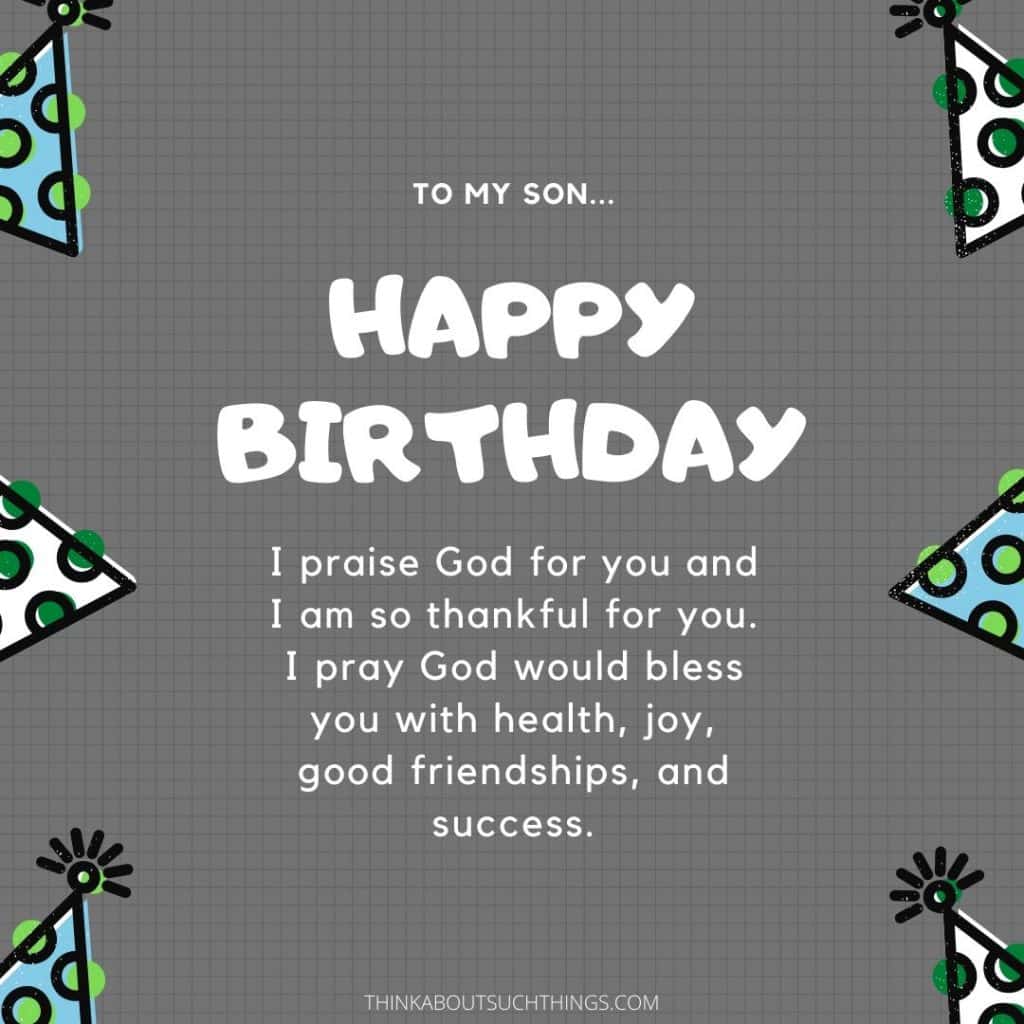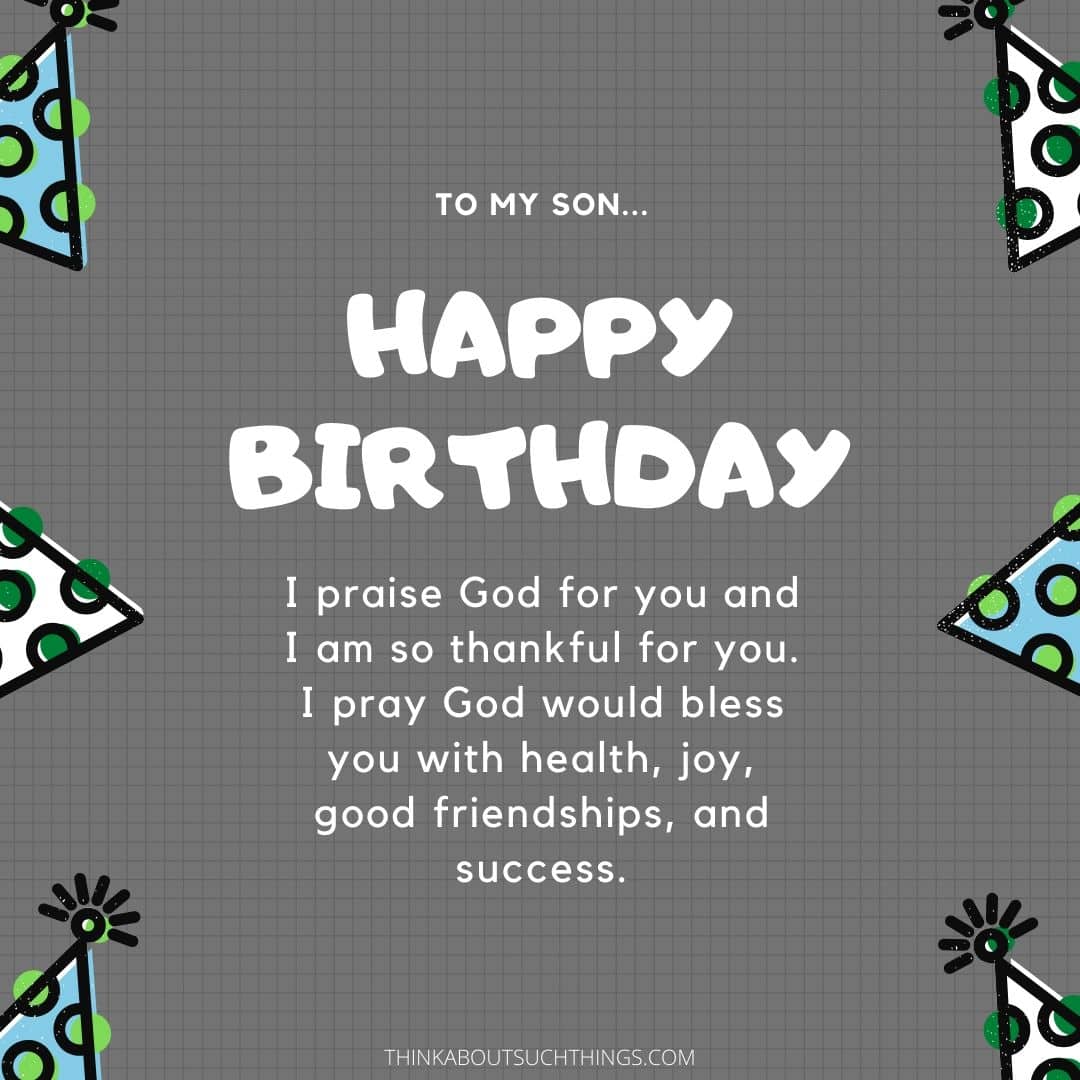 God, I pray you bless my son on his birthday with a happy day full of family, friendship, and love!
Happy birthday, son! I praise God for you and I am so thankful for you. I pray God would bless you with health, joy, good friendships, and success.
Birthday Prayers For Sister
Heavenly Father, I thank you for my sister! Thank you for the gifts you have given her and the light that she shines. Lord meet her needs this coming year and give the strength and wisdom as she moves forward in all she does.
May the peace of God be with you on this special day! Happy Birthday, Sister!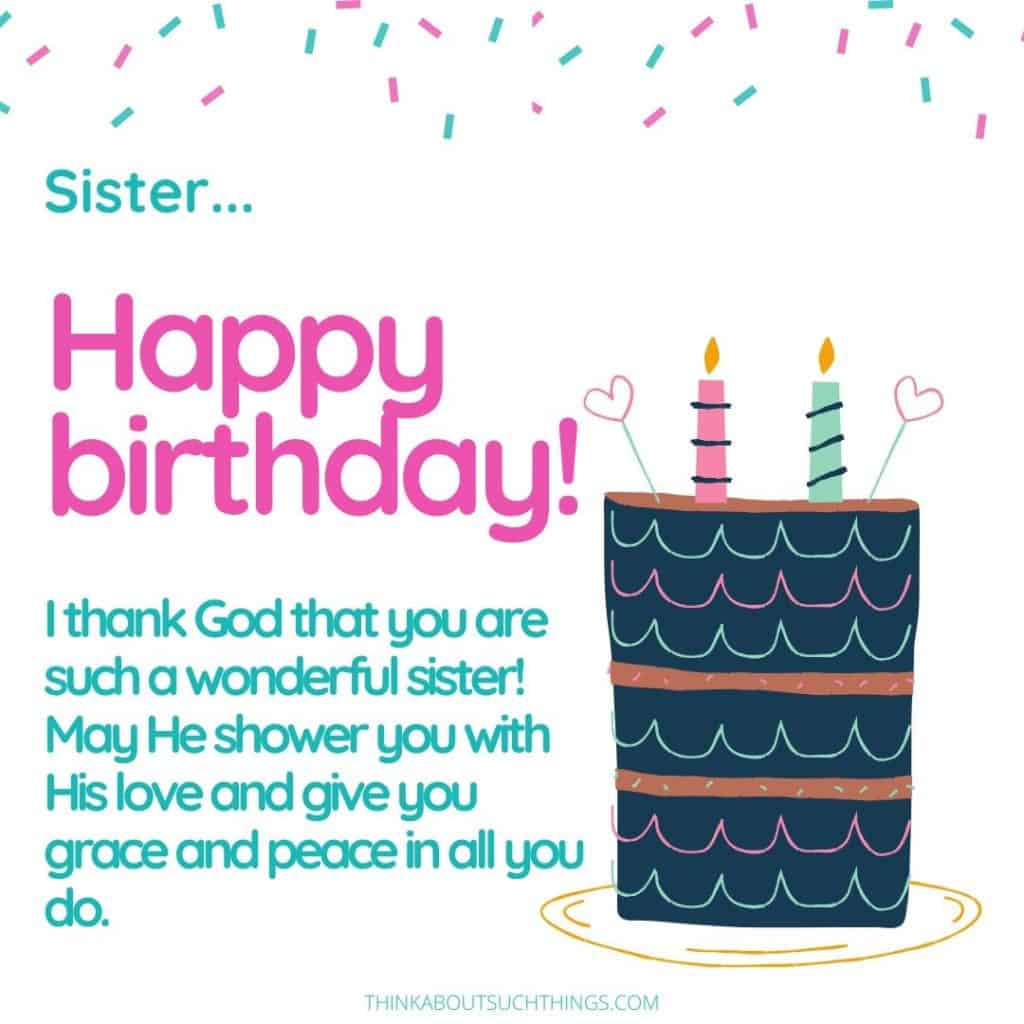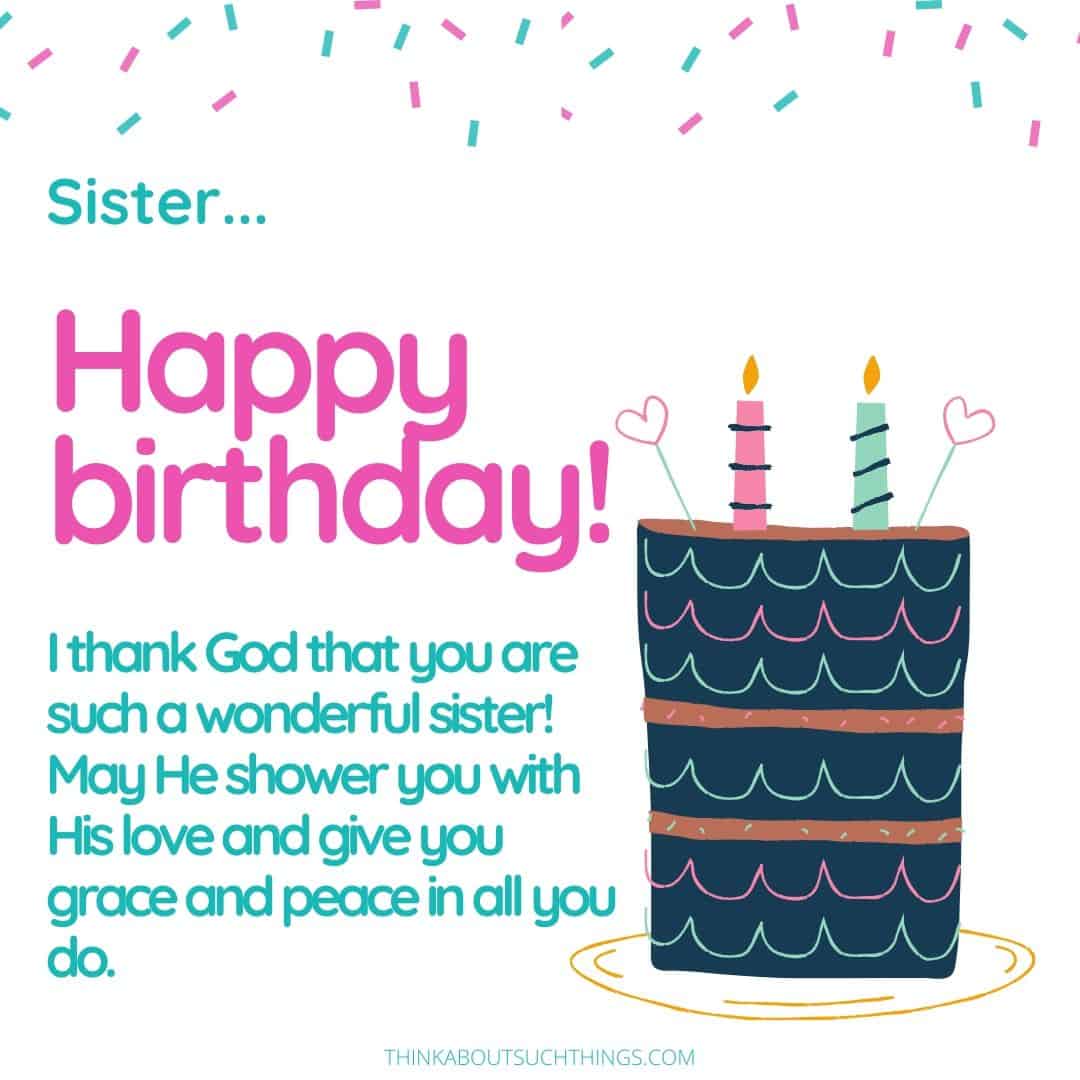 I thank God that you are such a wonderful sister! May He shower you with His love and give you grace and peace in all you do. Happy Birthday!
Sister, on your birthday my prayer for you this year: that you will "grasp how wide and long and high and deep is the love of Christ, and to know this love that surpasses knowledge – you may be filled to the measure of all the fullness of God.
Birthday Prayers For Brother
Brother, Happy Birthday! I pray the Lord give you strength and courage in everything you do.
To my brother, have a blessed birthday. I pray your hunger for God would grow and that this coming year would be filled with His peace and grace.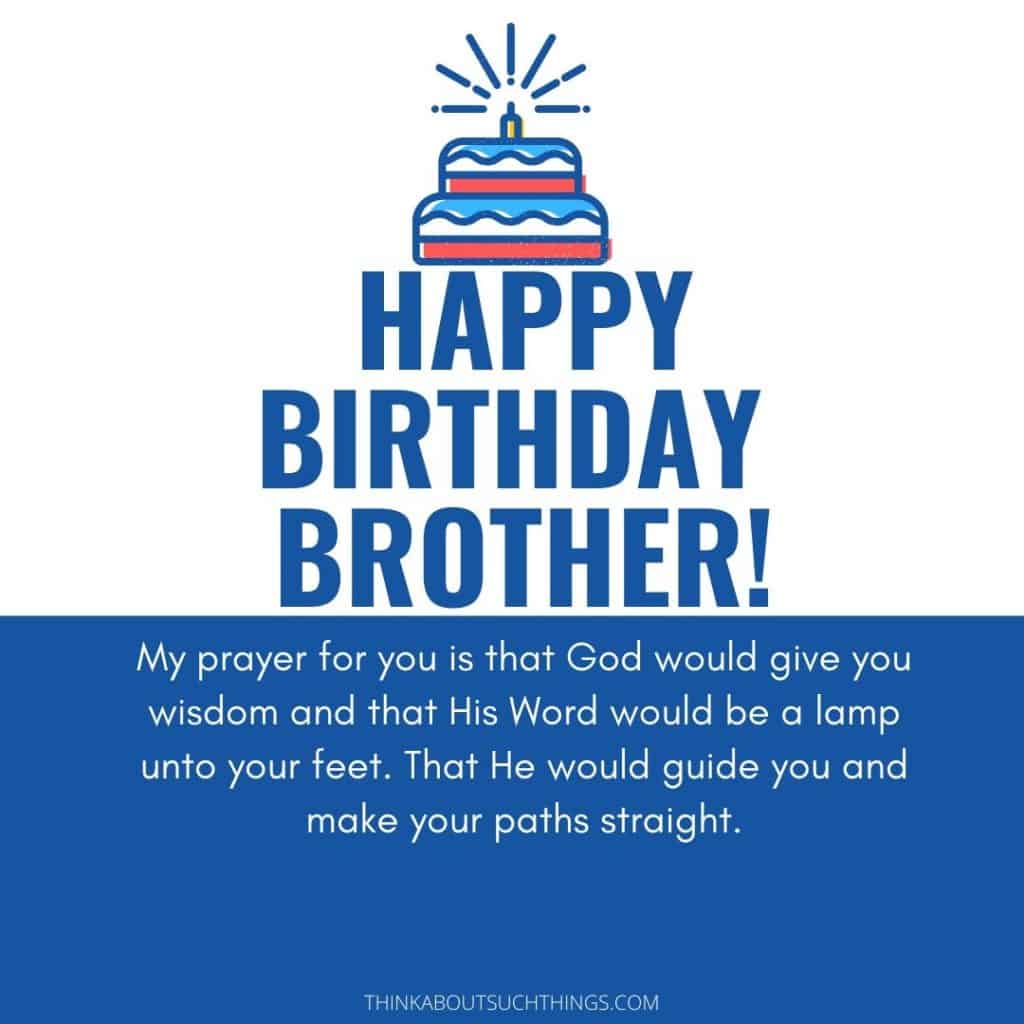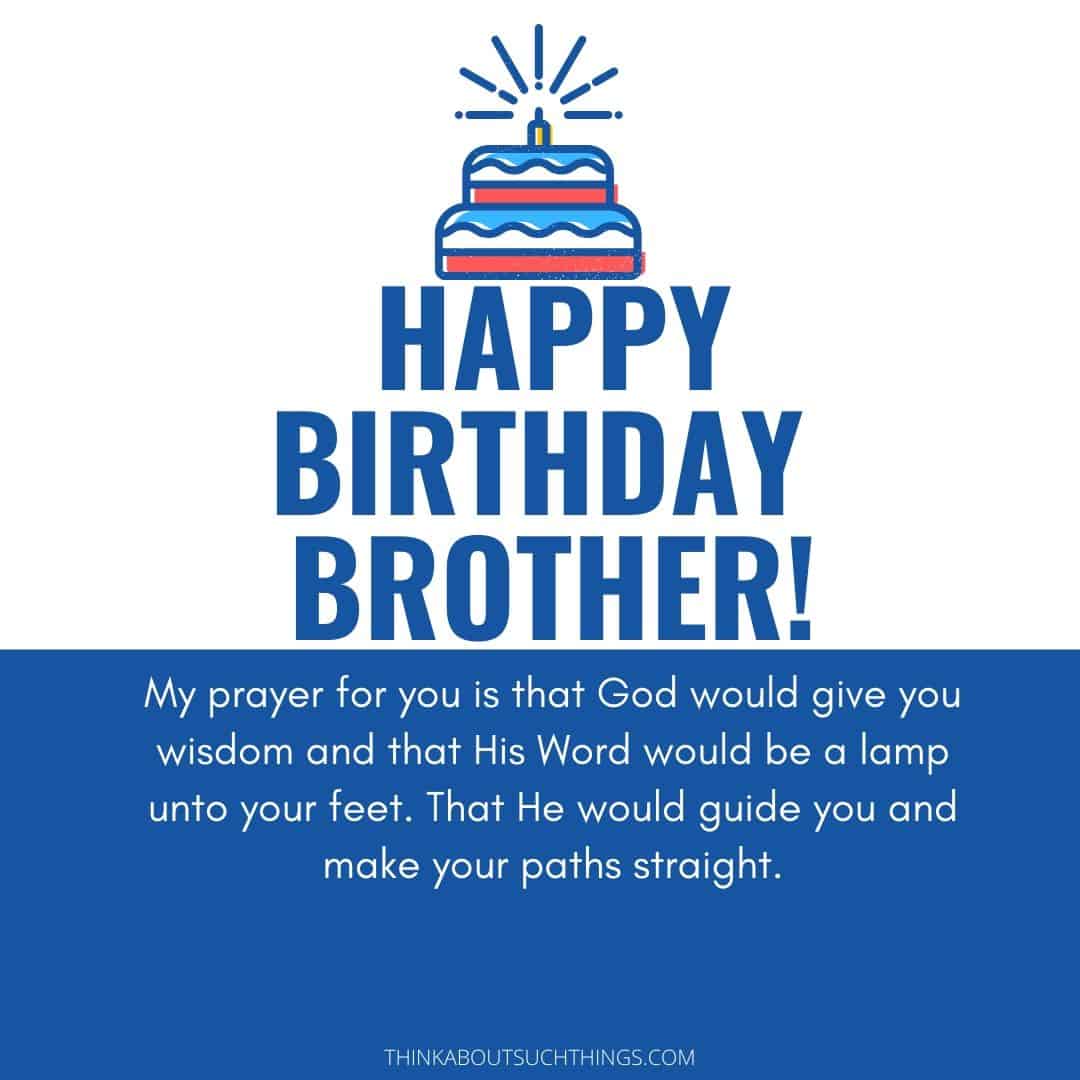 Heavenly Father, I thank you for my brother! Thank you for the strength he brings to our family. Bless him on his birthday and I pray you see the desires of his heart and answer him.
Happy Birthday, Brother! My prayer for you is that God would give you wisdom and that His Word would be a lamp unto your feet. That He would guide you and make your paths straight.
Birthday Prayers For Best Friends & Friends
Today is your Birthday, and I pray God showers you with His joys and peace. Thank you for being my friend!
Happy Birthday, Friend! I pray God's Spirit will guide you this coming year and give you favor.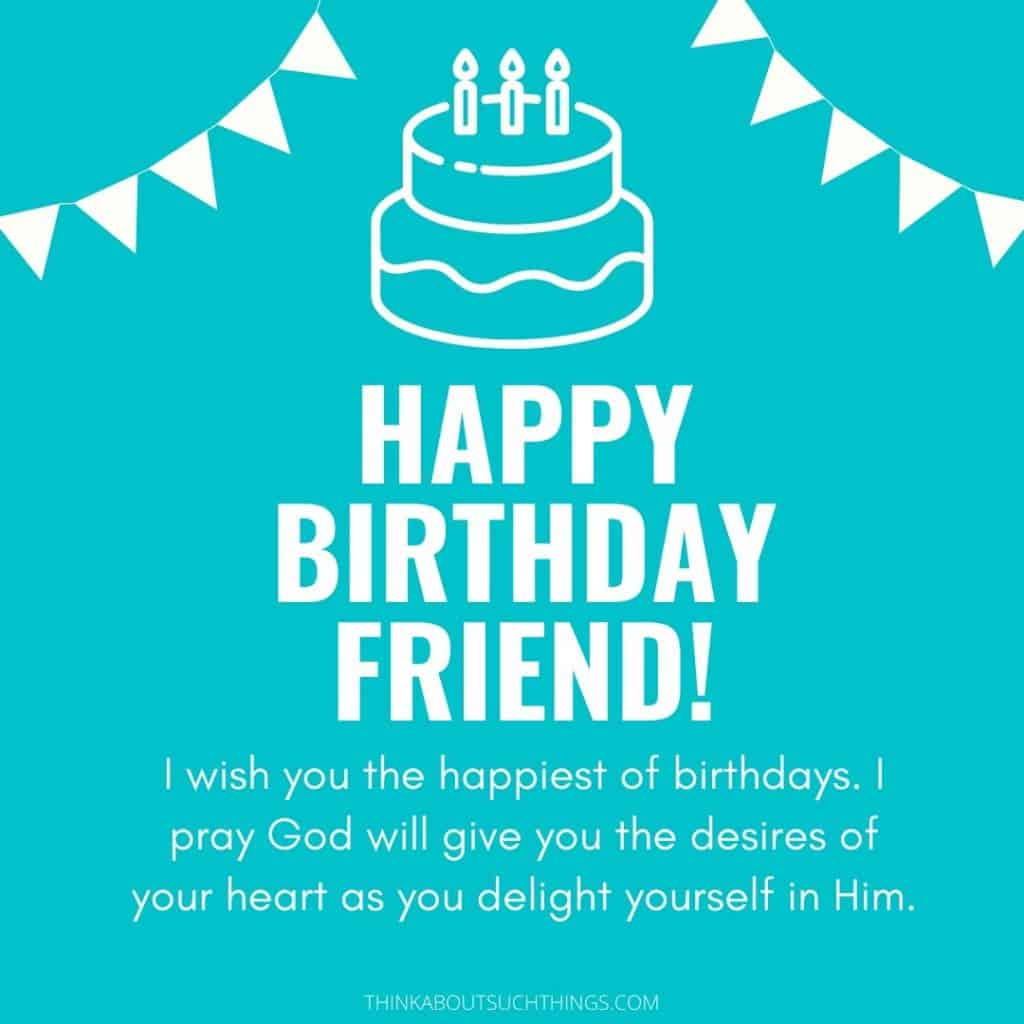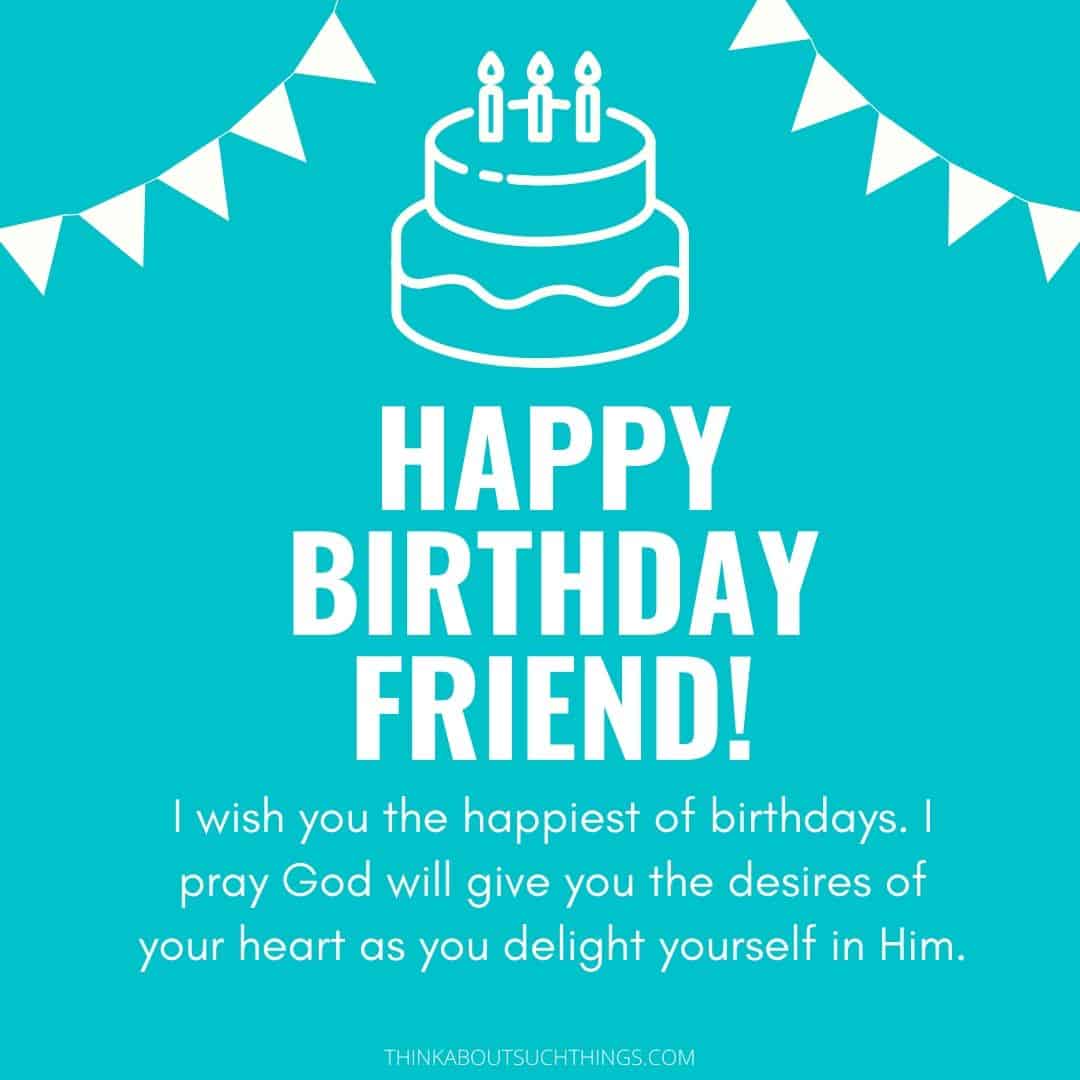 My dearest friend, I wish you the happiest of birthdays. I pray God will give you the desires of your heart as you delight yourself in Him.
I thank my God every time I remember you. In all of my prayers for all of you, I always pray with joy. Happy Birthday, my friend!
---
I hope these birthday prayers have inspired you to bless your family members or friends.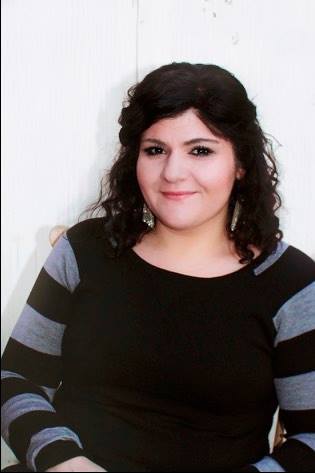 Melissa is a passionate minister, speaker and an ongoing learner of the Bible. She has been involved in church and vocational ministry for over 18 years. And is the founder of Think About Such Things. She has the heart to equip the saints by helping them get into the Word of God and fall more in love with Jesus. She also enjoys family, cooking, and reading.
She has spoken in churches in California, Oregon, Texas, and Mexico and has been featured in Guidepost Magazine and All Recipes Magazine. Read More…