Sometimes it can be hard to know what to say or write in a birthday card for someone who is Christian. You want to wish them a happy birthday and you also want to include God in the mix, but you're not sure how to do that. We've got you covered for that and more with our Christian birthday greetings!
Our collection of Christian birthday prayers, blessings, bible verses, and more will help you wishing your loved ones a very blessed and happy birthday. And they are perfect for use on social media, gifts, or just spoken from the heart.
Some of the birthday prayers will even help guide you on what and how to pray during your alone time or over the special birthday boy or girl!
I have broken up each section and you can scroll through and find the perfect post to match your birthday need. Most of the posts below have birthday graphics included. You are more than welcome to use these graphics that I have mad for personal use only. This means you can post a graphic on their social media account, send in an email, text them image, and even print it out and place it in a card.
These images are not meant to be used for commercial use such as placed on websites, copied and sold, or used for products. If you would like to use an image for a website please contact me personally for permission and attribution policy.
Christian Birthday Greetings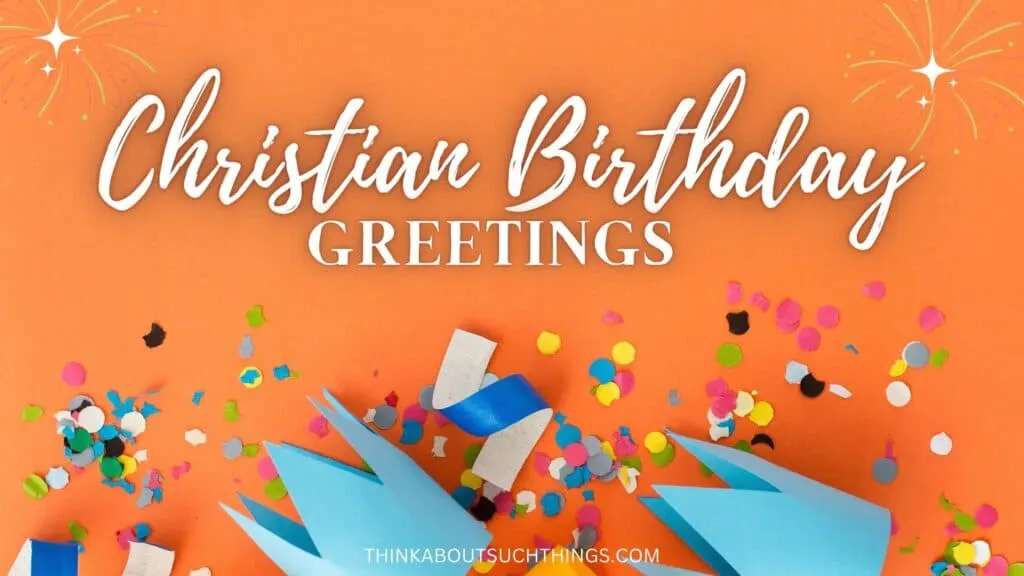 To help you understand each section below here is a break down of what you will find. I hope you find it helpful as you hunt for the perfect Christian birthday greeting!
Birthday Blessings and Wishes: Birthday blessings and wishes are little heartfelt messages about our desire for God's blessings to be poured out on the birthday person. These work great in cards, tags, text messages, and more.

Birthday Bible Verses and More: These are hand selected Bible verses and scripture portions that make great birthday messages. Each one is special and sure to encourage the recipient on their special day. You can use them as a reference in a birthday cards, gifts, written in a new book or Bible or other creative way.

Birthday Prayers: This is a collection of specific birthday prayers that can be used for a loved one. Most all of these posts are broken up into two section. One being birthday prayers that are like little birthday messages that can be written out for cards, emails, tags, books, and more. They are meant to uplift and encourage. The other section actually focuses more on prayers that you would pray for the birthday person. This can be done in private between you and the Lord or even prayed over the person. I find these a wonderful way to really bless someone by spending time in prayer for them.

Religious and Christian Birthday Images: Do you just want birthday images that have blessings or prayer on them? Then this is the section for you! Images are found throughout out all these posts but I have created some posts that focus just on graphics. All birthday graphics are free to use.
Birthday Blessings and Wishes
Birthday Bible Verses and Messages
Birthday Prayers
Religious and Christian Birthday Images
---
I hope you have enjoyed this selection of Christian birthday greetings and I encourage you to bookmark this page as it will be updated with new birthday goodies! If you would like to check out more Christian content please visit my Faith Page.