In this post, I will share a slew of Sunday blessings. You can use written-out blessings for Sunday or the images to share with loved ones or use them in your prayer time.
I have been working for a while on a collection of different posts on blessings. And today, we are going to go through some Sunday blessings! I love the idea of sending a blessing to someone. It's a great way to lift someone up, especially if they are going through a difficult time.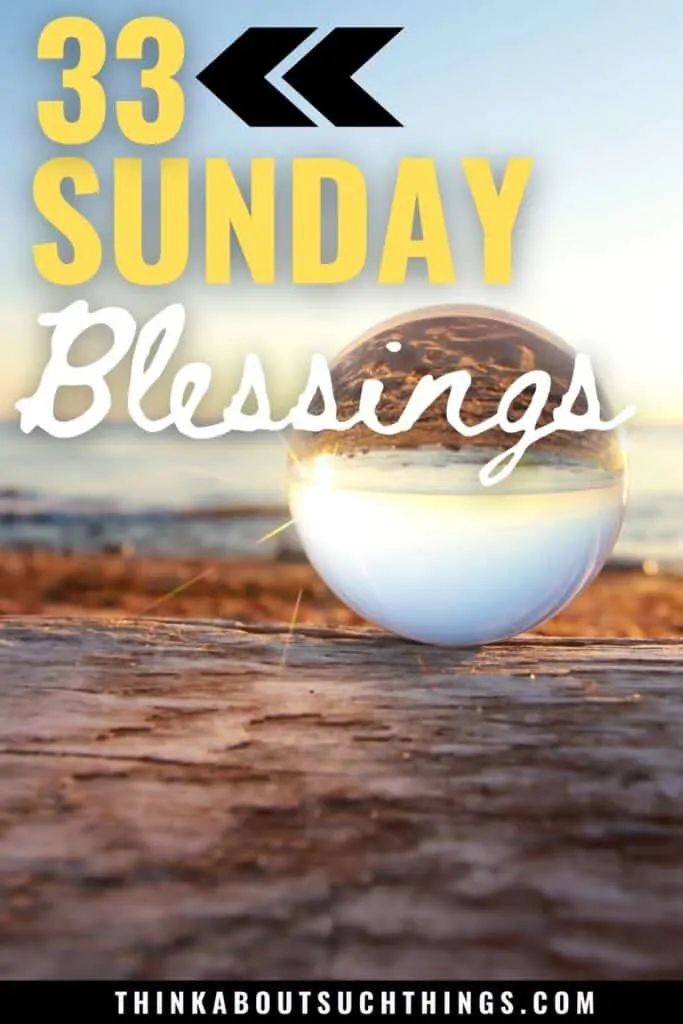 If you would like you can use the table of content below and jump around in this post. But if you like you can scroll through like normal.
5 Ways to Share Sunday Blessings
I wanted to share some different ways you can use Sunday blessings. It's easy to think these can only be used one way. But I am here to tell you there are lots of fun and creative ways you can use them. These are 5 ways I enjoy using these blessings. I hope you find them helpful.
Use one of these blessings on a sticky note or card. Place it for someone one to find or give it to them. Great to put in someones packed lunch or workbag.

Send one of these Sunday blessing in an email or text message. A private and personal message can be really encouraging.

Share one of these blessings or images on social media. It's a great way to encourage people on your social feed.

Use these as an inspiration for your prayer time with the Lord.

Write out the blessing on a gift! Works super great for gift tags, in books, or even a journal. You could also make a gift and have it be part of it. I highly recommend checking out pinterest for more ideas on this!
Sunday Blessings (General)
Below is a collection of what I call general blessings. These Tuesday Blessings can be used for any time of the day. If you would like to check out prayers…click–> Sunday Prayer
Let this Sunday be a joy as the Lord showers His wonderful blessings upon you.
May this Sunday be a blessing to you and your family. May God fill you with peace, hope, and love for one another.
Today is Sunday! Let it be blessed and filled with the Lord's amazing grace and love for you.
May this Sunday bring joy to your heart as you set your mind on the things above.
May the Lord's love shine brightly this Sunday. So, that you may be a light to the world.
Let God bless you this Sunday with His unfailing love and faithfulness. Grace to you!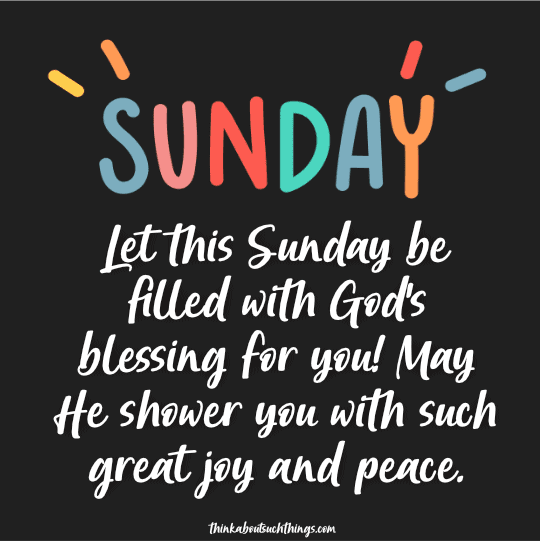 May your heart be filled with the peace of God as Christ lives in your life. Have a blessed Sunday!
May grace, peace, and mercy be with you this Sunday. Amen.
As God blesses you this wonderful Sunday, may He give you strength and wisdom to face the week ahead!
May you feel God's love as He showers you with His blessings this wonderful Sunday.
God blesses you and your family today and for always! As you enjoy another blessed Sunday, may the Lord fill your heart with joy, peace, and love!
As the Lord blesses you this Sunday may, all your days be blessed. Amen.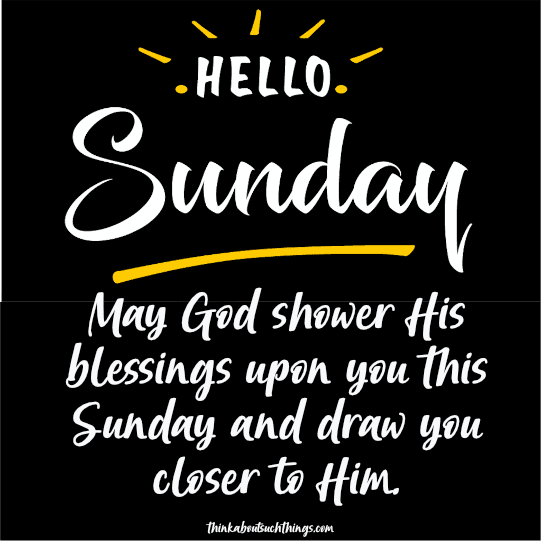 Blessed are you today for God provides a wonderful Sunday filled with his love and amazing grace to you and your family.
May God fill your heart with love, peace, and hope as you enjoy another blessed filled Sunday.
As you make the day count, may God bless you so that all will see Christ's light in your life. Have a blessed Sunday!
Sunday Morning Blessings
Below is a collection of Sunday morning blessings. For more general morning blessings please visit: Morning Blessings
May this Sunday morning bring to your life a greater sense of the love of Jesus for everyone. May you bask in His truth.
May this Sunday morning be a day filled with God's presence and His blessings for us all. Let Him fill your heart and soul with His joy!
Let this Sunday morning be one filled with God's grace in your life. May it allow you to grow in your relationship with Him and spread the gospel.
This Sunday, as you start your day may the peace and grace of God fill your heart. May this Sunday be filled with His wonderful presence.
This Sunday morning may your life be blessed by the love of Christ who saved us from our sins. Let Him fill you with love!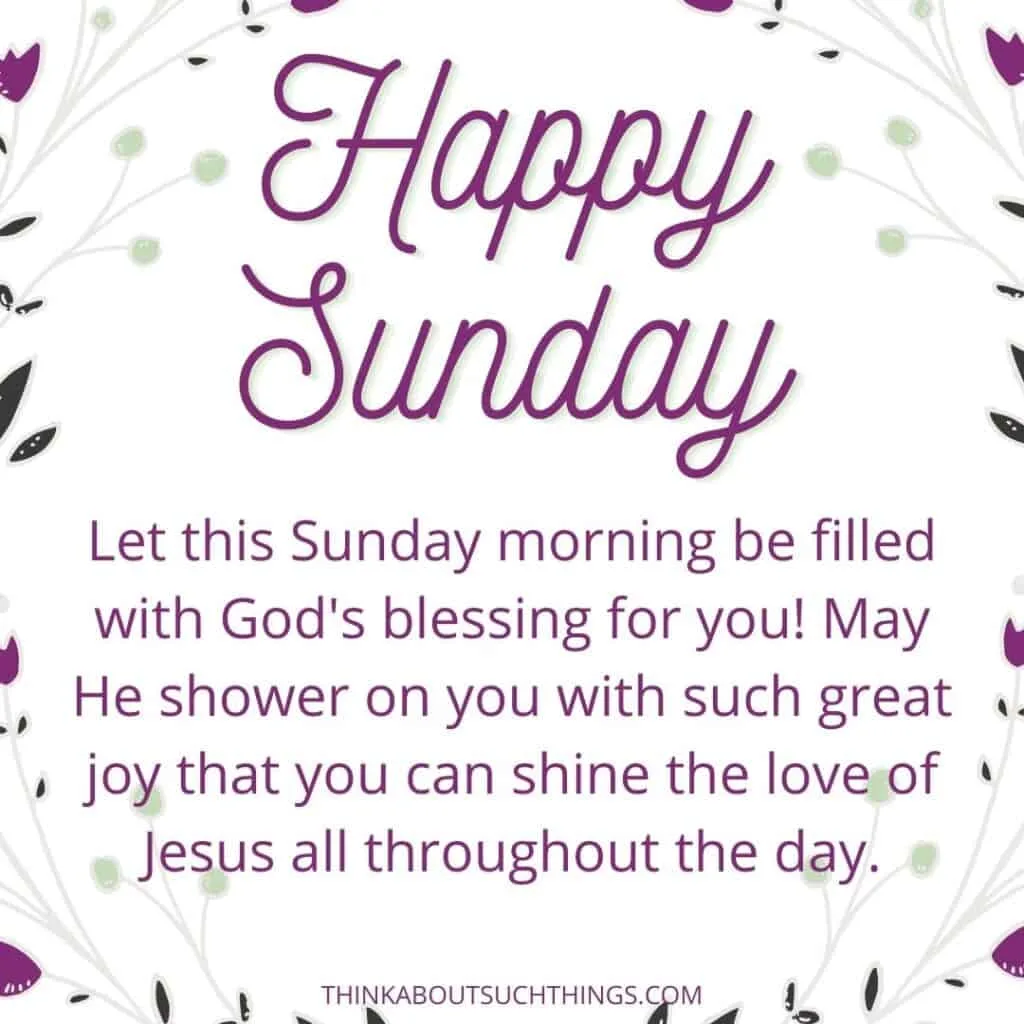 May this lovely Sunday morning bring to you a sense of how much God loves you and wants your heart to be close to Him always.
This Sunday morning, may you experience the hope of God's blessings and His love. May today be filled with His wonderful presence.
God blesses us today with a beautiful Sunday morning filled with His powerful love.
Let this morning be blessed! That all of this Sunday would be overflowing with the joy of the Lord. That laughter would be found in home today.
Sunday Night Blessings
Below is a collection of Sunday night blessings. For more goodnight blessings please visit: Goodnight Blessings
Peace to you tonight! Find wonderful rest this Sunday as you put your worries in the hands of Jesus.
This Sunday night as you go to bed may the Lord's love be with you, and His peace reign in your heart. Enjoy this wonderful night!
May this Sunday night be filled with the kindness of God for you and may you bask in His everlasting love.
Let all your cares melt away as you take refuge in Christ this Sunday evening.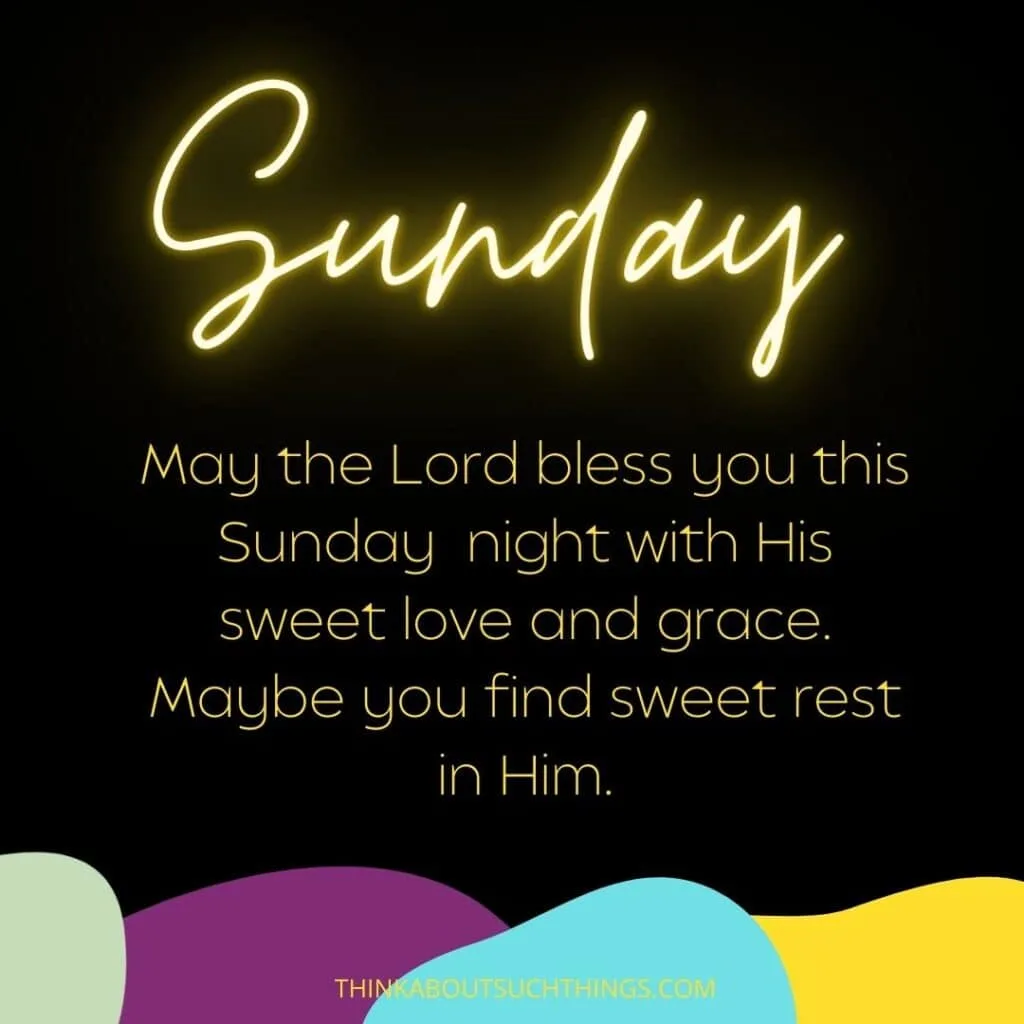 Tonight! May the joys of heaven come upon you and give your heart strength and a sense of peace. Enjoy this Sunday night!
May the Lord bless you tonight and forevermore. May His presence be with you always. Let this Sunday come to a close that will glorify the Lord.
As we finally close our eyes for the day, let us thank God for all He has done for us. May He bless your Sunday tonight and forevermore!
May you bless God for the peace and rest He has given you this Sunday night. May His love fill your heart and soul forever.
Tonight, may you find peace in Christ as you sleep in Him. Let His love pour over you all through the night!
May the angels guard your heart as you sleep peacefully this Sunday night and when the morning comes.
More Daily Blessings
Need a little inspiration throughout the whole week? Well, now you can check out blessings for any day of the week! And make sure to bookmark this page! This way you can quickly find the right blessing you want to share whenever.
---
I hope this list has been helpful to you. With so many blessings available, it's hard not to find one that will resonate for someone you care about.
So, take some time today and pick out a blessing from this post and share it with them! It will be sure to make their Sunday blessed!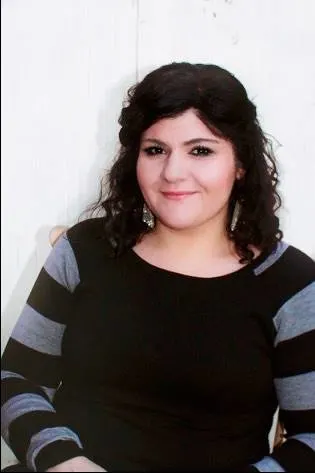 Melissa is a passionate minister, speaker and an ongoing learner of the Bible. She has been involved in church and vocational ministry for over 18 years. And is the founder of Think About Such Things. She has the heart to equip the saints by helping them get into the Word of God and fall more in love with Jesus. She also enjoys family, cooking, and reading.
She has spoken in churches in California, Oregon, Texas, and Mexico and has been featured in Guidepost Magazine and All Recipes Magazine. Read More…