In this post, we will look at Monday prayer. We will be on two main points one on praying Monday prayers especially for your week and the other on sharing Monday prayers with a family member or a friend. So, let's begin…
Mondays.
Yup the start of the week. This could be a happy exciting thing for you or something you are not too thrilled about. I like what Marcus Aurelius (an emperor of Rome) outlook was,
""When you arise in the morning think of what a privilege it is to be alive, to think, to enjoy, to love…"
And I would like to add… to have Jesus! I 100% agree with Marcus Aurelius and Monday is a privilege and an opportunity to spend some time with Jesus and pray. This can make for a spectacular day and the start of a week.
And that's exactly what we are going to look at today! Prayer can literally change our day. I remember a preacher once said, "If you want to change your future…then pray."
That little sentence changed my whole outlook on prayer. It showed me that I had an opportunity to meet with God and see things change not only in my life but in the lives of those I prayed for.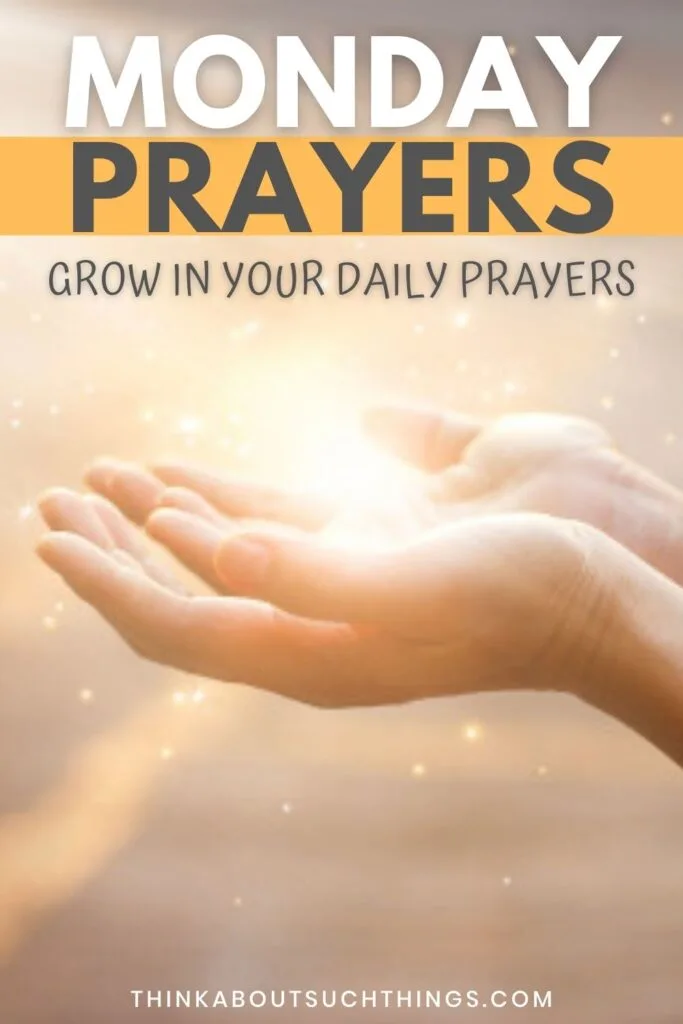 So, my hope today whatever you use these prayers for your personal time with the Lord or you are sharing them with a friend or family member. I hope it blesses and encourages you to draw closer to Him.
Prayer Tips Before Starting
Prayer is such a beautiful and powerful thing we can do as Christians. But sometimes praying pre-written prayers can come off as lifeless. And that is because these prayers came from someone else.
We can avoid this by remember and practicing these simple tips.
First, read the prayer before praying. Make sure you understand what it's about and if it's something you should be praying for.

Personalize The Prayer- Take the prayer and change it to be personalized to your situation. Add people if needed.

Be Inspired – Let the prayer inspire your prayer time. You don't even need to pray it back to God. Use it as a diving board to spring you into your own authentic and real prayer with Him.

Pre-Written prayers are tools to inspire and learn from. They should never replace your personal prayer time.

Don't become emotionally unattached to your prayers. You want your prayers to come from your heart and have feeling. The Lord desires to hear from YOU. Not from a book of prayers or a website of prayers. We see this throughout scripture like Hannah's prayer, Moses' prayer, and King David's prayers.

Don't pray a pre-written prayer if you don't feel some kind of connection to what is written. We are all in different times and seasons in life. Sometimes a prayer will resonate with you and sometimes it won't.

Let the Holy Spirit Guide You – Before praying ask the Holy Spirit to lead your prayer time and show you things you should pray. God will place people and situations in your mind to pray for.
Ways to Share a Monday Prayer
Some of you may come to this article looking to share a Monday prayer as a way to bless someone. This is why I made images for you to share. But I also wanted to give you some other fun ways you can share these prayers.
Post a prayer or prayer image on some sort of social media like Facebook.

Send a prayer or prayer image through text or an email.

Place a prayer on a card.

Place a prayer within a gift like a book or a photo.

Place a prayer on a sticky note and place it where someone will read it and be encouraged.

Use a tag and write the prayer on it and place it around a bouquet of flowers.
Monday Prayers
In this section will look at prayers for Monday that can be prayed anytime throughout the day. Some will be short and some a little longer. And below you will find prayers that are more specific for the morning, before work, and more!
You are more than welcome to use images in this post for personal use (like sharing social media or in text messages).
*If you wish to use one of the images or prayers for a website please contact me for permission first. I would really appreciate it.
---
The Lord bless you
and keep you;
the Lord make his face shine on you
and be gracious to you;
the Lord turn his face toward you
and give you peace. – Numbers 6:24-26
Heavenly Father, as I read Numbers 6, I ask that this Monday Your beautiful face would shine upon me. That You O' Lord would give me peace and favor. Help me to draw closer to You today. In Jesus name, amen.
Lord Jesus, I ask that this Monday would be filled with your goodness. That you would grant me the grace and peace needed to fulfill Your will. In Jesus name, amen.
But whose delight is in the law of the Lord,
and who meditates on his law day and night.
That person is like a tree planted by streams of water,
which yields its fruit in season
and whose leaf does not wither—
whatever they do prospers. – Psalm 1:2-3
Lord, I pray that starting this Monday that you would give me a deep passion for Your Word. Help me to learn and eat from it. That I may become like a tree planted by streams of water and that I may bear good fruit. Use me for Your glory and be a blessing to those around me. In the name of Jesus, amen.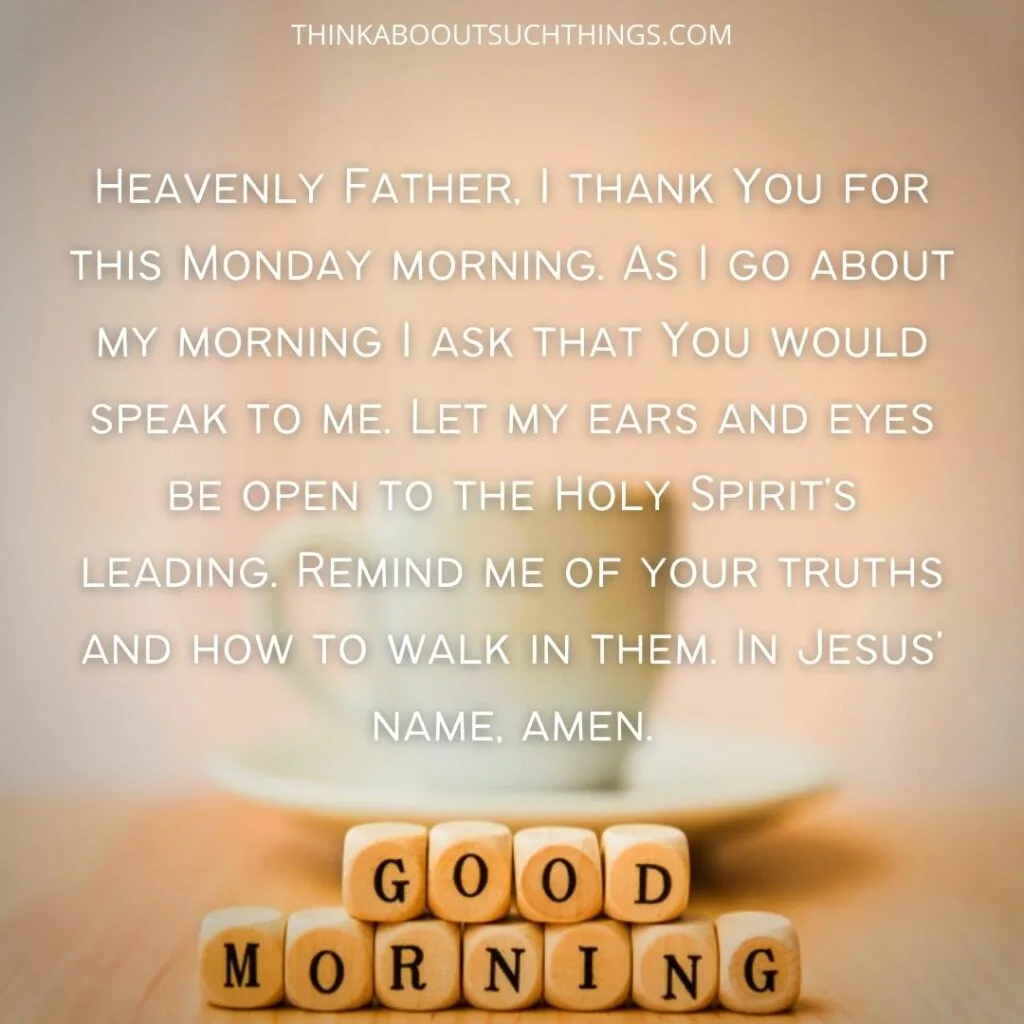 Heavenly Father, I come before You this Monday and I ask that this would be a blessed day. That Your presence would go before me and with me in everything I do. In Jesus' name, amen.
Lord, I ask that You would protect me this Morning. I ask for the full armor of God to be placed on me. That every attack of the enemy would fail and that I would remain steadfast in the faith. Lord give me the wisdom to navigate everything that comes my way this Monday. And help me to be kind and good like you are. I ask for divine appointments and your guidance in all my tasks. In the name of Jesus, amen.
Monday Morning Prayers
Lord, I ask that you would bless this Monday morning. That you would help me with the tasks and things I need to do today. That your Holy Spirit would guide me and give me grace. In Jesus' name, amen.
Heavenly Father, I lift up this Monday morning to you. I ask that you would guide my time of prayer and draw me closer to you. Help this day to be more like your son, Jesus. Give me love and compassion for those I will see and talk with today. That I may be your hands and feet to this world. In Jesus' name, amen.
Heavenly Father, I thank You for this Monday morning. As I go about my morning I ask that You would speak to me. Let my ears and eyes be open to the Holy Spirit's leading. Remind me of your truths and how to walk in them. In Jesus' name, amen.
Lord, I ask that you would meet with me this Monday morning. Let me feel Your presence and help me to draw nearer to you. Wash me with your precious blood and cleanse me of any thoughts that are not of you. Let today be blessed in You. In Jesus' name, amen.
Monday Prayer Before Work
Heavenly Father, before I head to work I ask that you would bless the work of my hands. That I would be a blessing to all those who interact to me and that you would give me favor with my co-workers and boss. In Jesus name, amen.
Lord Jesus, I ask that this Monday would be a good day at work. That You would give me peace in my heart that no matter what arises I can rest in You. Give me wisdom when working and how I should speak with others. Let your love shine through me. In Jesus' name, amen.
Lord, I ask for your protection today as I go to work. Lord that you would guard my heart and mind while I am there. I ask for your peace to rest at my workplace and that all that enter it would feel Your presence. In Jesus' name, amen.
Monday Night Prayers
Heavenly Father, I thank you for this day and everything You did within it. I thank you for your protection that no harm came to me or my family. I ask Lord that this Monday night would also be blessed and that You would give me sweet sleep and rest to start the new day. In Jesus' name, amen.
Lord Jesus, I ask that You would bless this Monday evening. As I wind down from the day I ask that You would set my mind on things above. Help my heart to find peace and rest in You. And may everyone in my home sleep well tonight. Protect us, Lord and I ask that Your angels would be set around our house to watch over us. In the name of Jesus, amen.
Set your minds on things above, not on earthly things. – Colossians 3:2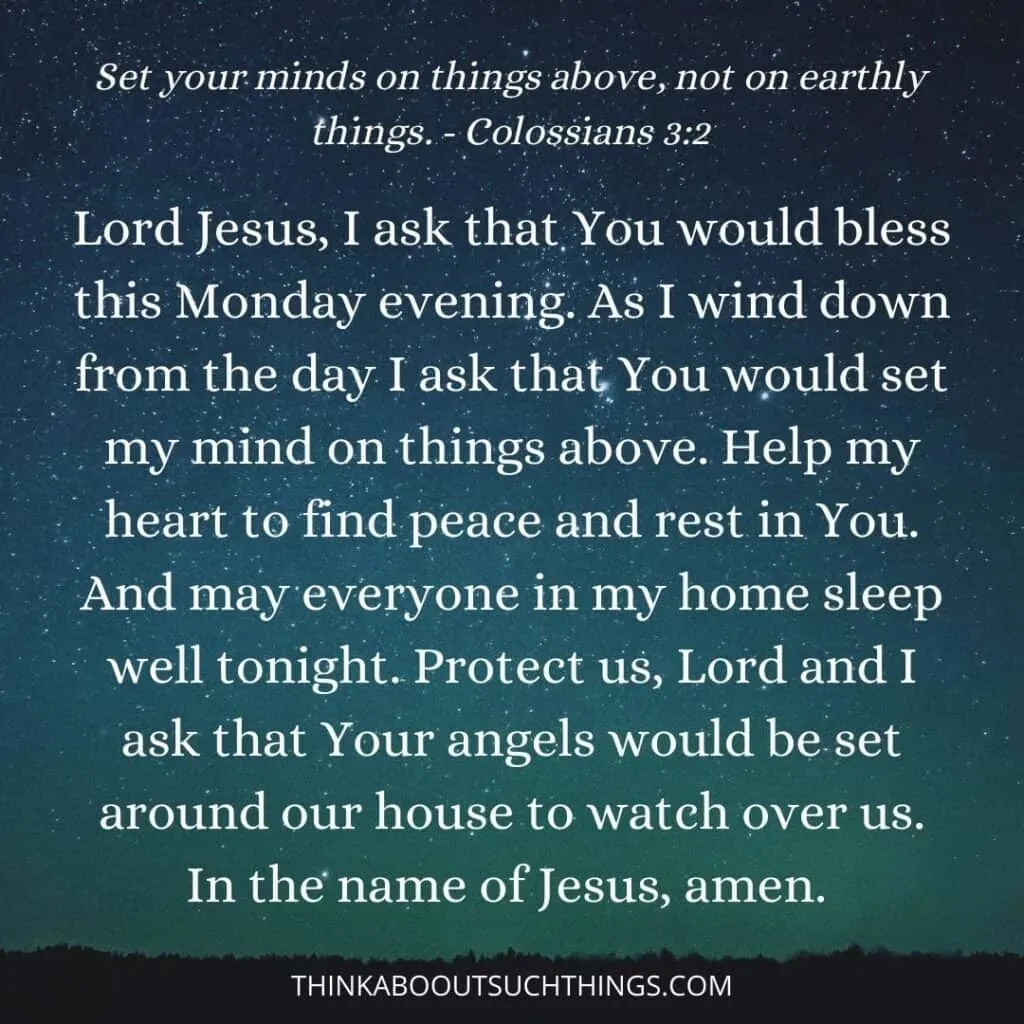 Father God, I ask that this Monday night would be full of your peace and rest. That as I sleep you would protect me and that I would have good dreams that come from You. In Jesus' name, amen.
Monday Prayer For The Week
Lord, as I start this work week I pray you bless this Monday. That everything would flow well and that you would give me the grace and wisdom I need for what is ahead. Bless my family this coming week as well. I ask that you protect them and be with them every single day. In the name of Jesus I pray, amen.
Hevenly Father, I ask that starting this week that it would be a week that brings You honor, glory, and praise. Lord that the work of my hands and the words of my mouth would be in alignment with Your ways. Let my heart draw close to You each day and that Your hand would protect and guide me. In Jesus name, amen.
More On The Topic of Prayer
There is so much we can learn about prayer! And If you are hungry to grow I have some articles that you might enjoy! You can check some of them out below or see all of them on my Prayer and Intercession section.
---
I hope you have enjoyed these Monday prayers and that have blessed and encouraged to spend time with the Lord today. If you would like to leave a comment feel free to do that below. I would personally love to know what God is showing and teach you.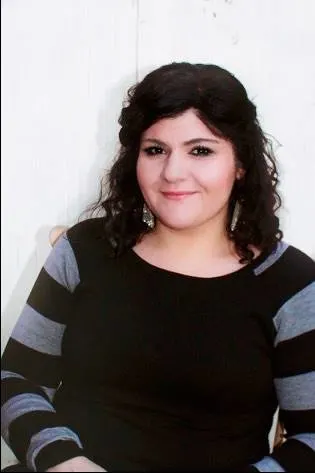 Melissa is a passionate minister, speaker and an ongoing learner of the Bible. She has been involved in church and vocational ministry for over 18 years. And is the founder of Think About Such Things. She has the heart to equip the saints by helping them get into the Word of God and fall more in love with Jesus. She also enjoys family, cooking, and reading.
She has spoken in churches in California, Oregon, Texas, and Mexico and has been featured in Guidepost Magazine and All Recipes Magazine. Read More…