In this article, we will dive into 11 powerful prayers for sick moms and how we can use Bible verses to pray over them as well.
I have a really close relationship with my mom. She's my best friend and biggest cheerleader. I love to bless her and pray for her. But when she gets sick, it's heartbreaking for me. There have been a few scares when we have had to take her to the hospital.
It was just a few years ago when she was deathly sick and we took her to the ER. Long story short, we took her just in time before her appendix ruptured. I remember it being 3 am at the hospital praying for the surgery to go well.
It was hard, but praise God, momma made it through. I know God was with her. So, today if you are facing a similar situation with your mom, whether it's an emergency or chronic sickness.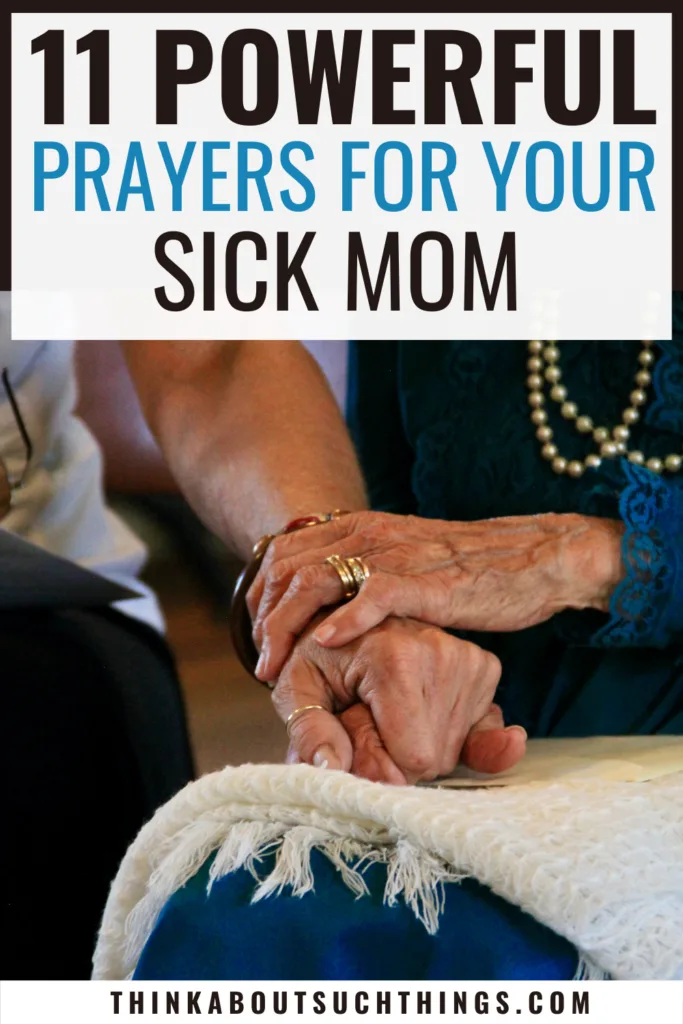 Tips for Praying for Healing for your Mom
Like all written prayers, I find it's important that we go over some important tips.
Personalize it: The prayers below are generic in nature. This is because I don't know your mom and what condition she is in. So, please personalize the prayer. I recommend reading the prayer first and then adding what you feel is right.

Be Specific: Similar to what I mentioned above, but go deeper. Be specific when you are praying to the Lord. For example, if your mom is battling arthritis in the hands. Specifically pray for healing of her joints, and that her hands would be pain free.

Let it Come from the Heart: God doesn't desire to for us to recite written prayers and call it a day. He wants prayers that come from the heart. So, make sure when you are reading through these prayers that you connect with them on a heart level and not a "oh, that sounds good"

Get Inspired: Did you know you can actually just read these prayers and use them as inspiration or a guide to help you pray on your own? That's right…let them be the diving board that helps you jump into a pool of God's presence.
Bible Verses to Use While Praying for Your Sick Mom
Did you know that one of the names of God is Jehovah Rapha? It mean's "I AM your Healer" Throughout the Bible, we see many stories and accounts of God's healing touch. And we know God hasn't changed (Hebrews 13:8)
I thought it might be nice to share some Bible verses you can use while you are praying for your sick mom. If you can pray with her that would be outstanding and I encourage you to pray these verses over her. God's Word is powerful!
---
He sent out his word and healed them; he rescued them from the grave. – Psalm 107:20 NIV
the LORD gives sight to the blind, the LORD lifts up those who are bowed down, the LORD loves the righteous. – Psalm 146:8 NIV
Is anyone among you sick? Let them call the elders of the church to pray over them and anoint them with oil in the name of the Lord. 15 And the prayer offered in faith will make the sick person well; the Lord will raise them up. If they have sinned, they will be forgiven. – James 5:14-15 NIV
"He himself bore our sins" in his body on the cross, so that we might die to sins and live for righteousness; "by his wounds, you have been healed." – 1 Peter 2:24 NIV
Heal me, LORD, and I will be healed; save me and I will be saved, for you are the one I praise. – Jeremiah 17:14 NIV
Hearing this, Jesus said to Jairus, "Don't be afraid; just believe, and she will be healed." – Luke 8:50 NIV
>> Check Out More Bible Verses about Healing
---
If you are new to using Bible verses while praying. I will show you what I do.
Example of How to Use a Bible Verse in Prayer for your Mom
Lord, it says in Your Word that by His stripes we are have been healed. So, today I ask that everything Jesus did on the cross would be manifested in my mom's body. That You would completely heal her and that she would no longer suffer. Let this sickness leave her body and never return. Thank you, Lord, that You are the healer and a miracle worker. We thank You for what You are doing in my mom's life. Bless her and strengthen her. In the mighty name of Jesus, amen!
Prayers for Sick Mom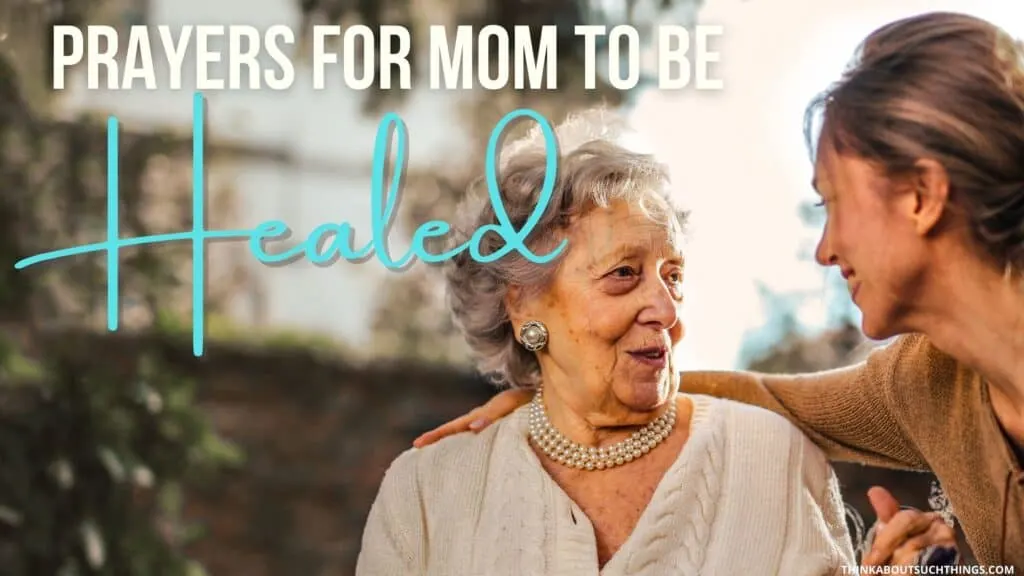 >> Check Out Prayer Points for Healing
Prayer for Sick Mother in Hospital
Heavenly Father, I lift up my mom today. She's in the hospital and needs your healing touch. I ask that you would give the doctors and nurses wisdom and that they would show kindness when working with my mom. Let your angels be around my mom's hospital room to protect and minister to her. Let my mom be able to come back home to her family and be in good health. In Jesus' name, amen!
Prayer for Mom's Surgery
God, my mom is going into surgery today. I ask for your divine protection as the doctors work on her. Lord, I ask that you would guide the surgeon's hands and that there would be no complications or issues with the procedure. I pray that it would be a textbook operation. Give everyone in that operating room wisdom, peace, and grace. And bless my mom's body with strength and quick healing. In the mighty name of Jesus, amen.
Prayer for a Friend's Sick Mom
God, I lift up my friend's mom to you today. She has been battling sickness in her body and needs Your heavenly touch. I ask that you would touch her from the top of her head to the bottom of her feet. Make her whole and well again. Bless her with a long healthy life! In Jesus' name, amen.
Prayer for Mom to Get Well
Lord, my mom has been sick for a while now. She needs your healing touch. Help her body to get well and to be restored. Give her the strength and energy she used to have. I ask that she would experience 100% restoration of her whole body. Let her be a walking testimony of your healing touch. In Jesus' name, amen!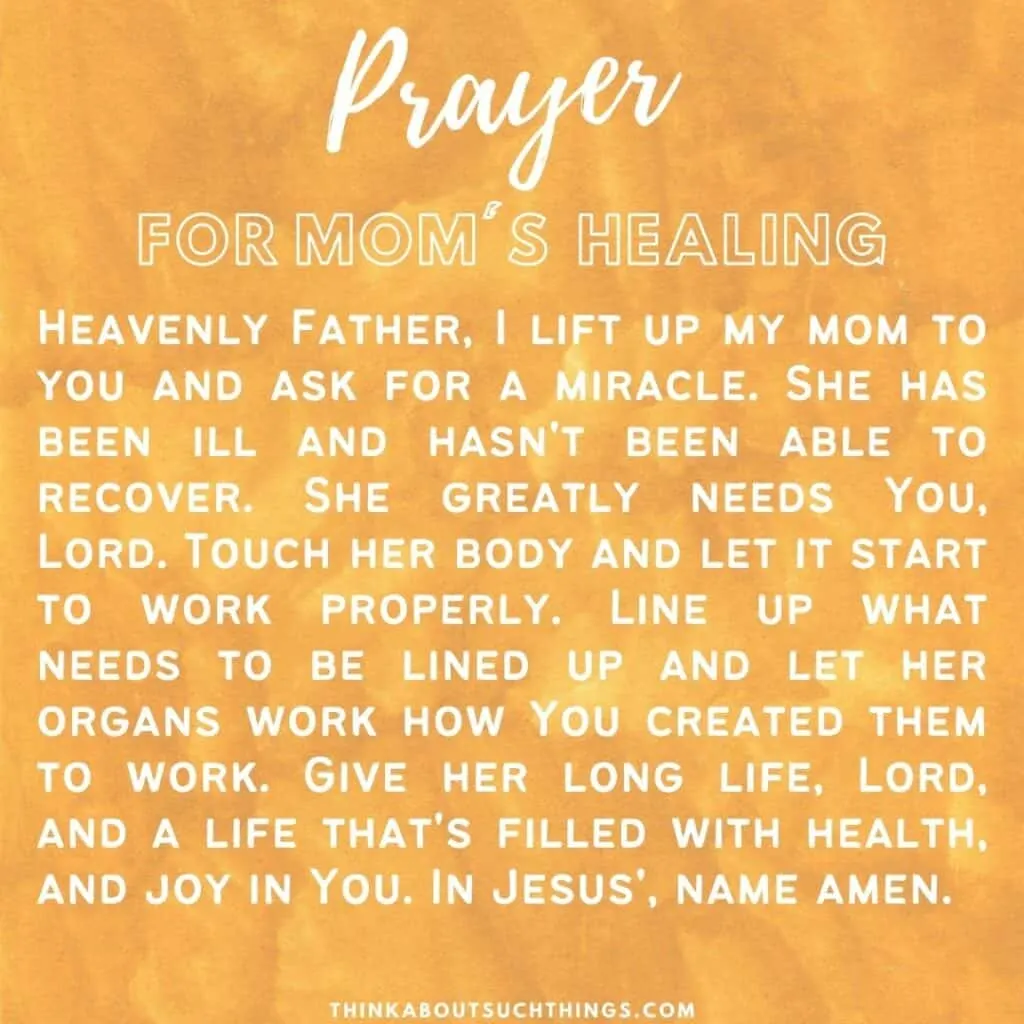 Prayer for ill Mother
Heavenly Father, I lift my mom to you and ask for a miracle. She has been ill and hasn't been able to recover. She greatly needs You, Lord. Touch her body and let it start to work properly. Line up what needs to be lined up and let her organs work how You created them to work. Give her long life, Lord, and a life that's filled with health, and joy in You. In Jesus', name amen.
Prayer for my Mother to Heal
Lord, I come before you today and ask for You to heal my mother. She has been in pain and can't get relief. But You, Lord, can give her the relief she needs. I ask that You would touch the part of her body that is sick that you would restore it. Make it new again, Lord! In the mighty name of Jesus' amen.
Prayer for Mom Who Has Cancer
Lord, Your Word says You are the God who heals! I believe it Lord, and I ask that would manifest that in my mom's body. That cancer would bow to the name of Jesus and that she would be 100% healed. Let every rogue cell die off and only new healthy strong cells are created. Give her immune system strength to fight off anything that would try to attack her in Jesus' name! Amen!
Healing Prayer for Sick Mom
Father God, I come before you asking for Your healing presence to come in power over my mom. I ask that You come and bring a miracle to my mom's body. That all pain, illness, and weakness would be replaced with healing, strength, and life. In the mighty name of Jesus, amen!
Prayer for a Speedy Recovery for Mom
Lord, I ask for a speedy recovery for mom. She just got out of surgery (insert what situation here.) And I ask that her body would heal quickly, and easily. That things would line up the way they're supposed to and that she would have no ill effect from this in the future. In the powerful name of Jesus, I pray, amen.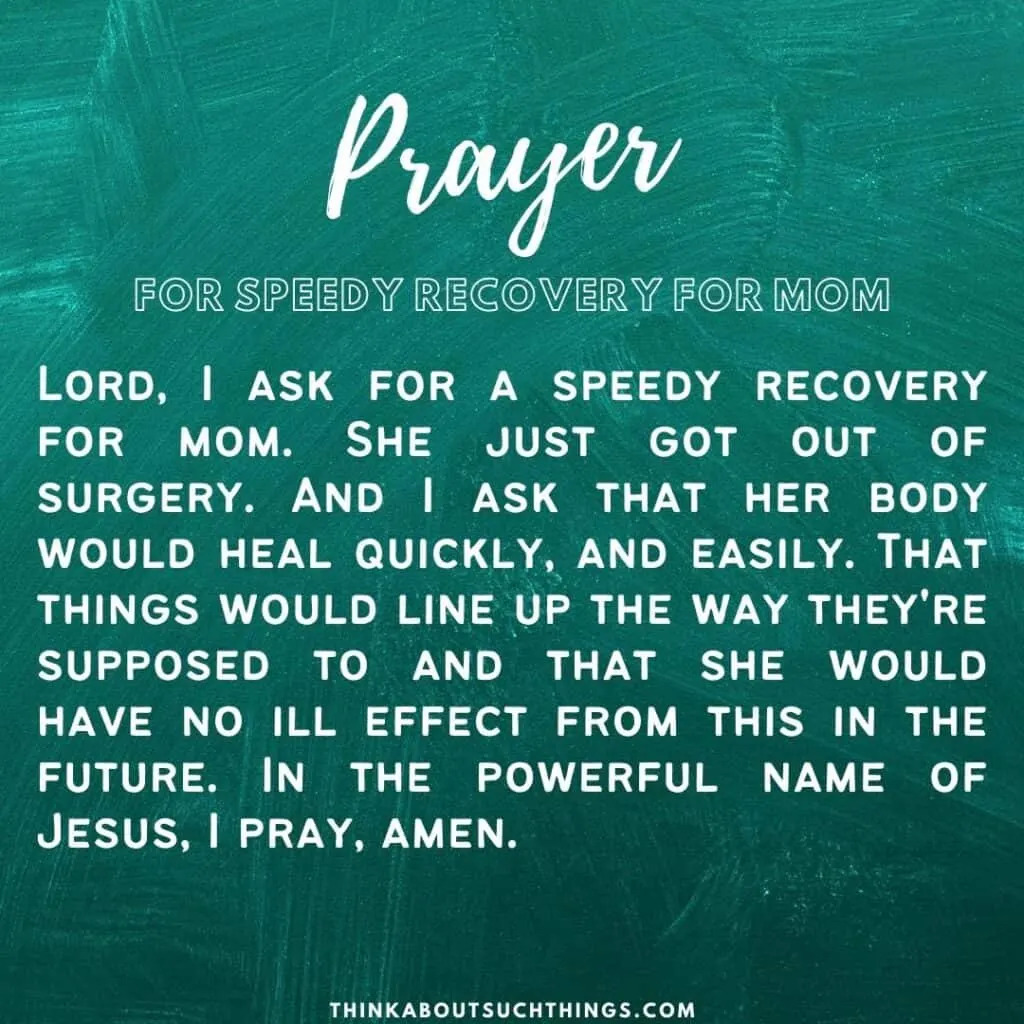 Prayer for a Sick Mother-in-Law
Heavenly Father, I come before you today with a request for my mother-in-law. She has been sick lately and needs your healing touch. I ask Lord that no weapon formed against her would prosper but that she would be made well. Fill her body with Your strength, peace, and power. Bless her today in the mighty name of Jesus, amen!
Healing Prayer for my Mom to Get Better
Heavenly Father, when you died on the cross, You didn't just carry our sins but You also healed our diseases. So, today I lift my mom to You. Heal her body, Lord, and restore everything that the enemy has taken. That she would get better and fully recover. Let Your presence overshadow her and bring transformation to her mentally, physically, emotionally, and spiritually. In the mighty name of Jesus' amen.
---
Well, I hope these prayers for your sick mom have encouraged you to connect with God and pray for her health. I actually would like to close this prayer for you…
Heavenly Father, I lift up every single person who comes to this post. I ask that You would hear their heartfelt prayers and that you would bring healing to their moms. Touch their families and draw them all closer to You. In the name of Jesus, Amen, and amen.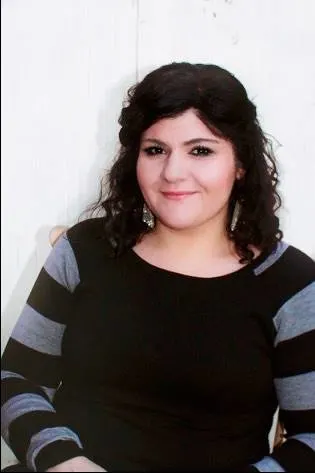 Melissa is a passionate minister, speaker and an ongoing learner of the Bible. She has been involved in church and vocational ministry for over 18 years. And is the founder of Think About Such Things. She has the heart to equip the saints by helping them get into the Word of God and fall more in love with Jesus. She also enjoys family, cooking, and reading.
She has spoken in churches in California, Oregon, Texas, and Mexico and has been featured in Guidepost Magazine and All Recipes Magazine. Read More…