In this article, we will explore prayer points for healing. These points will help you gain direction on what to pray about when battling sickness.
If you have been around Think About Such Things, you will know I am a firm believer in the power of prayer. I am also a firm believer that God is a healer! In scripture, one of His names is Jehovah Rapha (Exodus 15:26), which means He is the Lord that heals.
So, today I want to help you with how you can pray for healing. Sometimes, it's hard to find to right words or direction how you should pray. My hope is that these prayer points will give you the guidance you need as you pray.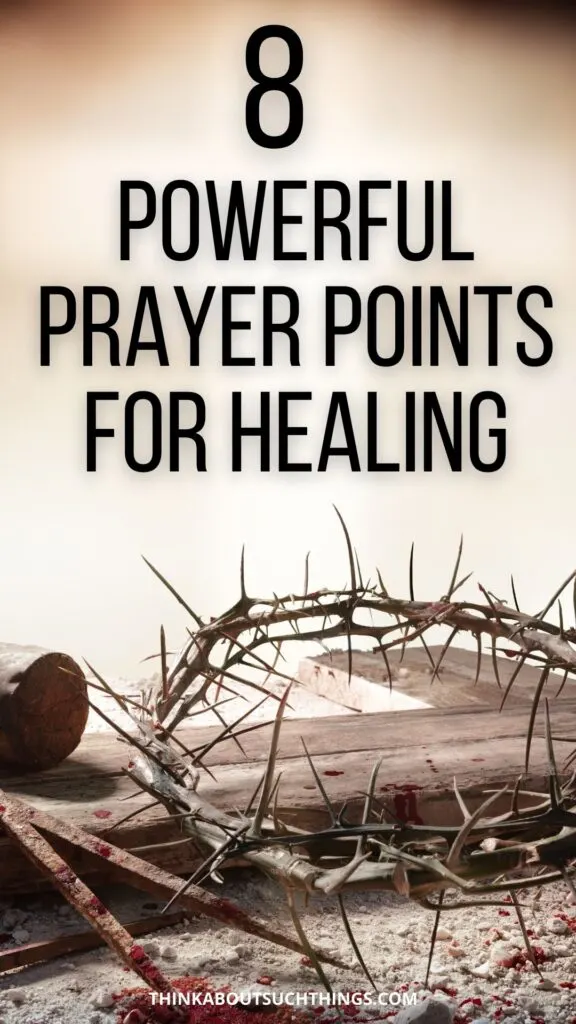 >> MORE PRAYER POINTS TO CHECK OUT
Prayer Points for Healing
Here are just 8 prayer points for healing. This does not mean there isn't more you can pray about, but I found these to be a good starting point.
But what I find of even greater importance is staying sensitive to the Holy Spirit while you are praying. He may show or highlight something He wants you to pray into. I also encourage you to use the gift of speaking in tongues if you have it.
Each prayer point will have Bible verses you can use in prayer. You can check out more Bible Verses on Healing by clicking the link.
If you are looking to better your health by losing weight then check out my prayers for weight loss.
Prayer Point for Healing 1 -100% Healing
But he was pierced for our transgressions,
he was crushed for our iniquities;
the punishment that brought us peace was on him,
and by his wounds we are healed. – Isaiah 53:5
Jesus paid for our healing on calvary! Here are some key things you can pray:
Ask for 100% healing and restoration of their body.

That their body would line up with the Word of God and be made whole.

Prayer Point for Healing 2 – Pain
Jesus went throughout Galilee, teaching in their synagogues, proclaiming the good news of the kingdom, and healing every disease and sickness among the people. News about him spread all over Syria, and people brought to him all who were ill with various diseases, those suffering severe pain, the demon-possessed, those having seizures, and the paralyzed; and he healed them. Large crowds from Galilee, the Decapolis, Jerusalem, Judea and the region across the Jordan followed him. – Matthew 4:23-25
Ask the Lord to remove the pain they are experiencing. That He would bring healing to what is causing the pain and that they would experience peace in their body.
Prayer Point for Healing 3 – Restoration
But I will restore you to health
and heal your wounds,'
declares the Lord,
'because you are called an outcast,
Zion for whom no one cares.' –Jeremiah 30:17
God is a God who heals, but He is also a God who restores. If you need restoration of a damaged body part or organ, pray for Him to restore and make new.
Prayer Point for Healing 4 – Wisdom
If any of you lacks wisdom, you should ask God, who gives generously to all without finding fault, and it will be given to you. -James 1:5
Some sickness and illnesses come from lifestyle choices. This is when it's good to pray for wisdom for our lifestyle choices. This can look like wise choices of food, sleep, stress, and more.
Another way you can pray for wisdom is that doctors and those who are treating you or a loved one would have divine wisdom. That God would give them revelation and that would bring forth healing.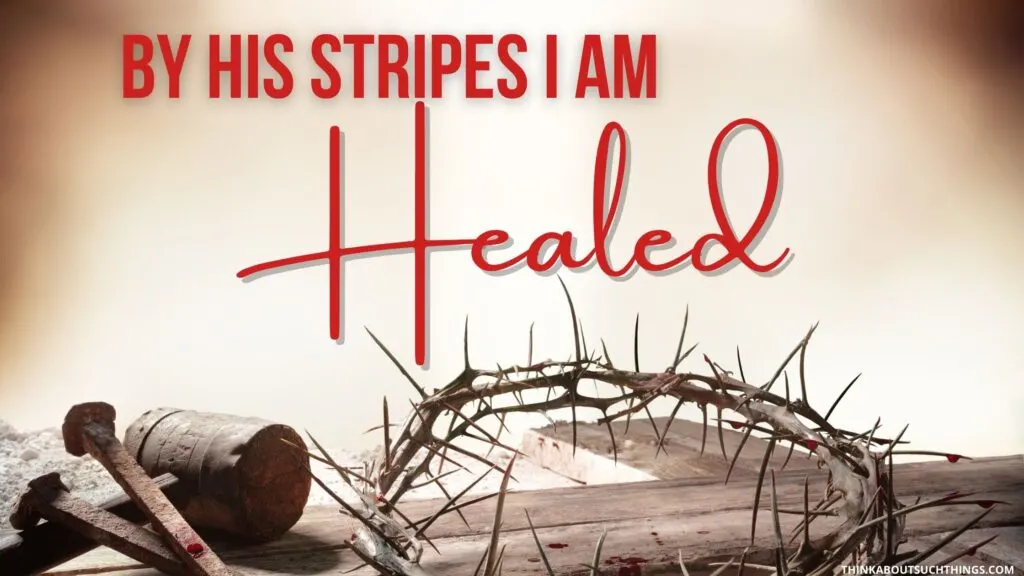 Prayer Point for Healing 5 – Physical Strength
but those who hope in the Lord
will renew their strength.
They will soar on wings like eagles;
they will run and not grow weary,
they will walk and not be faint. – Isaiah 40:31
Being sick can exhaust your physical strength. It's important that we pray for our physical body to have strength. You can even pray for specific body parts. For example, if the person who is sick has back problems, you can pray that their back, vertebrae, and muscles would be strengthened.
Prayer Point for Healing 6 – Emotional Strength
My soul is weary with sorrow;
strengthen me according to your word. –Psalm 119:28
It's not just physical strength that can get drained, but even our emotional strength. Especially when sickness is chronic. It may feel like it never ends or stops. Ask the Lord to strengthen their inner man and His presence would refresh that their soul.
Prayer Point for Healing 7 – Spiritual strength
So do not fear, for I am with you;
do not be dismayed, for I am your God.
I will strengthen you and help you;
I will uphold you with my righteous right hand. – Isaiah 41:10
Sometimes, even spiritual strength can be affected by physical sickness. This can happen when we have been waiting for a healing long time or are in a lot of pain. The enemy will use discouragement to question your faith. Pray for strength in the spirit. That no matter what is going on physically that they would draw closer to God and they would experience His touch.
Prayer Point for Healing 8- Faith
"'If you can'?" said Jesus. "Everything is possible for one who believes." – Mark 9:23
Building on number 7… praying for faith during this time is crucial. Pray they would be encouraged, strengthened, and lifted up in their faith.
---
These are just 8 prayer points for healing. There are certainly more, like I mentioned above. But with closing, I want to encourage you to pray about taking communion. Taking communion is a powerful spiritual act that brings transformation to our lives and even our bodies. Remember, Jesus' blood was shed for our healing!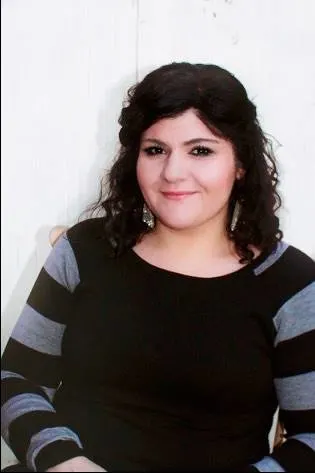 Melissa is a passionate minister, speaker and an ongoing learner of the Bible. She has been involved in church and vocational ministry for over 18 years. And is the founder of Think About Such Things. She has the heart to equip the saints by helping them get into the Word of God and fall more in love with Jesus. She also enjoys family, cooking, and reading.
She has spoken in churches in California, Oregon, Texas, and Mexico and has been featured in Guidepost Magazine and All Recipes Magazine. Read More…