This post may contain affiliate links. Please read my disclosure policy for more info.
Scriptures on Hope
It's easy in this day and age to lose hope. We are plagued by hearing bad news everywhere we go. You can't even turn on your tv or our computers without being bombarded.
Then there is the personal day to day struggles that can overtake our hope as well. It can be finances, relationship issues, health, and so on.
Sometimes that dark cloud can get real thick around our head. We forget that if we pushed it to the side the sun would be shining bright. God is that bright sun and He is always full of hope and wants His children to be too.
I wrote a post on 7 Hope Boosting Tools if you are looking for practice tools to tell that cloud to "BEAT IT!" Feel free to click the link above. 
But in this post, we are going to focus on some key scriptures that you can pray, meditate, or speak over your life.
"faith comes from hearing the message, and the message

is heard

through the word about Christ

." Romans 10:17
And also in Romans it says…
For whatever

was written

in former days

was written

for our instruction, that through endurance and through the encouragement of the Scriptures

we might

have hope

. 

—Romans 15:4
It's important that we surround ourselves with the Word of God.
Hearing the message of truth has a profound impact on us
spiritually
,
emotionally
, and
physically
. His word is a double-edged sword!
So, let us start cutting up that cloud of hopelessness.
Scriptures on Hope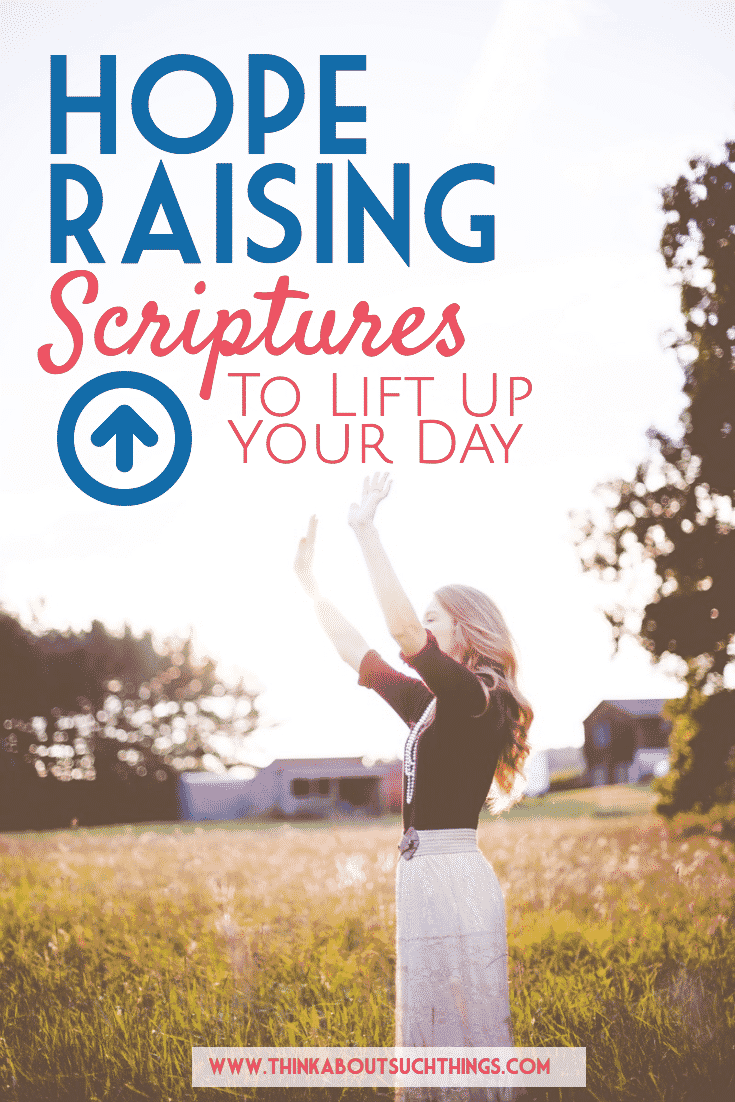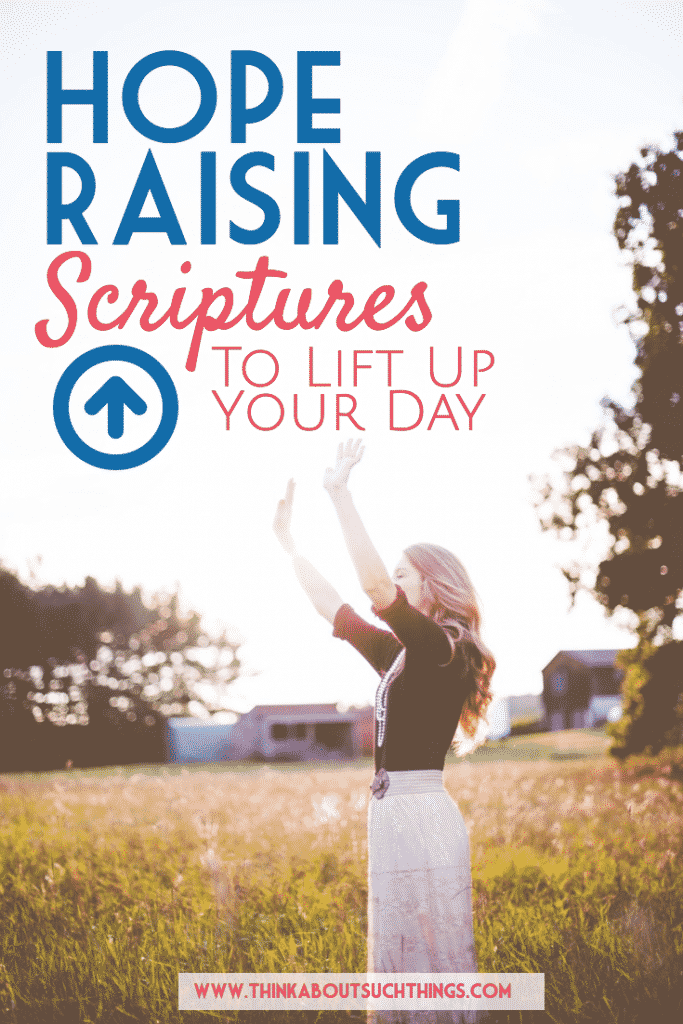 Old Testament
All these scriptures are taken from the NIV translation.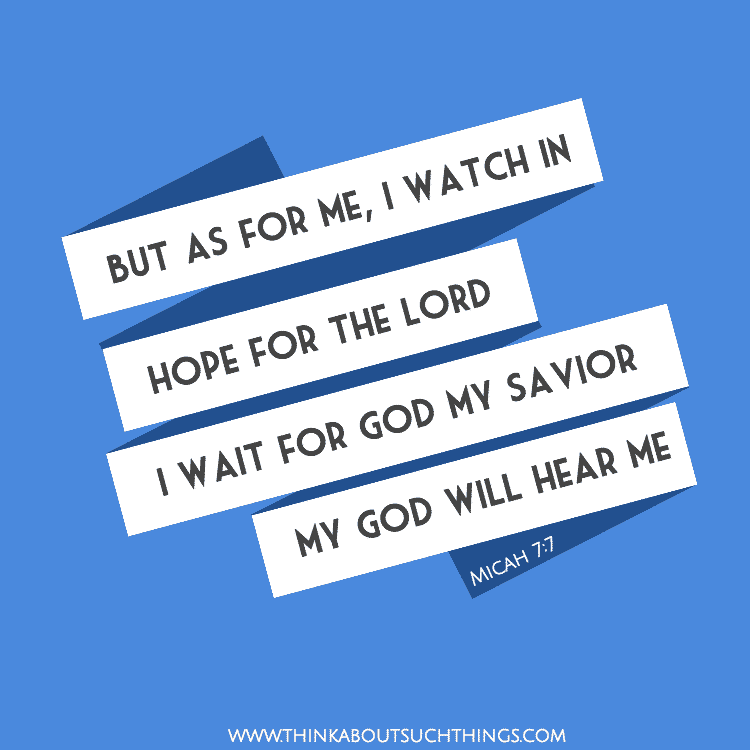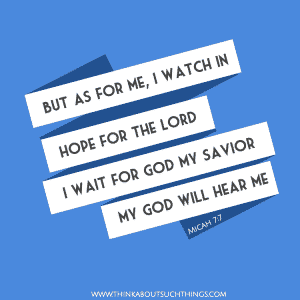 For I know the plans I have for you, declares the Lord, plans for welfare and not for evil, to give you a future and a hope. 

—Jeremiah 29:11
Then they cried to the LORD in their trouble, and He saved them from their distress. He sent out His word and healed them; He rescued them from the grave. Let them give thanks to the LORD for His unfailing love and His wonderful deeds for mankind.—Psalm 107:19-21
But they who wait for the Lord

shall

renew their strength;

they

shall

mount up with wings like eagles;

 they

shall

run and not be weary;

they

shall

walk and not faint. 

—Isaiah 40:31
But this I call to mind, and

therefore

I have hope: The steadfast love of the Lord never ceases;

 his mercies never come to an end; they are new every morning; great is your faithfulness. —Lamentations 3:21-23
The LORD your God in your midst, the Mighty One, will save; He will rejoice over you with gladness, He will quiet you with His love, He will rejoice over you with singing

. —Zephaniah 3:17 
But as for me, I watch in hope for the LORD, I wait for God my Savior; my God will hear me.— Micah 7:7
He has caused us to be born again to a living hope through the resurrection of Jesus Christ from the dead, to an inheritance that is imperishable, undefiled, and unfading, kept in heaven for you

.

—1 Peter 1:3-4
May the God of hope fill you with all joy and peace in believing, so that by the power of the Holy Spirit you may abound in hope.

—Romans 15:13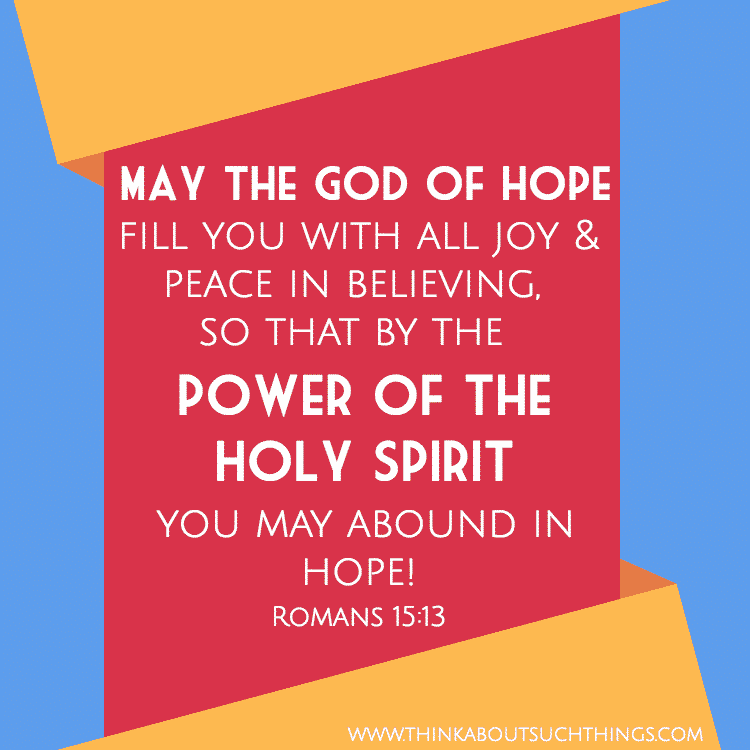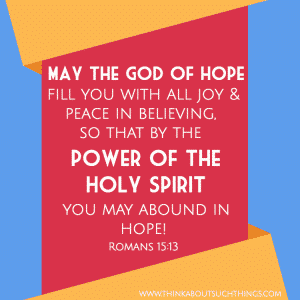 For this light momentary affliction is preparing for us an eternal weight of glory beyond all comparison, as we look not to the things that

are seen

but to the things that are unseen

.

—2 Corinthians 4:17-18
He will wipe away every tear from their eyes, and death

shall

be no more, neither

shall

there be mourning, nor crying, nor pain anymore, for the former things have passed away

.

—Revelation 21:4
 

Eye has not seen, nor ear heard, nor have entered into the heart of man the things which God has prepared for those who love Him

.— 1 Corinthians 2:9
But since we belong to the day, let us be sober, putting on faith and love as a breastplate, and the hope of salvation as a helmet

. —1 Thessalonians 5:8
He has delivered us from such a deadly peril, and he will deliver us again. On him we have set our hope that he will continue to deliver us.— 2 Corinthians 1:10