Dive into this selection of Bible verses on hope to inspire, and encourage your walk with God.
It's easy in this day and age to lose hope. We are plagued by hearing bad news everywhere we go. You can't even turn on your tv or our computers without being bombarded.
Then there is the personal day to day struggles that can overtake our hope as well. It can be finances, relationship issues, health, and so on. Sometimes that dark cloud can get real thick around our head. We forget that if we pushed it to the side the sun would be shining bright.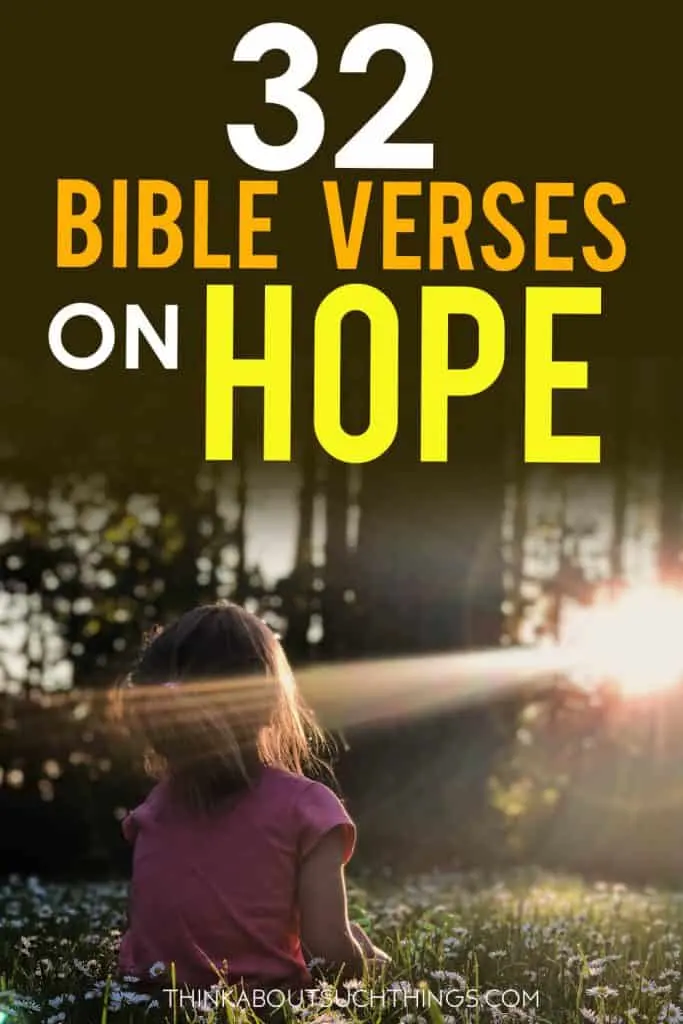 God is that bright sun and He is always full of hope and wants His children to be too. I wrote a post on 7 Hope Boosting Tools if you are looking for practice tools to tell that cloud to "BEAT IT!"
Feel free to click the link above. But in this post, we are going to focus on some key powerful scriptures on hope that you can pray, meditate, or speak over your life.
The Bible says,
"faith comes from hearing the message, and the message is heard through the word about Christ." – Romans 10:17
And also in Romans, it says…
For whatever was written in former days was written for our instruction, that through endurance and through the encouragement of the Scriptures we might have hope. – Romans 15:4
It's important that we surround ourselves with the Word of God. Hearing the message of truth has a profound impact on us spiritually, emotionally, and physically.
His word is a double-edged sword! So, let us start cutting up that cloud of hopelessness.
Scriptures on Hope
All Bible verses about hope below are taken from the NIV. If you hover over the verse you will see it in the KJV. If you would like to see these verses in different translations then I recommend checking out Bible Gateway.
>>Check Out: From Darkness to Light: Bible Stories About Hope That Will Inspire You
Old Testament Bible Verses on Hope
For I know the plans I have for you, declares the Lord, plans for welfare and not for evil, to give you a future and a hope. — Jeremiah 29:11
Then they cried to the LORD in their trouble, and He saved them from their distress. He sent out His word and healed them; He rescued them from the grave. Let them give thanks to the LORD for His unfailing love and His wonderful deeds for mankind.— Psalm 107:19-21
Be strong and courageous. Do not be afraid or terrified because of them, for the Lord your God goes with you; he will never leave you nor forsake you." — Deuteronomy 31:6
But they who wait for the Lord shall renew their strength; they shall mount up with wings like eagles; they shall run and not be weary; they shall walk and not faint. — Isaiah 40:31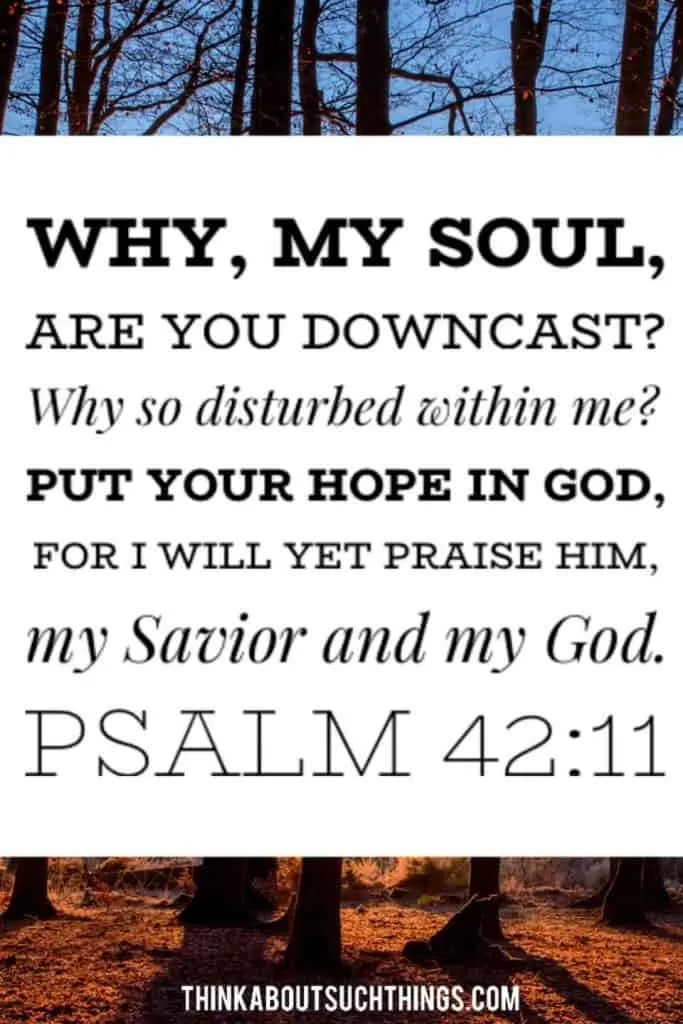 But this I call to mind, and therefore I have hope: The steadfast love of the Lord never ceases; his mercies never come to an end; they are new every morning; great is your faithfulness. —Lamentations 3:21-23
Why, my soul, are you downcast?
Why so disturbed within me?
Put your hope in God,
for I will yet praise him,
my Savior and my God. — Psalm 42:11
The LORD your God in your midst, the Mighty One, will save; He will rejoice over you with gladness, He will quiet you with His love, He will rejoice over you with singing. — Zephaniah 3:17
But now, this is what the Lord says—
he who created you, Jacob,
he who formed you, Israel:
"Do not fear, for I have redeemed you;
I have summoned you by name; you are mine.
When you pass through the waters,
I will be with you;
and when you pass through the rivers,
they will not sweep over you.
When you walk through the fire,
you will not be burned;
the flames will not set you ablaze. — Isaiah 43:1-2
But as for me, I watch in hope for the LORD, I wait for God my Savior; my God will hear me.— Micah 7:7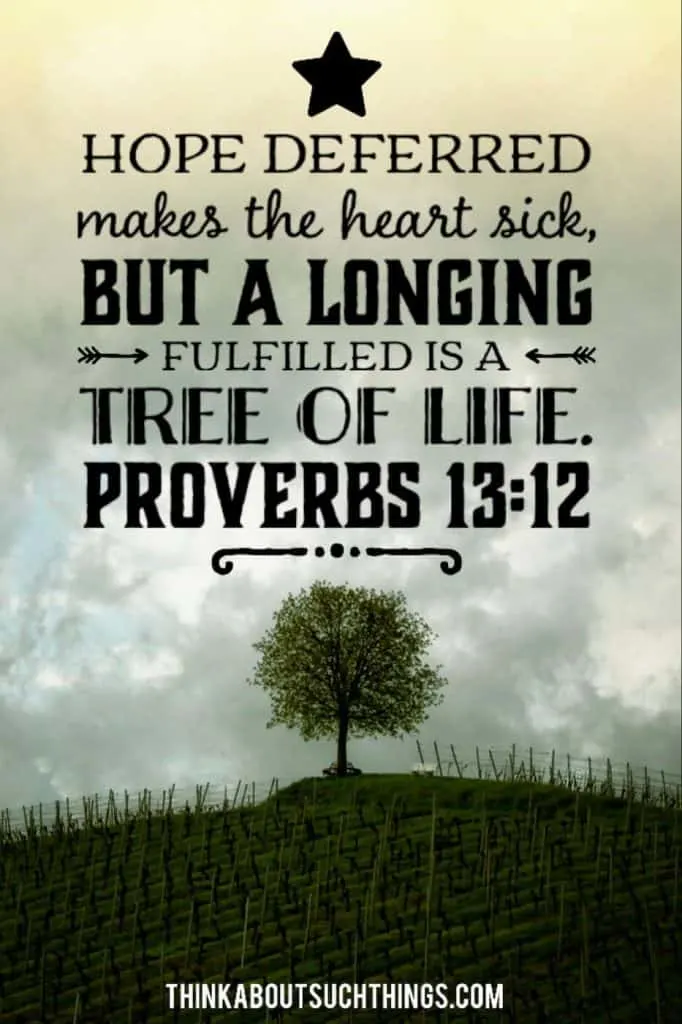 Hope deferred makes the heart sick, but a longing fulfilled is a tree of life. — Proverbs 13:12
You will be secure, because there is hope; you will look about you and take your rest in safety. you will lie down, with no one to make you afraid, and many will court your favor. — Job 11:18-19
"But blessed is the one who trusts in the Lord,
whose confidence is in him.
They will be like a tree planted by the water
that sends out its roots by the stream.
It does not fear when heat comes;
its leaves are always green.
It has no worries in a year of drought
and never fails to bear fruit." — Jeremiah 17:7-8
the Lord delights in those who fear him, who put their hope in his unfailing love. — Psalm 147:11
Know also that wisdom is like honey for you:
If you find it, there is a future hope for you,
and your hope will not be cut off. — Proverbs 24:14
New Testament Bible Verses on Hope
He has caused us to be born again to a living hope through the resurrection of Jesus Christ from the dead, to an inheritance that is imperishable, undefiled, and unfading, kept in heaven for you.—1 Peter 1:3-4
Now faith is confidence in what we hope for and assurance about what we do not see. — Hebrews 11:1
And everyone who has this hope fixed on Him purifies himself, just as He is pure — 1 John 3:3
May the God of hope fill you with all joy and peace in believing, so that by the power of the Holy Spirit you may abound in hope. — Romans 15:13
Being confident of this, that he who began a good work in you will carry it on to completion until the day of Christ Jesus. — Philippians 1:6
Now Moses was faithful in all God's house as a servant, to testify to the things that were to be spoken later, but Christ is faithful over God's house as a son. And we are his house if indeed we hold fast our confidence and our boasting in our hope. — Hebrews 3:5-6
To them God has chosen to make known among the Gentiles the glorious riches of this mystery, which is Christ in you, the hope of glory. — Colossians 1:27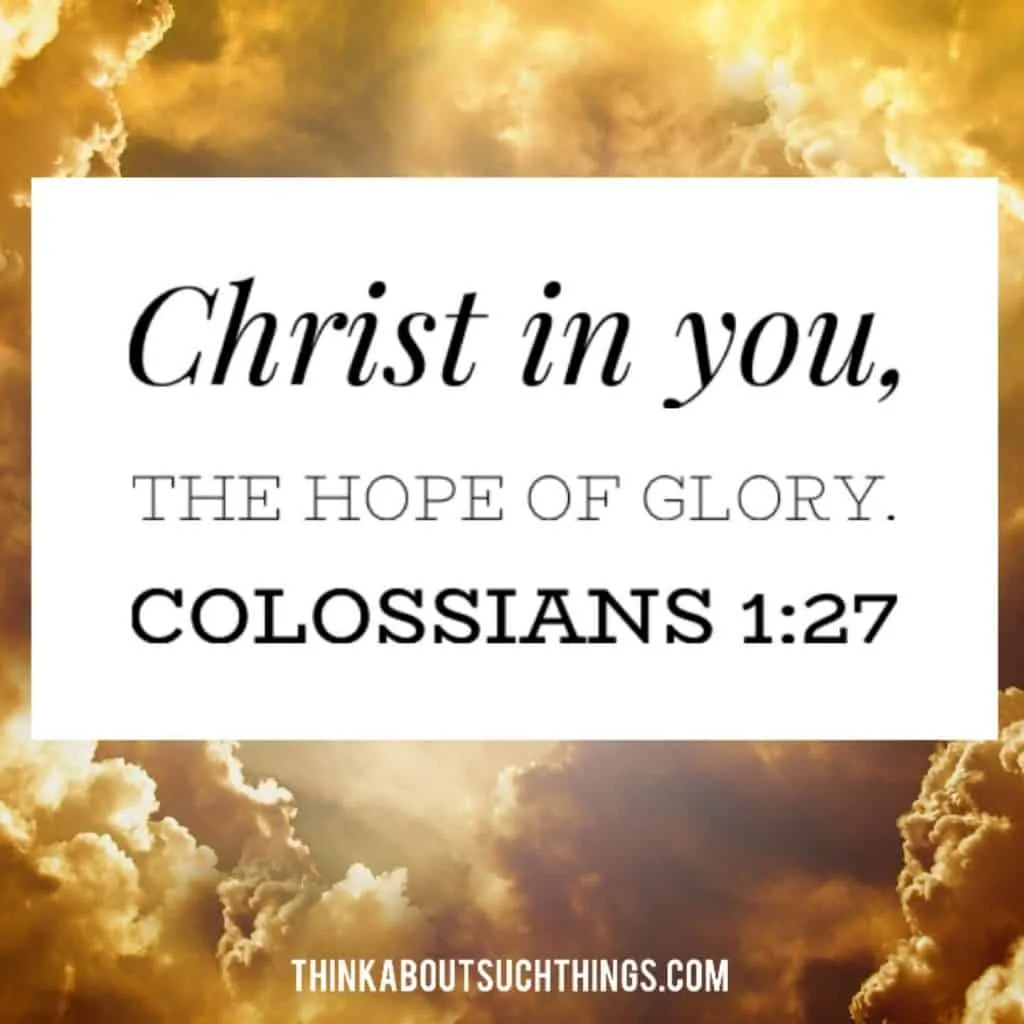 For this light momentary affliction is preparing for us an eternal weight of glory beyond all comparison, as we look not to the things that are seen but to the things that are unseen.—2 Corinthians 4:17-18
Not only so, but we also glory in our sufferings, because we know that suffering produces perseverance; perseverance, character; and character, hope. And hope does not put us to shame, because God's love has been poured out into our hearts through the Holy Spirit, who has been given to us. —Romans 5:3-5
Through him you believe in God, who raised him from the dead and glorified him, and so your faith and hope are in God. — 1 Peter 1:21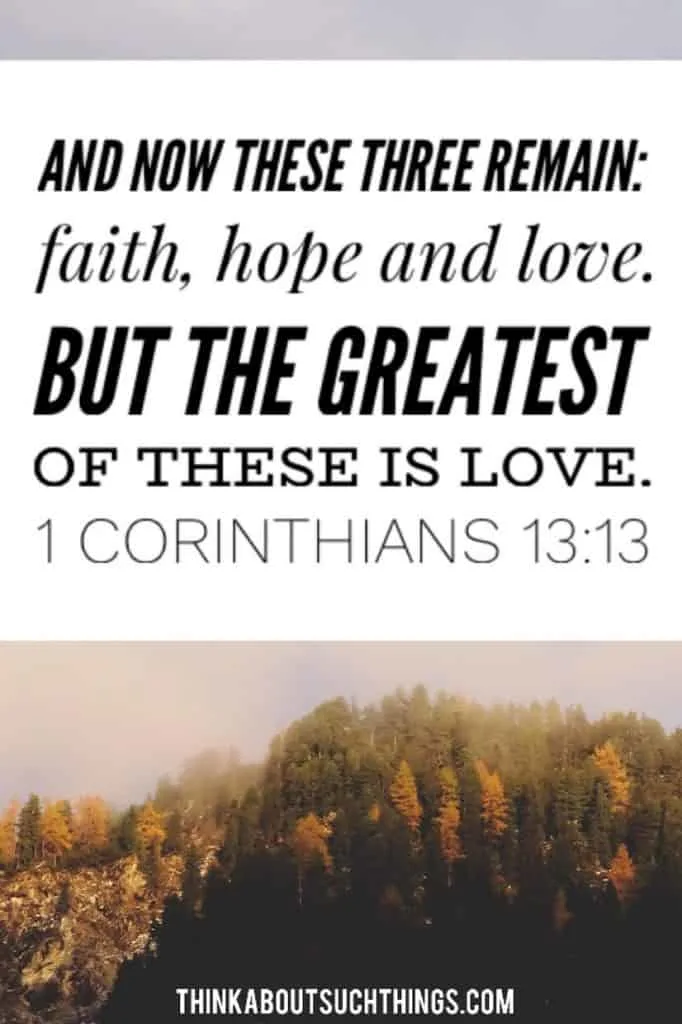 There is one body and one Spirit, just as you were called to one hope when you were called. — Ephesians 4:4
But when the kindness and love of God our Savior appeared, he saved us, not because of righteous things we had done, but because of his mercy. He saved us through the washing of rebirth and renewal by the Holy Spirit, whom he poured out on us generously through Jesus Christ our Savior, so that, having been justified by his grace, we might become heirs having the hope of eternal life. — Titus 3:4-7
He will wipe away every tear from their eyes, and death shall be no more, neither shall there be mourning, nor crying, nor pain anymore, for the former things have passed away.—Revelation 21:4
Eye has not seen, nor ear heard, nor have entered into the heart of man the things which God has prepared for those who love Him.— 1 Corinthians 2:9
pray that the eyes of your heart may be enlightened in order that you may know the hope to which he has called you, the riches of his glorious inheritance in his holy people. —Ephesians 1:18
But since we belong to the day, let us be sober, putting on faith and love as a breastplate, and the hope of salvation as a helmet. —1 Thessalonians 5:8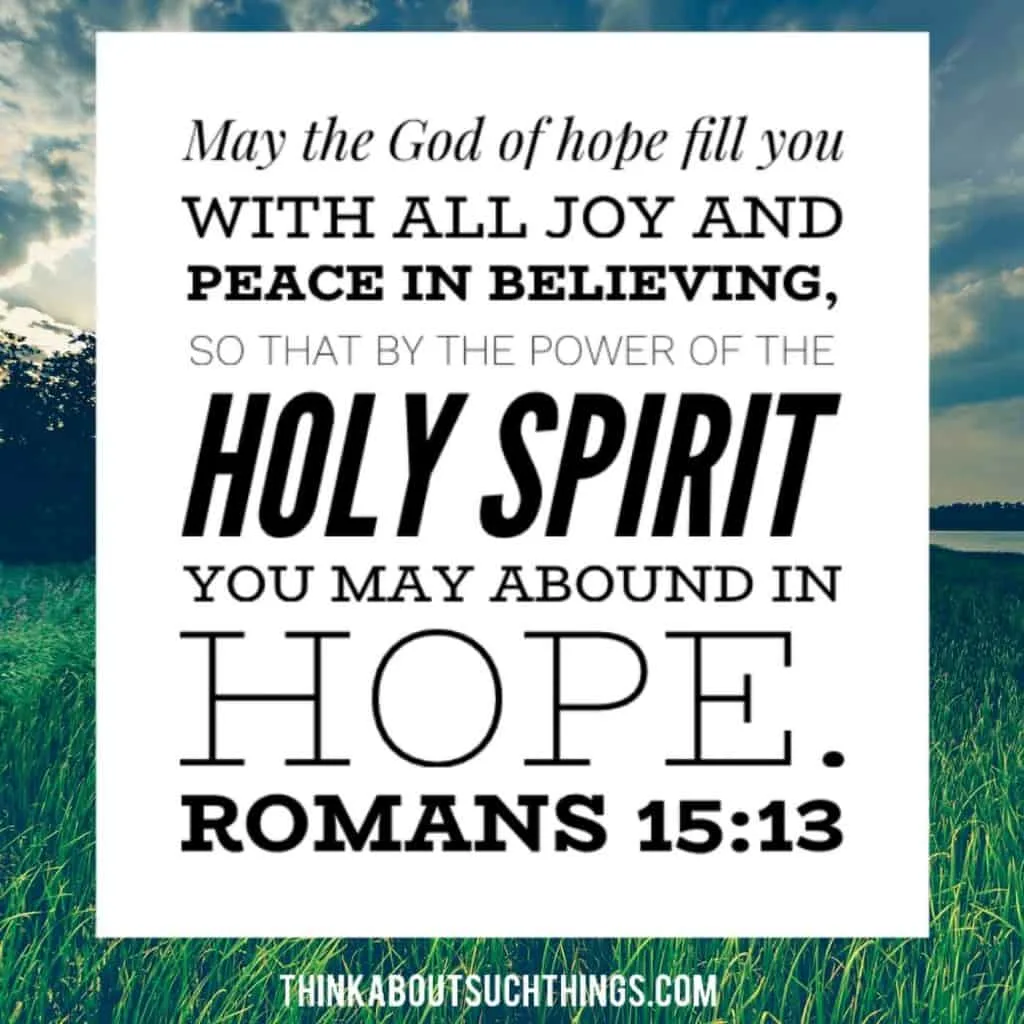 He has delivered us from such a deadly peril, and he will deliver us again. On him we have set our hope that he will continue to deliver us. — 2 Corinthians 1:10
And now these three remain: faith, hope and love. But the greatest of these is love. — 1 Corinthians 13:13
And God will wipe away every tear from their eyes; there shall be no more death, nor sorrow, nor crying. There shall be no more pain, for the former things have passed away. —Revelation 21:4
Recap Reference List of Bible Verses about Hope
If you are anything like me you probably would just like a simple list of Bible verse references. This a great way to write these verses down in your journal or notebook for later study.
List of Bible Verses on Hope
Jeremiah 29:11
Psalm 107:19-21
Isaiah 40:31
Lamentations 3:21-23
Isaiah 43:1-2
Zephaniah 3:17
Jeremiah 17:7-8
Micah 7:7
Psalm 42:11
Job 11:18-19
Psalm 147:11
Proverbs 24:14
Deuteronomy 31:6
Proverbs 13:12
1 Peter 1:3-4
Romans 15:13
2 Corinthians 4:17-18
Revelation 21:4
1 Corinthians 2:9
Colossians 1:27
1 Thessalonians 5:8
Philippians 1:6
2 Corinthians 1:10
Romans 5: 3-5
1 John 3:3
1 Peter 1:21
Ephesians 4:4
Hebrews 11:1
Ephesians 1:18
Hebrews 3:5-6
1 Corinthians 13:13
Titus 3:4-7
---
Well, there you have it! 32 encouraging verses on hope! I pray that they will build you up in the season the Lord has you in. If you are looking for more articles on faith or Bible verses on different topics then check out my Faith Page.
Below you will also find two of my most popular posts on Bible verses. Enjoy!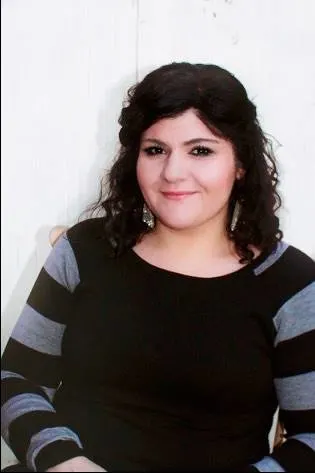 Melissa is a passionate minister, speaker and an ongoing learner of the Bible. She has been involved in church and vocational ministry for over 18 years. And is the founder of Think About Such Things. She has the heart to equip the saints by helping them get into the Word of God and fall more in love with Jesus. She also enjoys family, cooking, and reading.
She has spoken in churches in California, Oregon, Texas, and Mexico and has been featured in Guidepost Magazine and All Recipes Magazine. Read More…