In this article, I will share 10 uplifting prayers for happiness that you can use in your alone time with the Lord in a prayer meeting.
I remember watching the movie The Pursuit of Happiness. Which is about determination, and never giving up, but in the end, their happiness came from success and money. The thing is money and success don't always bring happiness.
Millionaires can deal with depression, and/or successful people feel lonely and sad. Outside circumstances don't always determine what will make you happy. But I know someone that can bring you joy and happiness, even when everything looks like poop. His name is Jesus!
God is our source for peace, love, joy, and more. We just need to draw close to Him and trust Him. Prayer is one way we can draw closer to the Lord. So, if your battling your emotions and long to feel happy. I hope these happiness prayers will help. But before we dive in, let's cover some important tips.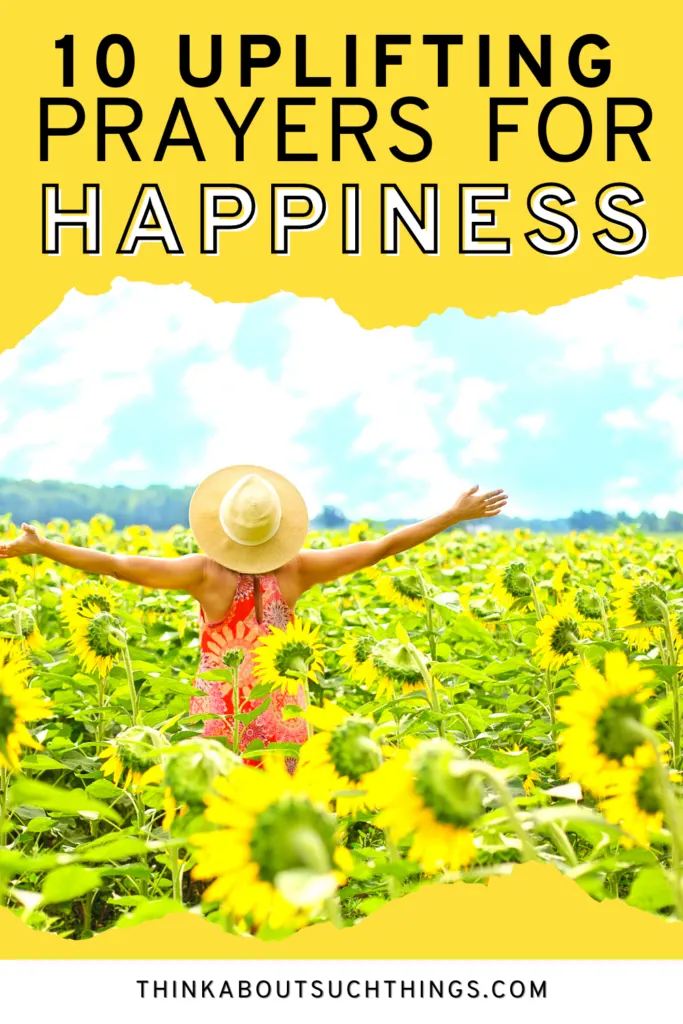 Tips for Using Prayers for Happiness
Like with all written prayers, it's vital that we personalize them and make them specific. The Lord longs to hear from your heart. You can take these prayers and add or change them to your personal need. Here are some simple tips on how you can tweak these prayers for happiness.
Add names, places, etc…
Describe situations you feel you have lost joy/happiness in.
Share how you are feeling emotionally.
Spend time in worship and praise.
By following these simple tips, your prayer time will come from your heart, rather than a written prayer from a screen.
>> Check Out These Prayers for Joy
A Prayer for Happiness During Difficult Times
Heavenly Father, it says in Your Word that we should consider it all joy when we face trials and tests. And the truth is that it's been difficult for me to be happy or joyful in this difficult time. So, I humble come before You and ask that You would restore joy and happiness in my life. Let my eyes see what You see and not on the surrounding circumstances. I know You will do a great work in my life and in that I rejoice for You are faithful and good. In Jesus' name, amen.
A Prayer for Happiness and Contentment
Heavenly Father, I ask that You would fill all the empty places within my heart. Every single place that I feel lack, sadness, and worry. Replace these empty places with Your precious Holy Spirit, so that I may experience Your happiness and contentment in my life. That I would go about my day with a cheerful heart. In the mighty name of Jesus, amen and amen.
A Prayer for Love and Happiness
God, please help me find love and happiness according to Your will. My heart longs to find someone and experience love, but first, Lord, let my heart experience Your love in a greater way. Guide me to find joy in each day and appreciate the beauty of what You have given me at this moment. In the mighty name of Jesus, amen.
A Prayer for Hope and Happiness
Heavenly Father, there have been moments where I have felt hopeless and in despair. So, I come before You today asking that You would refresh my spirit. Your Word in Jeremiah says that You have plans to prosper me and not to harm me, plans to give me hope and a future. Help me stand on this truth so that I may experience hope and happiness. In the name of Jesus' amen.
A Prayer for Health and Happiness
Wonderful Father, Your Word says that You are the Great Physician. So, I come before You asking that You would touch my body and bring healing. That I would walk in divine health and experience happiness that would only come from You. Take my life, Lord, and let it be refreshed and restored in all areas. In the mighty name of Jesus, amen.
A Prayer for Happiness in Life
Lord, my life has been blessed by You. I am thankful for all the gifts You have given me. You have blessed me with wonderful friends, and family members. I ask today that You would give me a heart full of happiness. So much Lord that it would overflow onto those around me. That everywhere I go, I would be a beacon of Your joy. In the wonderful name of Jesus, amen.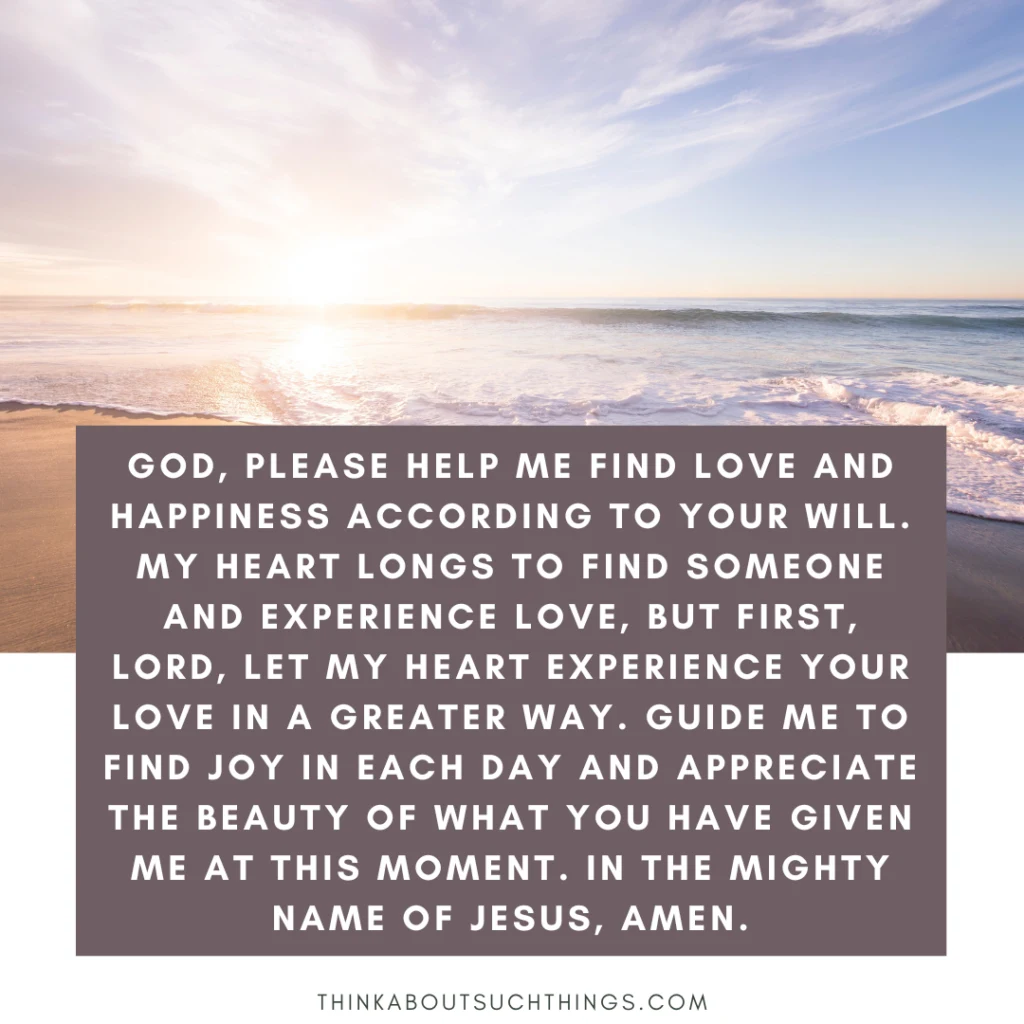 A Prayer for Happiness and Peace
Father, I rejoice in Your goodness and joy. I place all my worries at the foot of the cross and ask that You would give me peace that surpasses all understanding. That my happiness and joy would be restored to me 100 fold. Let the weight of the world and life fall away. So, that I would experience Your yoke, which is easy and light. In the mighty name of Jesus, amen.
A Prayer for Happiness in the Family
Father God, I ask for mercy over my family. This has been a hard season for us all and we greatly need Your touch. So, I ask that You would meet us where we are at. Unite us in Your love and fill this family with happiness and joy. Let each child experience Your presence, Lord, and let this marriage be blessed with exceeding happiness. In Jesus' name, amen.
A Prayer for a Happy Heart
Lord, I am striving for happiness and I can't seem to find it. I know I should find it in You and not worldly things. I need Your loving embrace and comfort. Let me go from a sad heart to a happy heart. I know You can help me with this Lord. Draw me close to You. In Jesus' name, amen.
A Prayer for Happiness in Relationship
Lord, I lift up this relationship before You. I ask that You would bless our unity, communication, and love for each other. Show us with Your wisdom as we grow in our relationship. That we would experience Your joy and happiness in this relationship. May You be the center of both of us and that this relationship would bring You glory and honor. In the mighty name of Jesus, amen.
---
I hope you have enjoyed these prayers for happiness. And my prayer for you is that You would experience God's goodness on a whole new level and that your heart would be full of cheer.
If you would like to leave a comment, you can do so below. I would love to hear what God is doing in your life.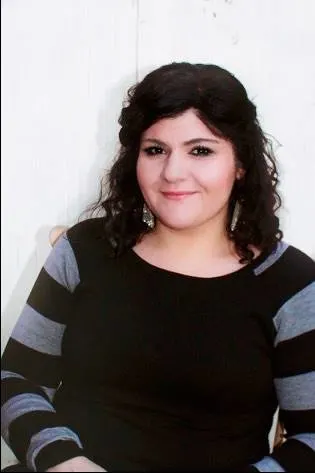 Melissa is a passionate minister, speaker and an ongoing learner of the Bible. She has been involved in church and vocational ministry for over 18 years. And is the founder of Think About Such Things. She has the heart to equip the saints by helping them get into the Word of God and fall more in love with Jesus. She also enjoys family, cooking, and reading.
She has spoken in churches in California, Oregon, Texas, and Mexico and has been featured in Guidepost Magazine and All Recipes Magazine. Read More…