In this article, we will explore some powerful prayers for sleep . So, if you have been having problems sleeping, I hope these prayers bring you the comfort, peace, and the rest you need.
Nothing is more refreshing than having a fantastic night's sleep. It can make your day flow so much better. But sometimes that doesn't happen. Lots of things can disturb our sleep; kids, sickness, anxiety, travel, bad dreams, and the list goes on.
"According to the American Sleep Association: Nearly 70 million Americans have a sleep disorder. Insomnia is the most common sleep disorder, with 30% of adults experiencing short-term insomnia. About 10% of people have long-lasting insomnia" (source)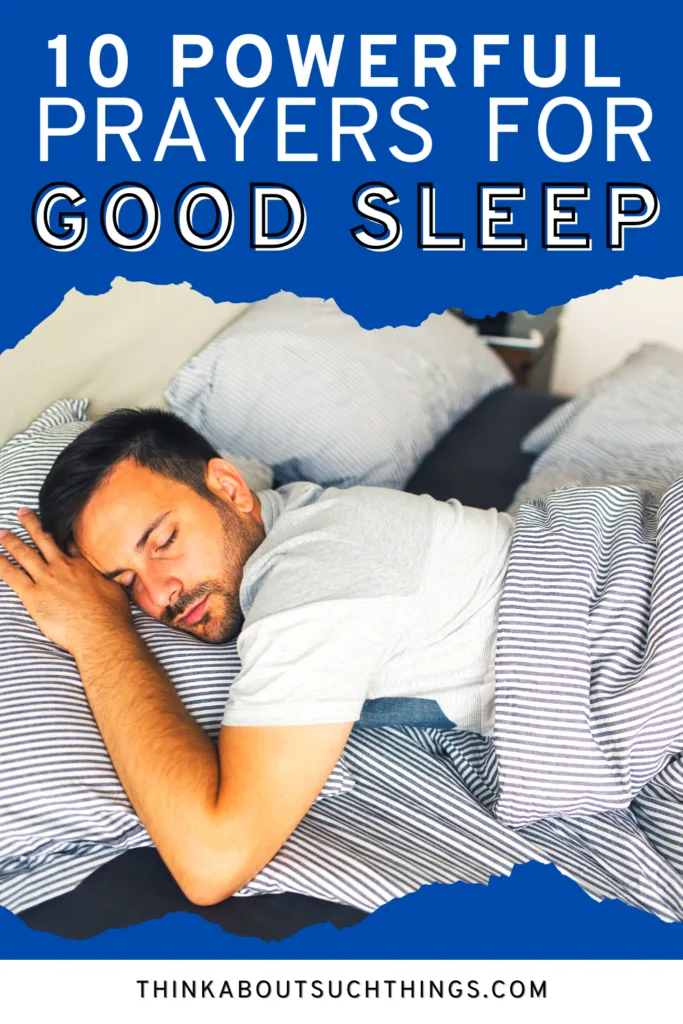 Psalm 127:2 states that He gives His beloved sleep. This is a Bible promise we can stand on and pray while we are having a difficult time sleeping. ( Here are more verses on rest)
Now, before we get started, I want to cover some important tips. Also, if you are dealing with nightmares, I encourage you to check out my post: How To Biblically Stop Having Nightmares.
Tips for Prayers for Sleep
Everyone's sleep patterns and issues are different. Perhaps you fall asleep but wake up in the middle of the night restless or you have a tendency to go to bed at 3am, leaving you exhausted for the next day. Fear and anxiety also cause a lot of sleepless nights.
When using these prayers for sleep, make sure to personalize your prayer to mention what is uniquely going on with you or someone in your home. Even using specific information in prayer is a great way to make your prayer personal to the Lord.
The other tip I have is to create a nightly habit with Jesus at the center. In this day and age with phones, computers, TVS and more, it's so easy to be distracted and scattered before bed. Try winding down in prayer and/or reading scripture. This will help your mind to settle down and focus on the Prince of Peace and have a wonderful morning!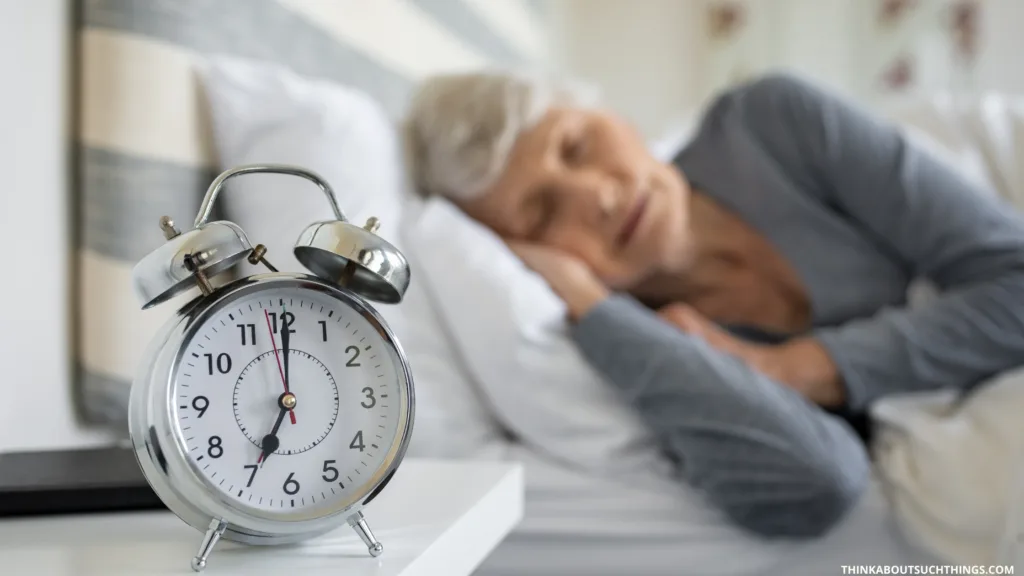 A Prayer for a Good Night's Sleep
Heavenly Father, thank You for the day we had. We are grateful for watching over us, protecting and preserving us. As we lay our heads to rest tonight, we pray Your angels will keep watch over us, Father.
We ask for a peaceful night on this night, Lord. We pray we will rest well. Though we may be tired and weary as we lay our heads to sleep, we are grateful because we are going to have enough rest and You are going to refresh our bodies.
Protect us from having bad dreams, but use our dreams to reveal to us Your will for our lives. We bless Your name for a good sleep. In Jesus' Name. Amen.
A Prayer for Good Dreams as I Sleep
Gracious Father, we are grateful for this night. We ask that You may be with us as we sleep tonight. Your Word says that when men are sleeping, You open their ears and impress them with warnings.
Just as You spoke to Joseph and Mary in their dreams, may You open our ears to hear and to receive Your guidance. Your Word says that You will pour out Your Spirit on all flesh, and they shall dream dreams and see visions.
We ask for pleasant dreams tonight that will complement Your Word. Let your Spirit of revelation be poured unto us tonight in Jesus' name. Mighty God as we lie down, may we not be afraid because our sleep shall be sweet. We thank You because when You speak in our dreams, we will recognize your voice. In Jesus' name, Amen.
>>Learn more about dreams and Bible by checking out my Christian Dream Interpretation page.
A Prayer of Protection as I Sleep
Dear Mighty God, thank You because You are always with me. Even tonight, I am grateful for Your presence here with me. In Your peace, Lord, I lie down and sleep because You are going to keep me safe from evil in the night, in Jesus' name.
I pray You may surround me with Your divine edge of protection, encompass me all round with Your strength and might tonight. Thank You because I know You are watching over me. You do not sleep or slumber and I am safe under Your protection as I close my eyes to sleep in the mighty name of Jesus, amen.
A Prayer to Help Me Sleep
Dear God, I am grateful for Your blessings and goodness of this day. Thank You for the gift of life, the good along with the bad that happened today. As I sleep tonight, I pray for Your peace to surround me. Silence all the thoughts, fears and worries in my mind, Lord.
Help me submit everything to You O' Lord, and trust You with all my heart. Guard my heart and mind against fear of tomorrow. I cast all my anxiety to You and cancel every lie, confusion and chaos from the enemy. You are a God of peace, who is greater than every problem that may arise in my life, and I lie down and let this truth sink into my heart. Thank You for carrying my burdens and enabling me to sleep tonight in peace. Amen.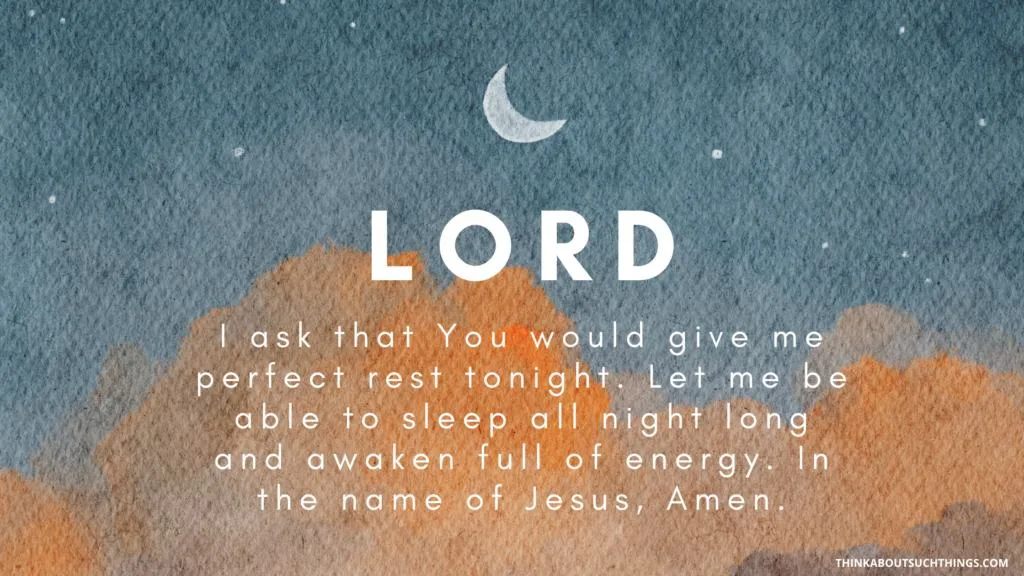 A Prayer for Insomnia
Heavenly Father, thank You for this night. I have been having so much trouble sleeping for a long time now that I am always stressed and tired with no energy to function well during the day. You are the all knowing God and I pray You may reveal unto me the cause of this insomnia and how to treat it best.
As I prepare to lie down today, may You relax my mind, quiet my thoughts and reassure my spirit that You are watching over me. Give me the faith Lord to trust that You will intervene in any situation I present to You in prayer, everything that is troubling my mind. Thank You for Your presence around me always in Jesus' name I pray, amen.
A Prayer for Sleepless Nights
Gracious Father, thank You for this night. As still as the night is, I can hear nothing but the silence that is surrounding me because I am fully awake. My mind is racing, I am restless and sleep has not come easily for me. Loving Father, I pray You may restore peace and tranquility in my life tonight. May You reveal the cause of my unrest and help me bring it to Your feet.
I ask Father that You may wrap Your gentle arms around me and allow me to find rest before the morning draws near. I pray Lord Jesus for a night of deep and sweet sleep and help me wake up tomorrow full of energy and Your peace. In Jesus' name, amen.
A Prayer for Sleep and Anxiety
Merciful God, I ask that You may release Your presence tonight as I lay down my worries and burdens and pick up Your rest. I do not want to be anxious about anything, Father, so help me focus on Your Goodness this night.
I pray You will fill me with Your peace that surpasses all understanding. That I would stop wondering about the hows and whys of my life. Satan is the author of chaos, confusion and fear and I silence his voice tonight.
I surrender my heart, soul and mind to You, Author and Finisher of my faith. I am grateful because You uphold me with Your righteous right hand and give me peace and sweet sleep. In the mighty name of Jesus, amen.
A Prayer for Sleep and Peace
Lord Jesus, thank You for a good day. As I lay down to sleep, I ask for Your presence and peace over me. Help me let go of everything in Your able hands and ease my mind so that I don't keep turning and tossing in bed.
Thank You because You are watching over me, My protection and peace. I am grateful because You have encamped Your angels around me and I am safe in Your hands.
Father, I know You love me even this very minute and I can rest without worry. I know that my sleep will be sweet and peaceful. I will wake up renewed tomorrow, in Jesus' name. Amen.
A Prayer for Angels to Watch Over Me As I sleep
Heavenly Father, I thank You for the day that is ending. You have watched over me throughout the day and preserved me from any injuries. As I sleep, Father, I commit everything to You. I ask for Your angels to watch over me as I sleep and keep me safe from any night disruptions.
May Your angels surround me and everything that concerns me. I pray they will take charge in this dark hour of the night when I cannot see anything coming my way. Let Your angels guard and guide me as I sleep through the night and wake me when morning light comes in Jesus' name. Amen.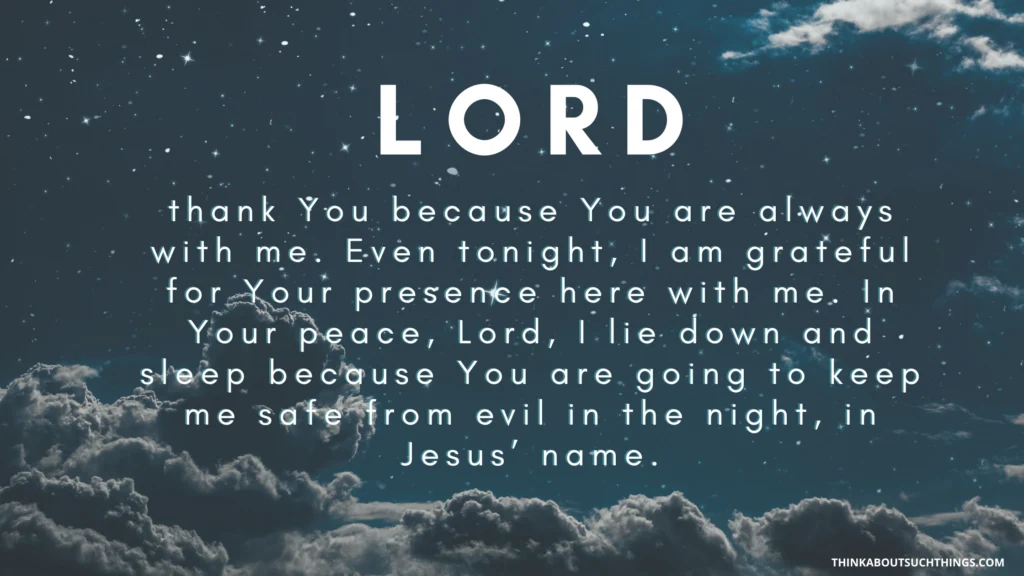 Prayer To Get To Bed At A Good Time
Lord Jesus, I am grateful for this day. For Your love, Your care and Your protection during the day. Thank You for the night that has come. I pray You will help me rest tonight, Father. Help me finish up everything I have to do in time so that I will sleep at a good time and not retire to bed too late.
I pray I will be able to put away my phone, my laptop and switch off my television in time so that I don't sit up into the small hours of the morning but benefit from a good night's rest so that I will wake up on time and refreshed to the glory and honor of Your name, amen.
---
I hope these prayers for sleep have encouraged you to seek God during the night. God desires for you have sweet sleep. Keep pressing in and He will help you!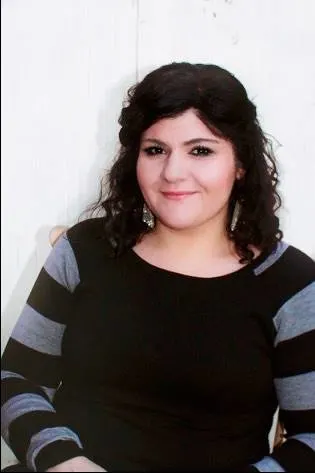 Melissa is a passionate minister, speaker and an ongoing learner of the Bible. She has been involved in church and vocational ministry for over 18 years. And is the founder of Think About Such Things. She has the heart to equip the saints by helping them get into the Word of God and fall more in love with Jesus. She also enjoys family, cooking, and reading.
She has spoken in churches in California, Oregon, Texas, and Mexico and has been featured in Guidepost Magazine and All Recipes Magazine. Read More…