In this article we will look at a some powerful prayer points for restoration. To help guide you in prayer and to recover all in Jesus. You can use them in your alone time with the Lord or corporately. Let's get started!
I have been working on a collection of prayer points in hope that these prayer guides would help you grow in your prayer life with the Lord.
This time around I want to touch on prayer points that deal with restoration. This could mean for finances, relationships and more. God wants to restore His people and recover what we have lost.
Jesus tried to paint us a picture of what the bad side of life can look like in John 16:33. He said that in the world we will have tribulation but also asked us to be of good cheer because He has overcome the world. Problems and challenges in life sometimes lead to unimaginable losses that break our hearts. The good thing is that God has promised to restore the things we have lost because of bad things happening in our lives.
God's promise of restoration is found in Joel 2:25 which says,
"So I will restore to you the years that the swarming locust has eaten, The crawling locust,
The consuming locust, And the chewing locust, My great army which I sent among you."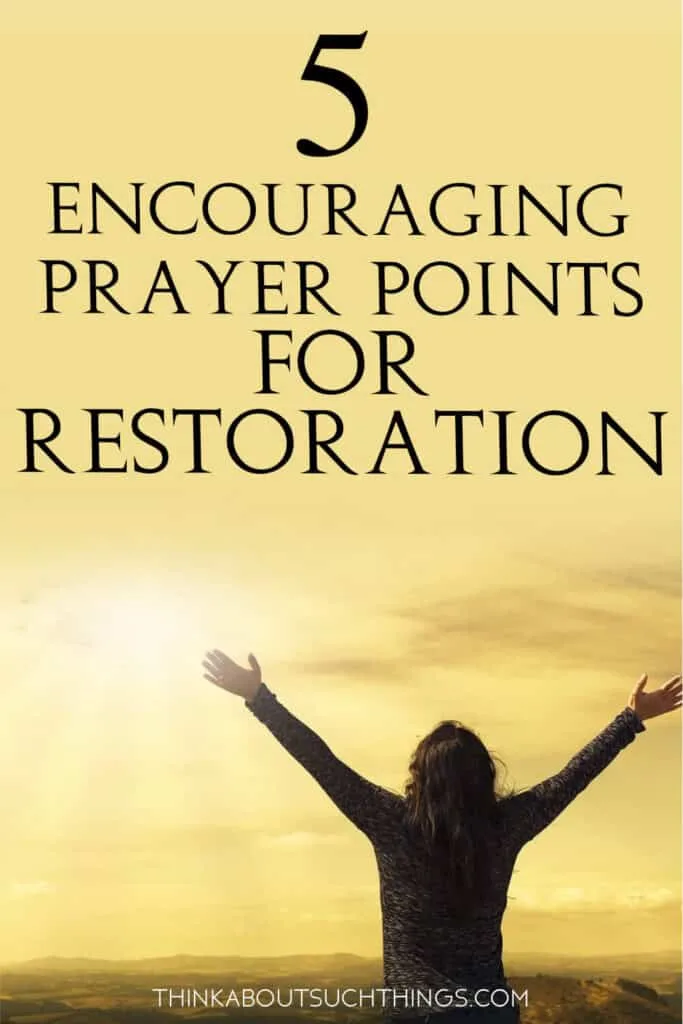 God's promise of restoration can encourage us because we know He will help us overcome our trying times.
When faced with situations that are beyond our capability to deal with, we can call upon God and He will restore what we have lost and heal our broken hearts. Below are 5 encouraging prayer points to ask God to restore the things you have lost.
Prayer Points for Restoration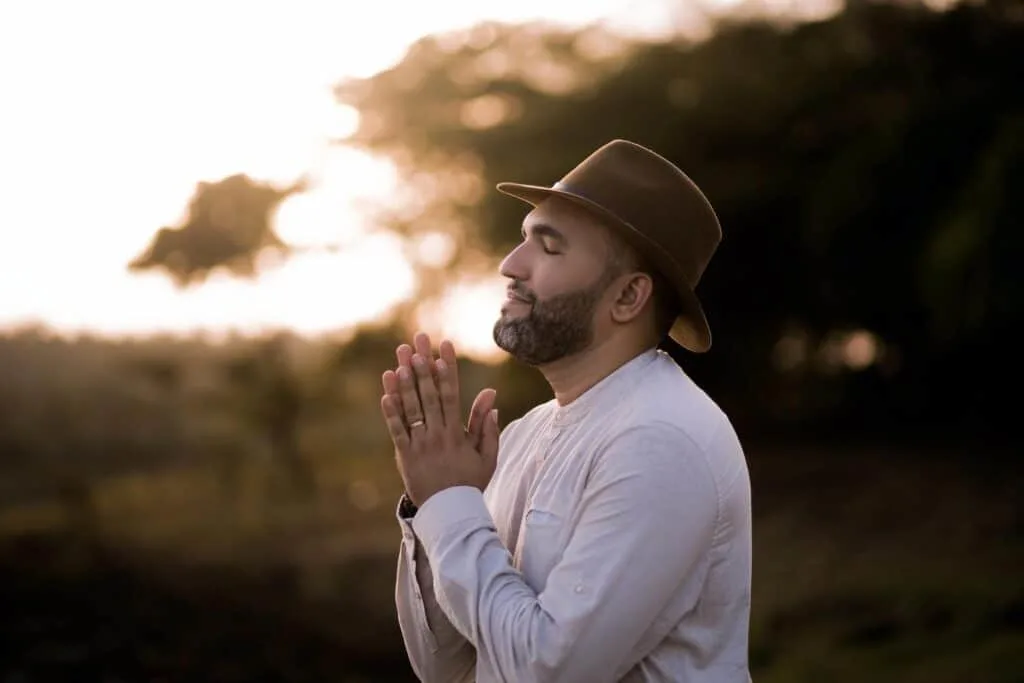 I always like to preface that I believe prayer should come from a sincere place in your heart. Prayer should never be a formula or just empty/repetitive words.
So, please let the Holy Spirit guide you through these prayer points. Go for the ones that hit you and feel like that's what you need in this season. Remember to just be sensitive to the Lord's leading.
>> More Prayers on Restoration Here: 8 Powerful Prayers for Restoration to Pray
1. Prayer Points for Restoration from Loss
There are times in life when we suffer losses of different kinds, for example, loss or loved ones, material possessions, property, etc. It is hard to deal with loss because you know that you will never get back some of the precious things you have lost. Loss brings with it grief and sorrow, and we end up mourning for weeks or even years.
God has promised that He will turn your mourning into dancing, and He will remove your mourning clothes and clothe you with gladness (Psalm 30:11).
Rejoice, because God will restore the things you lost. He may not necessarily restore the exact thing, but will give you what is even better.
Job is a man who suffered substantial loss for he lost his children and property. In the end, God gave him twice as much of everything he lost (Job 42:10).
And the Lord restored Job's losses when he prayed for his friends. Indeed the Lord gave Job twice as much as he had before. – Job 42:10
Today, you can pray and ask God to restore every single thing you have lost. Ask Him to redeem what the locust has eaten.
2. Prayer Points for Restoration of Relationships (marriage, friendship, and more)
We get sad when we lose some relationships that were dear to us, and we mourn the friendships. And marriages they are hurting can bring extreme pain to our heart.
In some instances, we long for the restoration of these relationships because they blessed our lives. It's important to note that there are some relationships that God does not want to restore in our lives and we need to make peace with that. Unhealthy friendships can be one of these.
For those that serve a purpose in your life, He will restore, no matter how distant you and your friend(s) or relative have become.
God restored the relationship between Joseph and his brothers when the latter came to look for food in Egypt. Joseph's brothers had sold him as a slave many years before. He forgave them and God restored their relationship (Genesis 45:14-15). It may have taken years but by then, God had worked in each of their hearts and prepared them for that moment.
Pray and ask God to restore the relationships that need to be in your life. Ask Him to work forgiveness in your hearts so that restoration is possible. Pray for opportunities for their to be reconciliation.
To learn more more about growing healthy friendships check out: 10 Ways We Can Develop Christian Friendships
3. Prayer Points for Restoration of your Soul
If God has to restore anything in your life, He must first restore your soul because of the pain and hurt you felt when you lost what you valued or disappoint crept in.
Our hearts break during times of loss, failure, and destitution and without healing, we may not appreciate the restoration God wants to bring into our lives.
We may be too busy blaming Him for allowing bad things to happen to us.
In Psalm 41:4, we see that God is merciful and will heal your soul, even where the pain is due to your sin.
I said, "Lord, be merciful to me; Heal my soul, for I have sinned against You."
Your soul comprises of your mind, will and emotions and each of them needs healing because of the wounds inflicted by some kind of loss.
When God restores your soul, you are ready to receive restoration for the things you lost in your life.
Ask God to heal your emotional wounds and to renew your mind with His word. Ask Him to help you see your loss from His perspective and to trust that He has a great plan for your life.
4. Prayer Points for Restoration of your Health
Our bodies are not immune to diseases and illnesses and when we struggle with them, we cannot function properly.
God wants to restore your health! He is known as Jehovah Rapha… I Am Your Healer!
He heals us as we declare His word of healing over our bodies (Psalm 107:20).
He sent His word and healed them,
And delivered them from their destructions.
We may see doctors and God can use them, but ultimately God is the one who brings forth the healing.
Pray for restoration of your health in all the areas that your body hurts. Declare God's healing words over every area in your body that is ailing, and believe you will see your healing manifest.
I LOVE this song that is taken from Psalm 107. I hope it blesses you as well!
>> Check out MORE Prayer Points on Healing here
5. Financial Restoration
There are times we experience financial loss or we end up in debt. These are usually the most trying times in our lives because we don't know how we will make ends meet or how we will survive. Trust that God will give you a financial breakthrough today by restoring your finances and helping you pay off any debt you may have.
There is a widow whose husband was part of the company of prophets that Elisha used to minister with, and she was in financial trouble.
She had a debt that was going to see her sons taken away. She went to Elisha who gave her an idea to borrow jars of oil, fill them up and sell the oil to settle her debts (2 Kings 4:7). She lived on the money that was left after settling her debts. God had restored her financial position.
Then she came and told the man of God. And he said, "Go, sell the oil and pay your debt; and you and your sons live on the rest."
Pray and ask God to restore your finances and give you a divine plan to pay off your debts. Ask Him to show you how to generate more income so that you will have more than enough to live on and bless others.
---
God has a restoration plan for us, and we see this in the stories of those who needed a breakthrough after suffering loss. One amazing story of restoration is Job.
I encourage you to trust that God will restore the things that you lost, and which you held dear. He is faithful and He will keep His word to you.
More Prayer Points
Looking for more on prayer points? Check out these post below…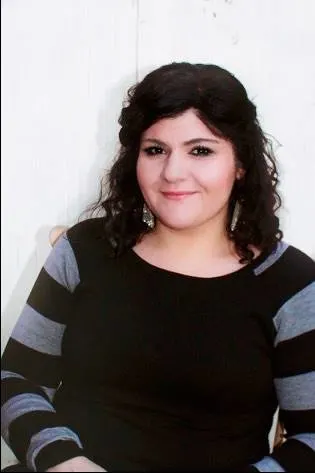 Melissa is a passionate minister, speaker and an ongoing learner of the Bible. She has been involved in church and vocational ministry for over 18 years. And is the founder of Think About Such Things. She has the heart to equip the saints by helping them get into the Word of God and fall more in love with Jesus. She also enjoys family, cooking, and reading.
She has spoken in churches in California, Oregon, Texas, and Mexico and has been featured in Guidepost Magazine and All Recipes Magazine. Read More…