In this article, we will look at Sunday prayer. The main focus will be on two points: one on praying Sunday prayers and the other on sharing Sunday prayers with a family member or friend. No matter the reason we will explore it today! So, let's begin…
Many of us head to church on Sunday. We enjoy a time of worship, teaching, and community with fellow believers. It's a wonderful time of feeling refreshed and fed spiritually. Some churches even do an early Sunday morning prayer service or Sunday night service.
Even though it's a church day, we can still spend some alone time with Jesus in prayer. It's those quiet times with Him that really deepen our walk with Him.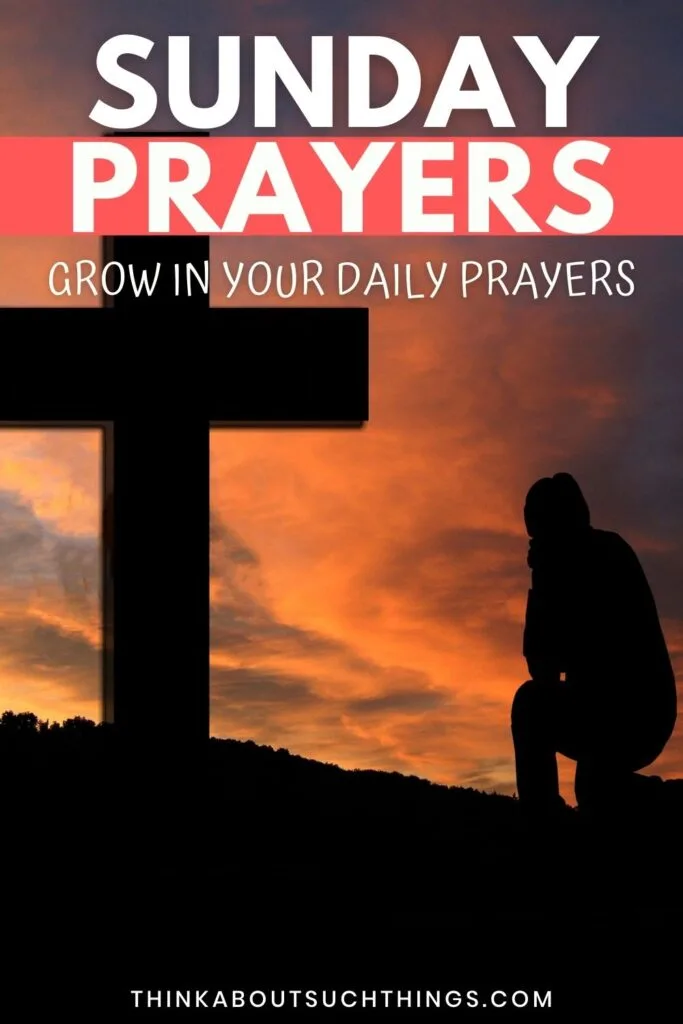 So, we will be looking various different Sunday prayers. You can use these privately or share them with others. But before we move forward let's take a look at some prayer tips.
Pre-Written Prayer Tips
We can find pre-written prayers everywhere. From devotionals, books, online, and more. And they can be super helpful and good.
But as Christians we need to be careful with them. They can become almost like a crutch to us and actually hinder us from connecting with God personally. Basically we rely on someone else's prayer to be our prayer.
We don't want that! We want to have a heart to heart connection with the Lord. So, I have found 7 tips that helps us pre-written prayers and how to we can use them wisely and beneficially. I hope you find this helpful.
Read It First – Read the prayer fully before you start praying it. It's important to understand what the writer is saying and see if you agree with it.

Personalize The Prayer – Once you have read the prayer now you can personalize it by adding certain loved ones and situations you have going on.

Let It Inspire You – Use the prayer as inspiration! Sometimes you don't even need to pray it back to the Lord. You kind of use the prayer like a diving board to spring you into your own authentic and powerful prayer time with Him.

Emotionally Connect – Prayers from the heart are prayers God hears. The Lord wants to hear from YOU. Not from a book of prayers or a website of prayers. He doesn't want religious or robotic prayers. Two prime examples in the Bible are the prayers of David, of the prayers of Jesus in the Garden.

Look at pre-written prayers as a useful tool to inspire, teach, and stir you up. They should never replace authentic prayer.

We are all in different seasons and sometimes a prayer will resonate and sometimes it won't. Don't feel obligated to pray a prayer you feel not connection too.

Holy Spirit Guidance – Before praying ask the Holy Spirit to guide your prayer time and reveal things you should be praying. God will place people or situations on your heart to pray for.
Ways to Share a Sunday Prayer
I know that some of you may come to this post look to share a Sunday prayer as a way to encourage or bless someone. This is why I created images for you to share. But I also wanted to give you some creative ways you can share these prayers.
Send a prayer or prayer image via text or email

Post a prayer or prayer image on social media

Write the prayer on a sticky note and place where someone will see it and be blessed.

Take one of the prayers and place it in a card to bless someone with.

Use one of the prayers in a gift. An example would be a book or the back of a picture frame.

Tie a tag with a prayer around a bouquet of flowers.
Sunday Prayers
In this section we will look at generic prayers for Sunday that can be prayed whenever you like. After these prayers you will find sections that are more specific like morning or night prayers.
And please, feel free to use the images for personal use (like sharing online). If you wish to use one of the images or prayer for a website then please contact me for permission.
---
Heavenly Father, I ask that this Sunday would be filled with Your grace and peace. That my family would bask in Your goodness and know You more. Draw our hearts close to Yours and let us be an instrument in Your hands. In the mighty name of Jesus, amen.
Lord, on this Sunday I pray that all church services that are happening in the world would experience your manifest presence and power. That the lost would come to know the saving grace of Your Son, Jesus, and that the Body of Christ would be strengthened and equipped to do Your will. In the name of Jesus, Amen, and amen.
Father God, I present this Sunday to You and ask that You would bless my family. Lord, give us the wisdom and discernment we will need for this day. Guide our steps and help us to be Your hands and feet to this world. In Jesus' name, Amen.
Lord, it says in Your Word, "Let everything that has breath praise the Lord." (Psalm 150) I want this Sunday to be a Sunday that is filled with Praise for You, Lord. Let my heart be reminded of all the good You have done, and let my mind meditate on the joy of my salvation. For You, O' Lord are wonderful. You are full of goodness and mercy. I am forever thankful to have you as my Lord and Savior. Thank You for everything You are doing what You will be doing in my life. In the powerful name of Jesus, Amen and amen!
Heavenly Father, I ask that You would grace this Sunday with Your wonderful presence. Help my heart to be intertwined with Yours and that my hunger for spiritual things would grow. Bless me, Lord, and draw me close. In the name of Jesus, I pray, amen!
Sunday Morning Prayers
Call to me and I will answer you, and will tell you great and hidden things that you have not known. – Jeremiah 33:3
Wonderful Jesus, I call upon You this Sunday morning and I ask that You would reveal to me the things that are on Your heart Lord. That I would be a vessel You can for Your glory. In Jesus' mighty name, amen!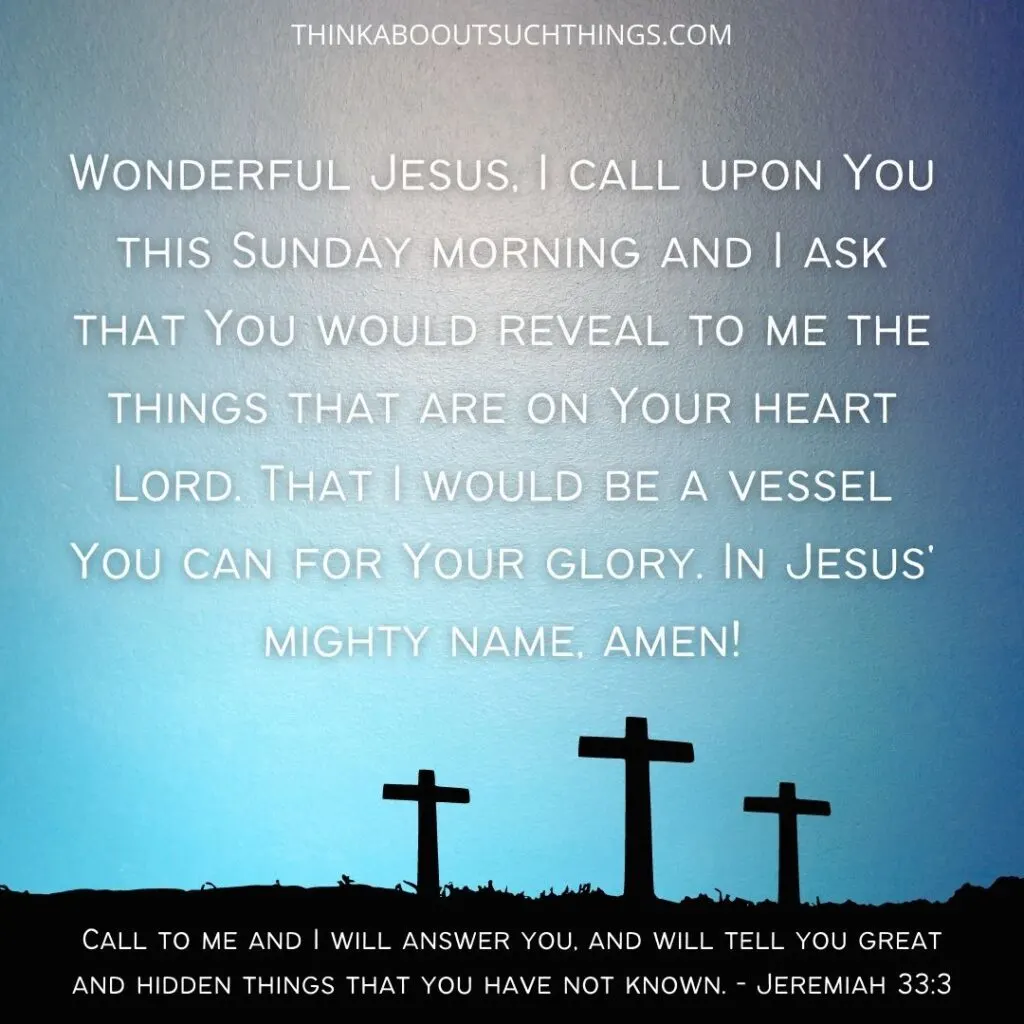 Holy Spirit, I thank you for this Sunday morning. As I go about my day I ask that you would speak to me. Let my ears and eyes be open to Your leading. Remind me of Your truths and how to walk in them. In the name of Jesus, amen!
Father God, as I start out my day this Sunday. I ask for the precious blood of Jesus to cover my family and me. That no scheme or plan of the enemy would come near us and that you O' Lord would place a hedge of protection around about us. Give us the wisdom we need for this day and bless all those to whom we see and speak too. In the name of Jesus Christ our Lord and Savior, amen!
Lord Jesus, I ask that this Sunday morning would be a powerful day at church. That my life and others would be transformed by You. Bless all those who attend and help our hearts to hear what the Holy Spirit is saying. In the name of Jesus, Amen, and amen.
Sunday Night Prayers
King Jesus, I give You this Sunday night and I ask for You to bless my family and me. I ask that we would have sweet sleep and rest in You, Lord. Let this house be at peace and that every situation would be laid at Your feet tonight. Thank You, Lord! I give You all the praise and glory. In the name of Jesus, I pray, amen!
Thank you, Jesus, for this blessed Sunday that I had. Lord, I ask that tonight as I go to bed that you would watch over me and give me sweet sleep. Give me peace of my mind and so that I will not worry about the things going on in my life. But that I would put my hope and trust in You. Thank you, Jesus, that everything is in Your hands and I know I am safe. In Jesus' name, amen.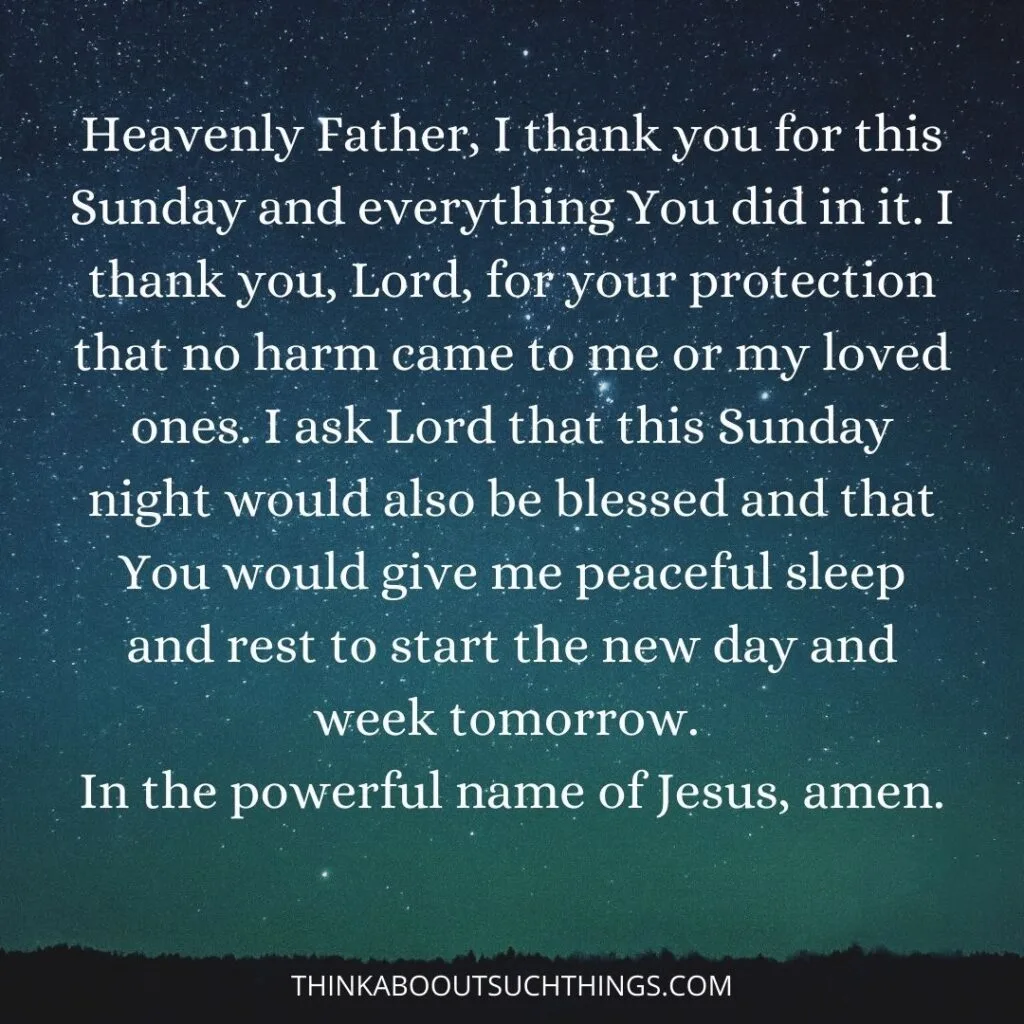 Heavenly Father, I thank you for this Sunday and everything You did in it. I thank you, Lord, for your protection that no harm came to me or my loved ones. I ask Lord that this Sunday night would also be blessed and that You would give me peaceful sleep and rest to start the new day and week tomorrow. In the powerful name of Jesus, amen.
Short Sunday Prayers
Lord, today is Sunday and I ask that You would guide me and watch over me. Protect me from anything or anyone that would cause me harm. Place your shield around about me. In the name of Jesus, amen!
Father God, I ask that this Sunday would be full of your peace and grace. Let my eyes be fixed on You and not on the things that worry me. In the powerful name of Jesus, amen.
Jesus, I pray that this Sunday would be a day filled with faith, hope, and love. Help me to walk in all three today and that I would be a blessing to all those who see and speak to me. In Jesus' name, amen.
Sunday Prayers for Family
Heavenly Father, As we go to church this Sunday, and spend time with one another I pray that you would unite us as a family. Let each one of us have a new fresh grace and love for each other. That would be an encouragement to those who are sad, that we would be a strength to those who are weak, and that we would always walk in love and forgiveness. In Jesus' name, amen.
Holy Spirit, on this Sunday I pray for my family. It says in Psalm 23 that You would prepare a table before us in the presence of our enemies. I ask that You would do that for us, Lord. That you would anoint all of our heads with Your precious oil and that our cups would overflow with goodness. Let my family always give You the praise and honor in everything they do. In the mighty name of Jesus, amen.
Sunday Prayers for Friends
Father God, I am so blessed to have wonderful friends. Thank you for their friendship in my life. I ask that this Sunday you would watch over them and guide them in all things. I ask for You to protect them and give them the wisdom they need. In Jesus' name amen.
Holy Spirit, on this Sunday I want to say thank you for my friend (insert name). I love them and pray for your blessing to be upon her/him. Fill them up with Your life with Your joy. Revive them and give them the desires of their heart. Let their cup overflow and experience Your breakthrough. In the name of Jesus, amen.
More on Prayer
If you would like to grow more on the topic of prayer I have some articles that you might love! You can check them out below or see all of them on my Prayer and Intercession page.
---
I hope these Sunday prayers have blessed you and drawn you closer to the Lord. I would personally love to know how you used these prayers. If you used them privately in prayer or shared them with a loved one. So, please take a moment to drop me a comment below. It would mean so much to me.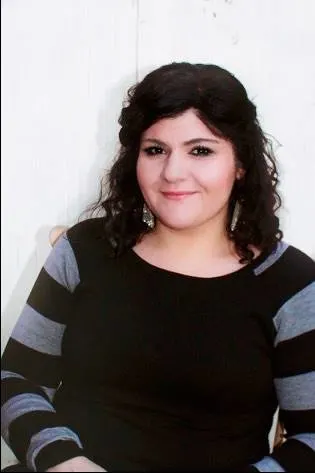 Melissa is a passionate minister, speaker and an ongoing learner of the Bible. She has been involved in church and vocational ministry for over 18 years. And is the founder of Think About Such Things. She has the heart to equip the saints by helping them get into the Word of God and fall more in love with Jesus. She also enjoys family, cooking, and reading.
She has spoken in churches in California, Oregon, Texas, and Mexico and has been featured in Guidepost Magazine and All Recipes Magazine. Read More…