In this article, we will look at Tuesday prayer. We will be on two areas one on praying powerful Tuesday prayers and the other on sharing Tuesday prayers with family or a friend. So, let's get started…
One of the coolest things we can do as Christians is pray. I know in human eyes that doesn't sound exciting or should I dare say glamorous. But the reality is it's a powerful and beautiful thing to spend time with Jesus.
I love what Max Lucado says,
Our prayers may be awkward. Our attempts may be feeble. But since the power of prayer is in the one who hears it and not in the one who says it, our prayers do make a difference.
God calls us to pray and today, this Tuesday I really want to inspire you to get with the Lord and spend time with Him. Now I know you may be coming here for a prayer to share and that's great too.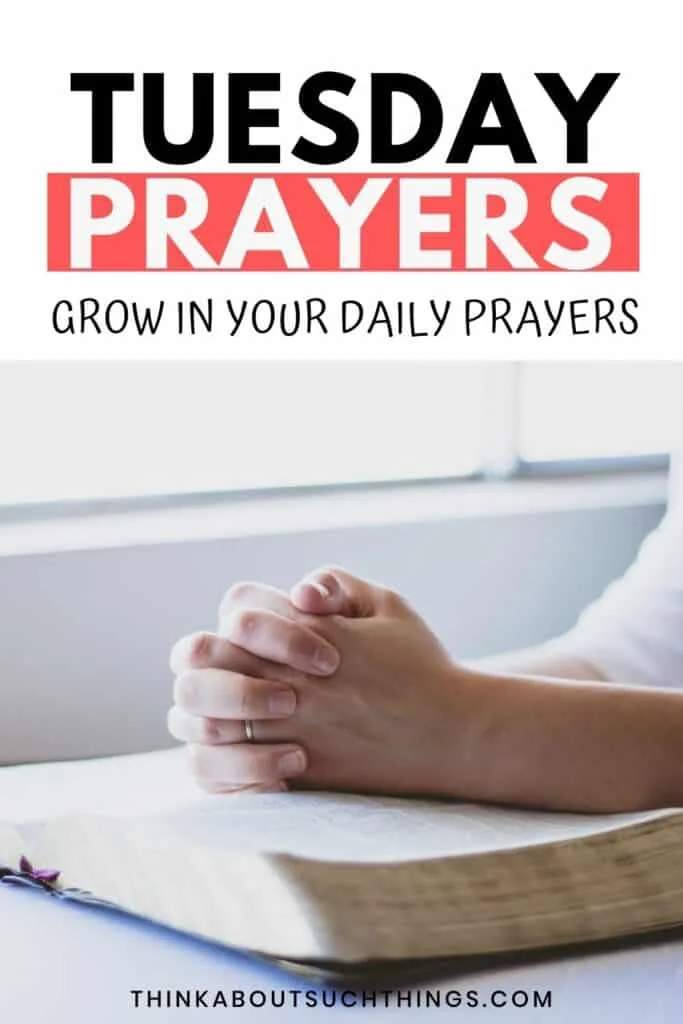 I do want to encourage you to not just share a prayer but to sit for a few minutes in the Lord presence and pray for the individual and then share with them. You will truly bless them.
But before we get started I thought it would be good to go over some prayer tips.
7 Important Prayer Tips
A lot of these simple tips I go over throughout my prayer and intercession articles. But I think they really important, especially with pre-written prayers. So, I wanted to share them here as well.
I hope you find them helpful, especially on praying daily prayers.
Read First – Make it a habit to read the prayer first before just praying it. Make sure you understand what the prayer is about.

Make The Prayer Personal – Take the prayer and make it as personal as you can. Place people, and situations that are dear to your heart.

Inspire – Use the pre-written prayer to inspire your prayer time. You don't even need to pray it! Look at the prayer like a diving board to spring you into your own real and authentic prayer to God.

Emotions – God made our emotions and is not afraid when we use them. So, don't try to be emotionally unattached to your prayers. You want your prayers to come from a real place in your heart. The Lord doesn't want robotic prayers. He wants you to be 100% real with Him! We see this throughout the Bible like Jabez's prayer, Hannah's Prayer, and King David's prayers.

It's Ok Not To Pray It – Don't feel like you have to pray a pre-written prayer if you don't feel some kind of connection. We are all in different seasons in life. Sometimes a pre-written prayer will resonate with you and sometimes it doesn't.

Let the Holy Spirit Lead – Before you start asking the Holy Spirit to lead your prayer time and bring things to your attention that need prayer. God will place situations and people in your heart and mind to pray for.

Pre-Written prayers are tools to inspire and teach. They should never replace your personal prayer time with Jesus.
Ways to Share a Tuesday Prayer
Now, you may come to this post looking to share a Tuesday prayer as a way to encourage or bless someone. This is why I created these images. You can easily share them with a loved one. But I thought it would be fun to share some creative ways you can share these prayers.
Send a quick email or text message with a prayer or prayer image.

Share a prayer or prayer image on social media like Instagram or Facebook.

Write the prayer on a note and place where someone you know will see it and be encouraged.

Use one of the prayers and write it in a card to bless someone.

Place one of the prayers in/on a gift. An example would be a inside a book/Bible.

Grab a bouquet of flowers and tie a tag on it with a prayer.
Tuesday Prayers
In this part will look at some prayers for Tuesday that can be prayed anytime you like in the day. And below you will find prayers that are more specific like geared towards the evening, morning, friends, etc…
Now, feel free to use image in this post for personal use (like sharing social media). If you wish to use one of the images or prayers for a website then please contact me for permission first.
---
Heavenly Father, I ask that you would bless this Tuesday. That it would be a fruitful day. Let Your hand be with me to guide me and to protect me. And let Your face shine upon me to give me peace and grace. In Jesus' name, amen.
Lord, on this Tuesday I ask that you would give me the grace needed to achieve all that is in store for me today. Help me to make wise decisions and to be used for Your glory. In Jesus' name, amen.
Father God, I thank you for this Tuesday. I pray Lord, that you would be with me and guide me throughout my day. Be with my family as well. Protect them and watch over them. Let this day be a blessed day in You. In Jesus' name, amen.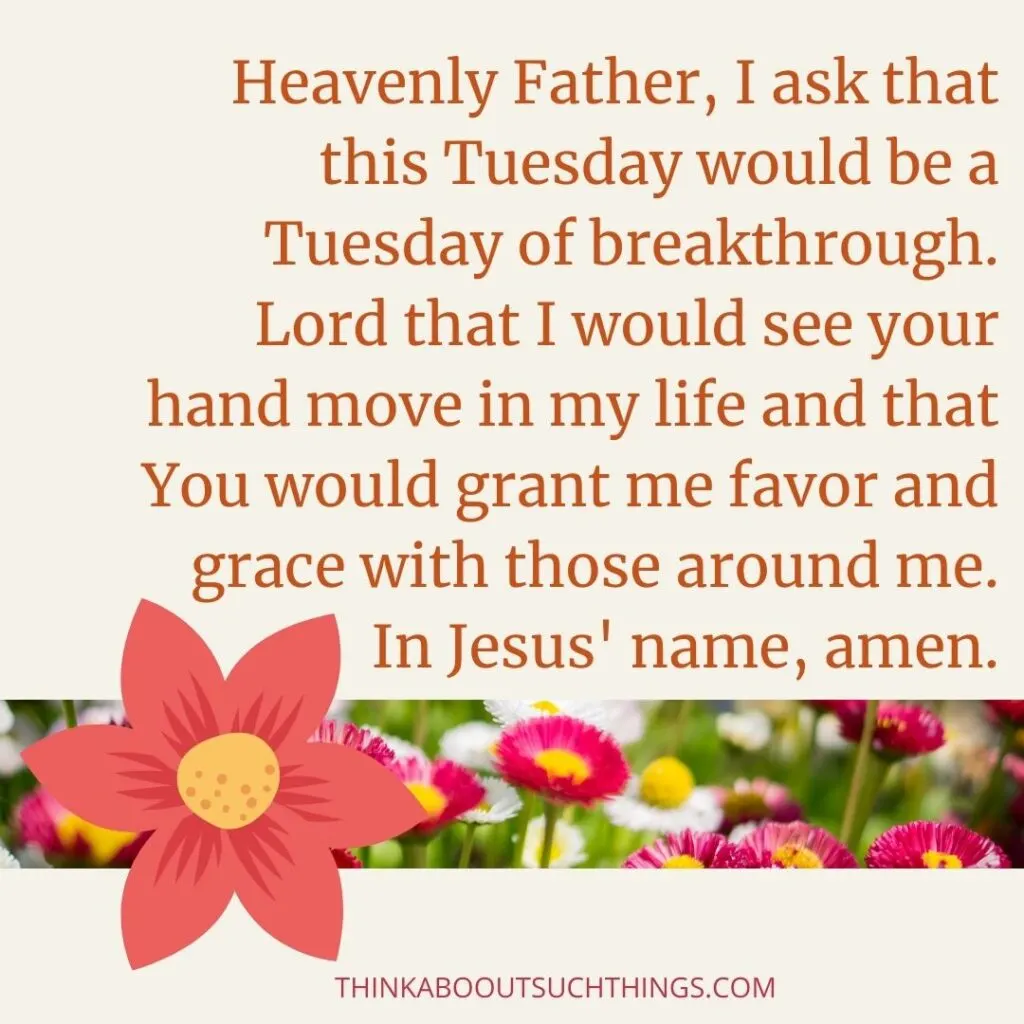 Heavenly Father, I ask that this Tuesday would be a Tuesday of breakthrough. Lord that I would see your hand move in my life and that You would grant me favor and grace with those around me. In Jesus' name, amen.
Lord, I ask that this Tuesday would be a day that I would put 100% of my trust in You. Help me Lord not to lean on my own understanding or to trust in my own strength, but to lean on You. I ask that You would make my path straight and clear. So, that I may to everything according to Your will. In Jesus name, amen.
Trust in the Lord with all your heart
and lean not on your own understanding;
in all your ways submit to him,
and he will make your paths straight. – Proverbs 3:5-6
Father God, I ask that Your Presence would draw near to me. Hold me in Your loving arms and watch over me. And I ask that the blood of Jesus would be cover and cleanse me. Bless this Tuesday that I might walk close to You. In the mighty name of Jesus, amen.
Tuesday Morning Prayers
O Lord, in the morning you hear my voice; in the morning I prepare a sacrifice for you and watch. – Psalm 5:3
Heavenly Father, I ask that you would bless this Tuesday Morning and make it good. That Your wonderful Holy Spirit would guide me and speak to me throughout the day. And Lord, let my heart be steadfast on You. In Jesus' name, Amen!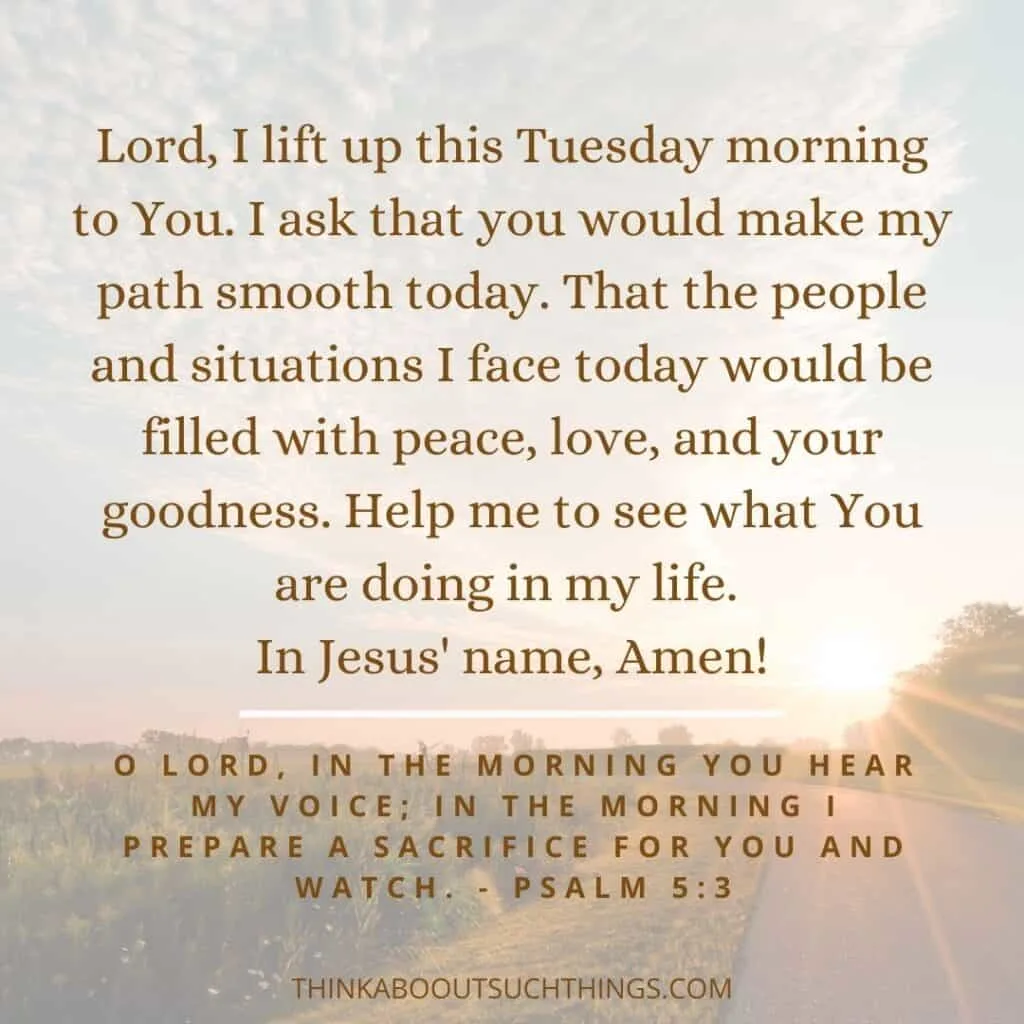 Lord, I lift up this Tuesday morning to You. I ask that you would make my path smooth today. That the people and situations I face today would be filled with peace, love, and your goodness. Help me to see what You are doing in my life. In Jesus' name, Amen!
Holy Spirit, I thank you for this Tuesday morning. Teach me today how to become more reliant on You. Give me wisdom and discernment throughout my day. And let my ears be inclined to Your voice. In the might name of Jesus, Amen!
Lord I give you honor and praise this Tuesday morning! I ask that You O' Lord would give me eyes to see that I may know the hope of my calling in Christ Jesus. Give eyes to see all that you are doing within my life and a heart that would partner in it. Be with me today, Lord and guide me. In the mighty name of Jesus, amen.
Tuesday Night Prayers
Thank you, God for this wonderful Tuesday that I had. Lord, I ask that tonight as I go to bed that you would bless me with sweet sleep. Give me peace in my mind and heart not to worry about the things going on in my life. But to put my hope and trust in You alone. Thank you, Lord that everything is in Your hands. In Jesus name, amen.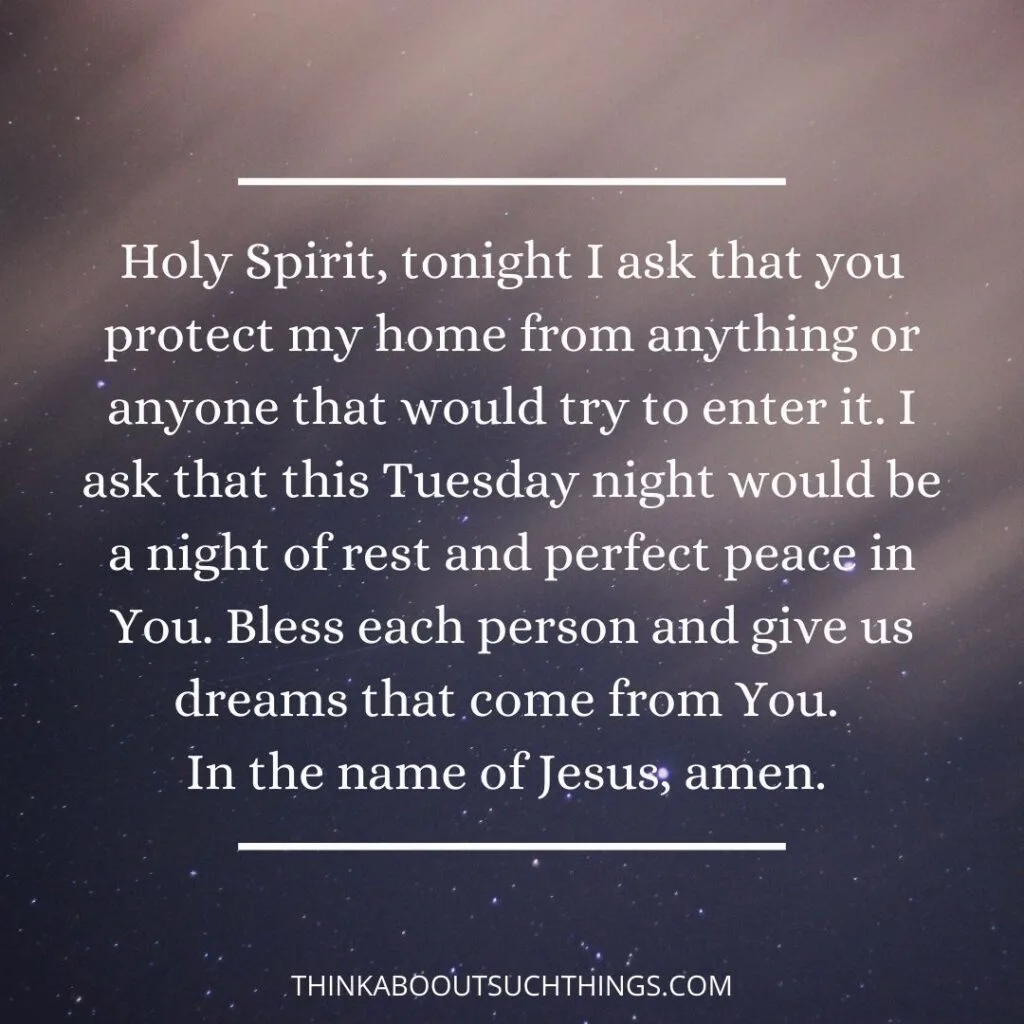 Holy Spirit, tonight I ask that you protect my home from anything or anyone that would try to enter it. I ask that this Tuesday night would be a night of rest and perfect peace in You. Bless each person and give us dreams that come from You. In the name of Jesus, amen.
Heavenly Father, I come before you tonight and ask you to grant me rest so that tomorrow I would be full of energy to go through the day. Let me feel Your comfort and Your joy. Keep me safely wrapped in Your loving arms. In Jesus' name, amen.
Tuesday Prayers for Family
Lord, on this Tuesday I pray for my family. I ask that you would prepare a table before us in the presence of our enemies. That you would anoint all our heads with your oil and that our cups would overflow with your goodness. Let this be a family who gives you praise and honor in everything they do. In Jesus name, amen. (Psalm 23)
God, I lift up my family to you this Tuesday. The week is still early Lord so I ask that you would bless my family throughout the weekdays. Help them in school and work. Let each one of them have an open heart to Your Spirit and an ear inclined to Your voice. Protect them Lord and let them fall more in love with You. In the might name of Jesus, amen.
Tuesday Prayer for Friends
Lord Jesus, I lift up my friend (insert name(s)). I ask that you would bless him/her this Tuesday. Help guide them in the areas they are struggling with and help them to trust in you. Open the eyes of their heart so that they may see what You are doing in their life. Bless them Lord, and keep them. In Jesus' name, amen.
Grow More In Prayer
Are you hungry to learn more about prayer? I have a slew of articles on prayer that you might find interesting! You can check them out below. But I have even more on my Prayer and Intercession page.
---
That's a wrap! I hope you have enjoyed these Tuesday prayers and that your prayer life has deepened as you spend time with God.
If you would like to leave a comment, you are more than welcome to below. Please, let me know what you are learning and what God is showing you!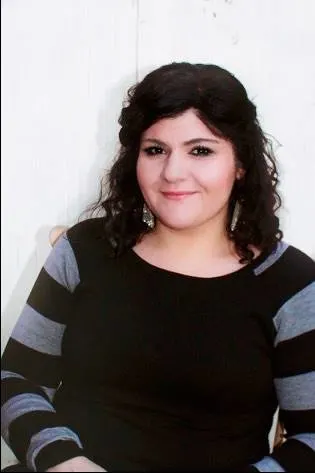 Melissa is a passionate minister, speaker and an ongoing learner of the Bible. She has been involved in church and vocational ministry for over 18 years. And is the founder of Think About Such Things. She has the heart to equip the saints by helping them get into the Word of God and fall more in love with Jesus. She also enjoys family, cooking, and reading.
She has spoken in churches in California, Oregon, Texas, and Mexico and has been featured in Guidepost Magazine and All Recipes Magazine. Read More…