In this post we will explore Wednesday prayer. We will focus on two main points one on praying Wednesday prayers and the other on sharing these prayers with family member or friend. So, let's start talking to the Lord…
Oh, Wednesdays…the middle of the week. These are the days that sometimes need a little extra prayer and time with Jesus. Am I not right?
If you are in that place then today I hope this article really inspires you to get before the Lord and seek His face.
But you could also be here to share some encouragement for someone else. If that's a case we have that too!
Helpful Wednesday Prayer Tips
When it comes to pre-written prayers we should be wise and use them in a way that draws us closer to the Lord and not have it make our prayer life cold and stagnant.
We can prevent this by practicing these helpful tips! They work with all kind of pre-written prayers. I hope you find them helpful.
Read Before You Pray – I encourage you to read the prayer first before just praying. Make sure you understand what the prayer is about and feel comfortable with it.

Personalize The Prayer – Taking a pre-written prayer and personalizing is an important step for it becoming authentic. Place people, and situations that are dear to you.

Feel The Prayer – You don't want to become emotionally unattached when you pray. You want your prayers to come from your heart. The Lord desires prayers of passion and heart. We see this throughout the Word like Hannah's prayer and what David prayed and sang in the Psalms. God is not afraid of your emotions.

Let The Prayer Inspire – Take the prayer and let it become a springboard from which you jump from. Use it as inspiration to bring forth a real and authentic prayer before the Lord.

Feel A Connection – Please, don't feel like you have to pray a pre-written prayer if you don't feel like it resonates or connects. You may be in a different season in life.

Holy Spirit Help – Before you start praying ask the Holy Spirit to lead your time with Him. Ask Him to bring things to your attention that need prayer. He will remind you of situations and people that need prayer.

All pre-written prayers are tools to teach and inspire us. They should never replace your personal prayer time with Jesus.
Ways to Share a Wednesday Prayer
You may want to use these Wednesday prayer as a way to bless friend or family member. This is why I created these images to go with some of them. You can easily share them with a loved one.
But I wanted to share some other creative ways you can share them. I hope they get those creative juices going.
Send a quick email or text message with a prayer or prayer image.

Use one of the prayers and write it in a card to bless someone.

Place one of the prayers in/on a gift. An example would be a inside a book/Bible.

Share a prayer or prayer image on social media like Instagram or Facebook.

Write the prayer on a note (sticky note would be awesome) and place where someone you know will see it and be encouraged. An example would be to place a note in your child's or spouses lunch box.

Buy or make a bouquet of flowers and tie a little tag on it with a prayer.
Wednesday Prayers
In this section we will look at generic prayers for Wednesday that can be prayed whenever. Below you will find sections that are more specific.
Feel free to use the images for personal use. If you wish to use one of the images or prayer for a website then please contact me for permission.
---
Bless the Lord, O my soul, and all that is within me, bless his holy name! – Psalm 103:1
Heavenly Father, on this Wednesday I want to bless you and praise You. You have been so good to me Lord! Thank you for everything You have done in my life. From the little things that I take for granted and for the big things. You have been faithful to me and I am so grateful for that. Help me to always recognize Your hand in my life and to always have a soft heart towards You. In the name of Jesus, amen.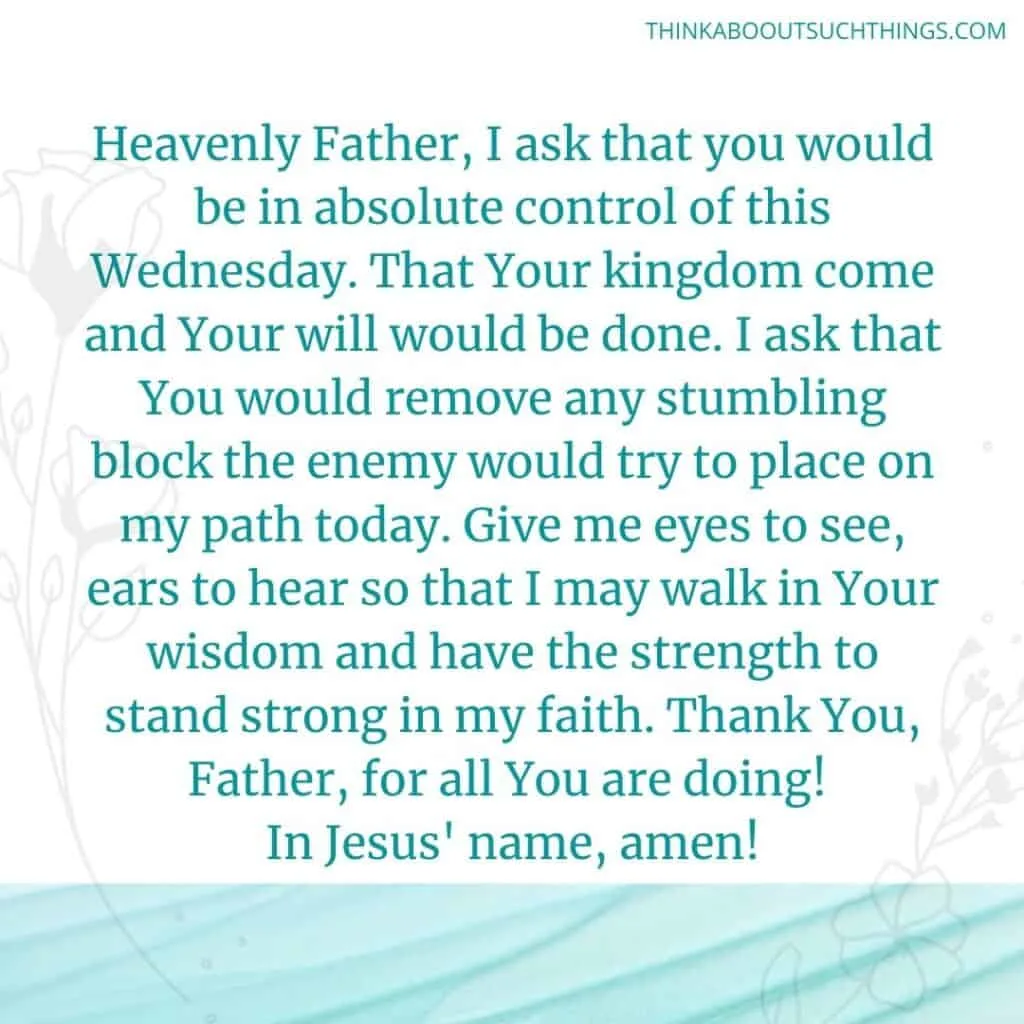 Heavenly Father, I ask that you would be in absolute control of this Wednesday. That Your kingdom come and Your will would be done. I ask that You would remove any stumbling block the enemy would try to place on my path today. Give me eyes to see, ears to hear so that I may walk in Your wisdom and have the strength to stand strong in my faith. Thank You, Father for all You are doing! In Jesus' name, amen!
Wednesday Morning Prayers
For God did not give us a spirit of timidity, but a spirit of power, of love and self-discipline. – 2 Timothy 1:7
Lord, this Wednesday morning I ask that I would not walk in fear. That I would not be subject to the fear of man, but I would walk in Your power, love, and self-discipline. Help me Lord not to partner with the lies of the enemy that would make be anxious or worry about situations.
But let my heart trust in You O' Lord! Knowing that You will take care of me and my family. Your Word is clear that You will never leave nor forsake me. I thank You for that! And I give you all the praise and glory! In Jesus' name, amen.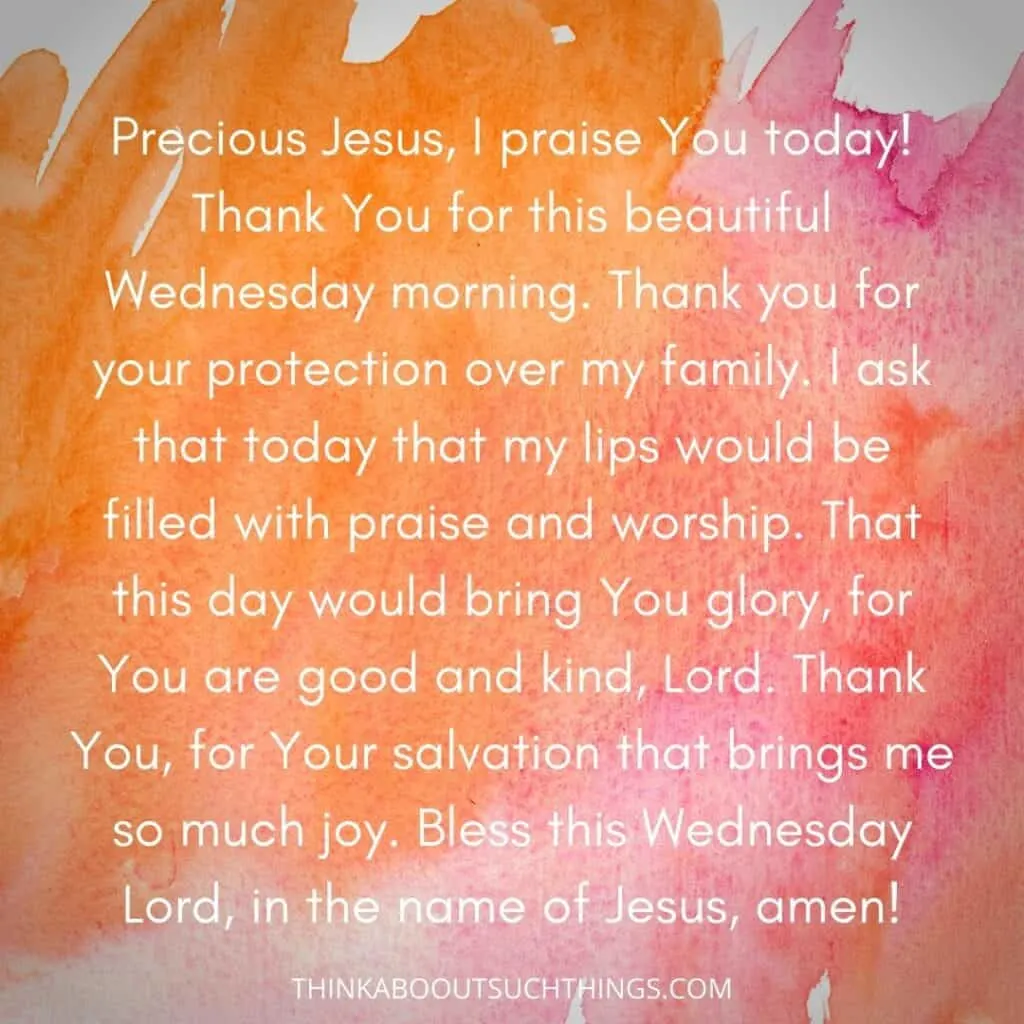 Precious Jesus, I praise You today! Thank You for this beautiful Wednesday morning. Thank you for your protection over my family. I ask that today that my lips would be filled with praise and worship. That this day would bring You glory, for You are good and kind, Lord. Thank You, for Your salvation that brings me so much joy. Bless this Wednesday Lord, in the name of Jesus, amen!
Wednesday Night Prayers
Holy Spirit, bless this Wednesday night. I pray for a peaceful evening and night. Cleanse my home and fill it with Your presence. I ask that You would set your angels around about it to protect us tonight. As we sleep, Lord I ask for dreams that only come from You and that our rest would refresh our mind, body, and soul. Thank You, Lord that You are always with us. In Jesus' name, amen.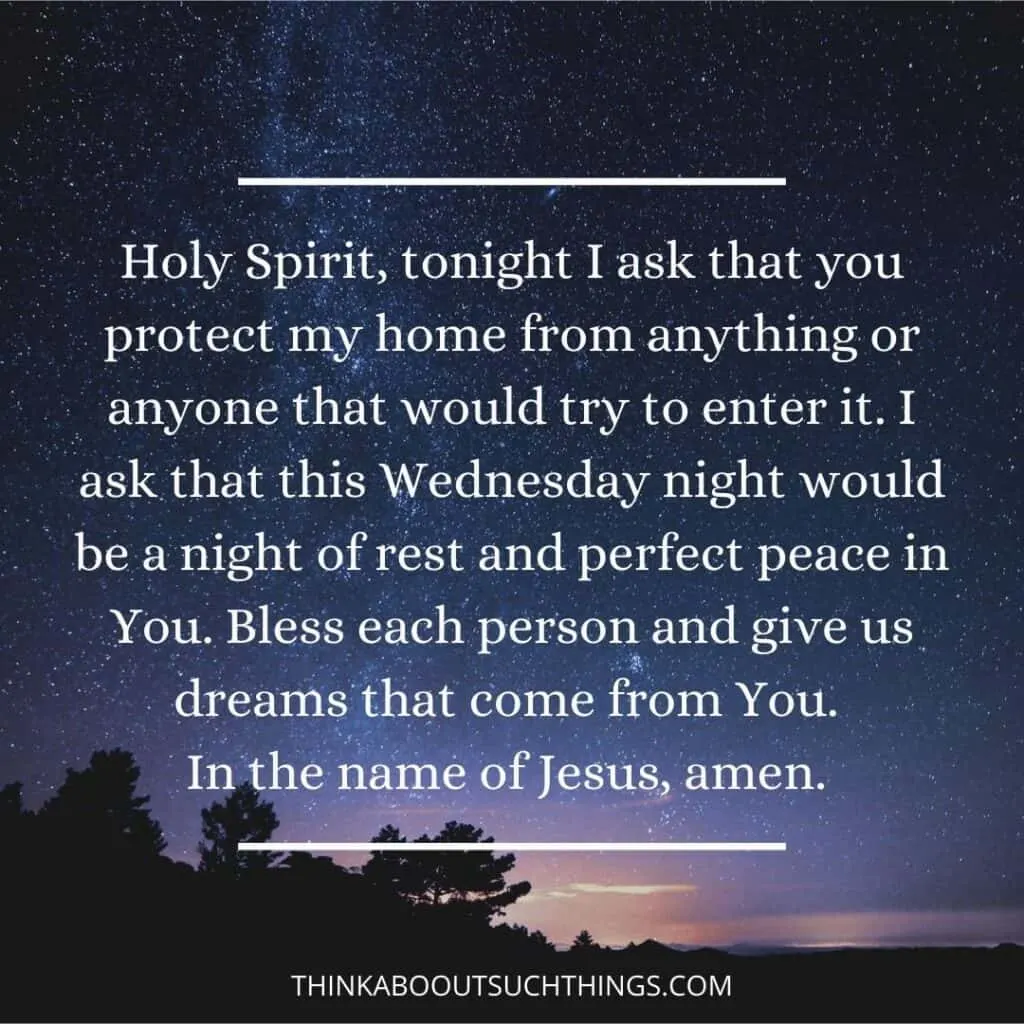 Lord, You are so holy! You are powerful and mighty. No one is like You, God. I lift You up this Wednesday night. I give You praise and honor for who You are. You are so good and kind, Lord. Thank You for Your love, Jesus! Bless tonight and let everyone in this home find rest in You. In the name of Jesus, amen.
Wednesday Prayers for Family
Lord, as we are in the middle of this week I ask that my family would be in unity with one another and with You. Bless each person and protect them throughout the day. Give them grace and wisdom needed to handle situations that occur at home, school, work. And I pray that Your kingdom come and Your will be done. In the name of Jesus, amen.
Father God, I lift up my family to You, this Wednesday and ask that Your hand would be upon us to protect us and that Your face would shine upon us and give us peace. Let this day be filled with Your presence that we would experience Your joy and love. Guide today Lord, and meet the needs of each child. Thank you, Lord for my family bless them and keep them. In Jesus' name, amen.
Wednesday Prayers for Friends
This Wednesday, Lord I lift up (insert friend's name) I ask that You would be their shield and defense. Protect them from anything that would want to come against them. Let them be victorious in everything You have called them to. Bless this day for them, and let them experience Your presence and goodness on a deeper level. Draw them close to You to the point they are even more transformed by Your love, Jesus! Thank You, for this friendship! In Jesus name, I pray, amen.
God, You are the God who sees. Today I ask that You would look upon my friend. Bless him/her this Wednesday and give them the grace needed to walk in Your ways. Give them a hunger for Your Word and presence. In Jesus name, amen.
More on Prayer
I thought it would be good to share more on the topic of prayer. So, if you are interested in growing in this part of your spiritual life. Please, feel free to check out some of the posts below or see all of them on my Prayer and Intercession section.
---
Well, I hope you have enjoyed these Wednesday prayers! If you like you can leave me a comment below. Feel free to share with me what Jesus is teaching you and what you are learning.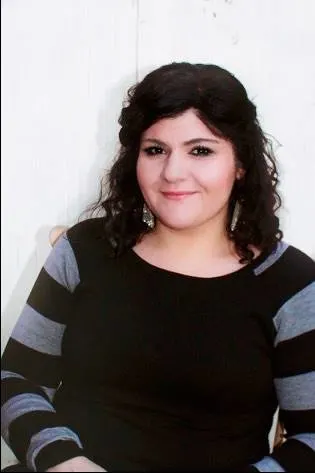 Melissa is a passionate minister, speaker and an ongoing learner of the Bible. She has been involved in church and vocational ministry for over 18 years. And is the founder of Think About Such Things. She has the heart to equip the saints by helping them get into the Word of God and fall more in love with Jesus. She also enjoys family, cooking, and reading.
She has spoken in churches in California, Oregon, Texas, and Mexico and has been featured in Guidepost Magazine and All Recipes Magazine. Read More…