A look at how fellowship with the Holy Spirit can draw us closer to God and bring transformation to our life.
I don't know about you, but when I think of the word fellowship. I picture a church potluck with loads of people connecting and having fun. But the thing is that's not really what fellowship is all about.
It goes so much deeper especially when we look at the fellowship of the Holy Spirit. So, today I want to share with you what I have learned about fellowship with Him and how we benefite from it. It's pretty amazing! And I hope it blesses you.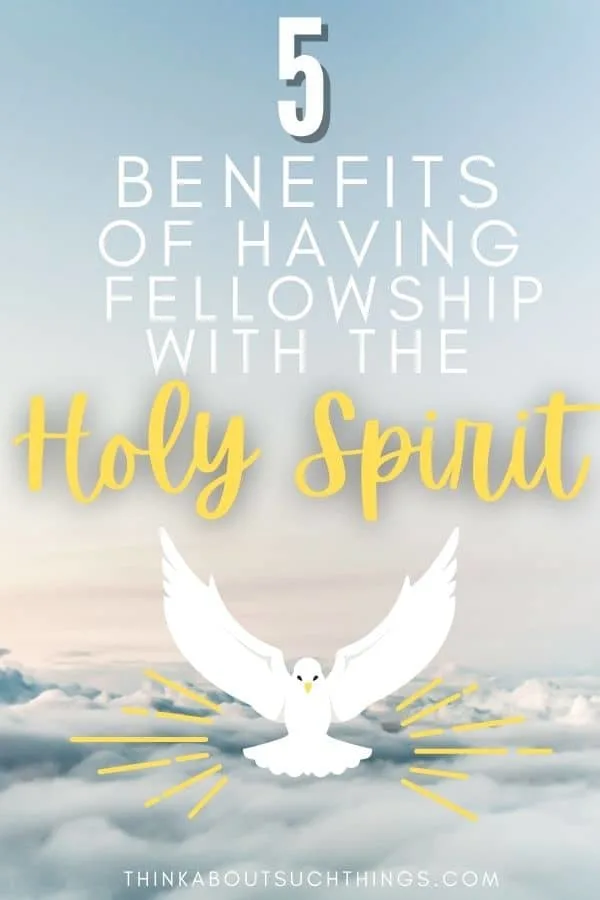 What is Fellowship With the Holy Spirit?
We see the phrase Fellowship with the Holy Spirit in 2 Corinthians when the Apostle Paul closes out his letter.
The grace of the Lord Jesus Christ, and the love of God, and the fellowship of the Holy Spirit, be with you all. – 2 Corinthians 13:14 NIV
So, what is fellowship? Well, according to merriam-webster dictionary (source). We see the word to mean companionship, association, comradely. But is that what the Apostle Paul meant when he coined the phrase, Fellowship of the Holy Spirit?
It's interesting to note that the word fellowship wasn't always used in that verse. In the King James Version we see the word communion as well in the Darby Version. And interesting enough we see the word communication (communicatio) in the latin vulgate.
So, we can already tell the word fellowship has a deeper meaning in the Greek then what we know that our modern English dictionary says.
The Greek word used is koinonia. We see this word used again in Philippians 2:1–2, and it is translated to mean fellowship in the KJV, and Darby. The Latin Vulgate uses the word society.
Therefore if there is any consolation in Christ, if any comfort of love, if any fellowship of the Spirit, if any affection and mercy, fulfill my joy by being like-minded, having the same love, being of one accord, of one mind. -Philippians 2:1–2 NKJV
So, what does this word Koinonia mean? According, to Strong Concordance we see it to mean, partnership, participation, intercourse, benefaction, communication, communion, distribution, and fellowship! WOW!
κοινωνία koinōnía, koy-nohn-ee'-ah; from G2844; partnership, i.e. (literally) participation, or (social) intercourse, or (pecuniary) benefaction:—(to) communicate(-ation), communion, (contri-)distribution, fellowship.
This sheds so much light on what it means to have fellowship with the Holy Spirit.
It shows a level of closeness and intimacy to the point where the Holy Spirit communicates with us and we communicate with Him! We become the Holy Spirit's partner! He dwells within us and we have communion with Him.
Augustine believed the word communion derived from com- "with, together" and unus "oneness, union." We come together with the Holy Spirit and become one (united) with Him as we partner and listen to His voice.
Is this beautiful?! That the Holy Spirit is willing and eager to be close to us and help us! What a good God we serve!
How to Spend Time With the Holy Spirit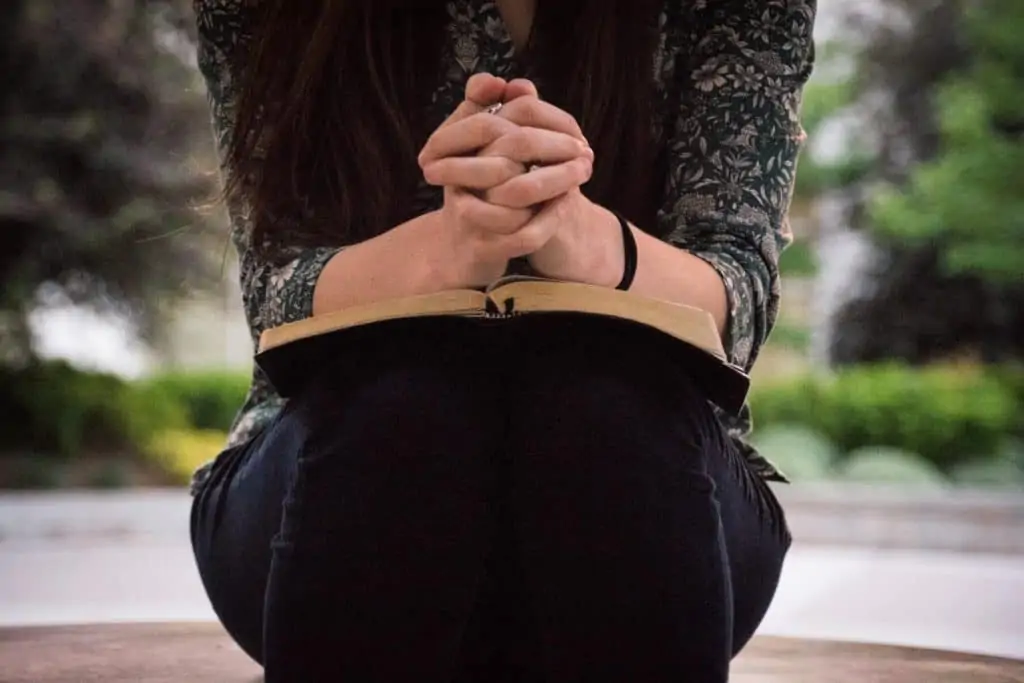 Spending time with the Holy Spirit is no different than spending time with God. The Holy Spirit is part of the Godhead and is God Himself.
The biggest way to spend time with the Holy is by making time for Him.
I know it doesn't sound profound, but it's the key to growing in intimacy with Him. Take time in your day to pray and worship. And invite the Holy Spirit when you read your Bible, ask Him to guide your day. He is always there with you. You just need to turn towards Him, acknowledge Him, and ask Him commune with you.
And remember the Holy Spirit wants to fellowship with YOU! He loves you and wants to spend time with you. Make a it a priority!
If you would like to learn more about the topic of the baptism of the Holy Spirit, then check out Our Kingdom Culture's post, The Importance of the Baptism of the Holy Spirit.
5 Benefits of Fellowship of the Holy Spirit
It's amazing what fellowshipping with the Holy Spirit will do for us on a spiritual, physical, and mental level. It can completely transform us! I want to share just 5 benefits today, but there are many other benefits.
I hope they encourage you to draw closer to the Holy Spirit and to know Him more.
Benefit 1: Intimacy with the Holy Spirit
Most of us desire to get closer to the Holy Spirit but we must realize that intimacy is a by product of time spent together. When we fellowship (spend time with the Holy Spirit) with Him we begin to deepen our relationship with Him.
It's no different then when you spend time with a friend or significant other. The more time spent the closer you will become. And the Holy Spirit is not some energy or some form of power. He is a person yet spirit.
Benefit 2: Hearing the Voice of the Holy Spirit
Hearing or seeing (Dreams and Visions) the Holy Spirit's voice is one of the key parts of fellowship. We get so close to Him that we can hear Him. And the closer we get the clearer we hear.
It's like the game telephone. The person right next to the one who starts the message hears it clearly, but the person who is 10th down the line doesn't.
Same if I use my talking voice to share information. You will hear me perfectly if you are sitting next to me. But if you move 30 feet away and I still talk in that same voice you will either not hear me or not hear me well.
The Holy Spirit talks in many ways, and one of them is in a still small voice (1 Kings 19:11-13). Fellowship with Him helps us hear Him when He does.
Benefit 3: Becoming Sensitive to the Holy Spirit
The Holy Spirit at times will nudge us or promote us to say or do something. Or many of times I have witnessed him nudge me NOT to say something. This sensitivity to Him grows and as we fellowship with Him.
Paul also told us in 1 Thessalonians 5:19 not to quench the Holy Spirit. We won't know if we are if we are not sensitive to Him.
Benefit 4: Producing the Fruit of the Spirit
If these benefits could have babies, number 4 would have 100 kids! This benefit gets deep and brings transformation to our life.
Paul talks about living in the Spirit and walking in the Spirit that which leads us to produce the fruit of the Spirit. This is all part of our fellowship with Him.
But the fruit of the Spirit is love, joy, peace, longsuffering, kindness, goodness, faithfulness,gentleness, self-control. Against such there is no law.And those who are Christ's have crucified the flesh with its passions and desires. If we live in the Spirit, let us also walk in the Spirit. – Galatians 5:22-25 NKJV
The fruit of the spirit affects us mentally, emotionally, spiritually, and physically. How?
We don't stress or worry like others because we have peace and joy. This helps our physical, mental, and emotional state.
We are able to make good decisions and say no to things that could cause us harm or be a sin because we have self control.
Our relationships with others prosper because we are walking in kindness, love, goodness, long-suffering (patience) and gentleness.
I don't know about you but I firmly believe that is the kind of Christian life we should all be experiencing. And we only get it one way…fellowshipping with the Holy Spirit!
Benefit 5: Greater Level of Operating in the Gifts of the Spirit
And the last benefit I want to talk about is the gifts of the Holy Spirit. He is the one who freely gives these gifts and causes them to operate in our lives. The closer we are with Him the more we will operate in the gifts of the Spirit. Which in turn builds up and strengths the body of Christ!
When I was little my grandpa would always give me a candy or small gift when I visited. The more I visited the more I got. If I didn't visit I got less. It didn't change his love me, but I was not able to receive as much because I wasn't with him to receive them. The Holy Spirit works this way too.
More on the Holy Spirit
Would you like to learn more about the Holy Spirit? I have a few other articles you might enjoy.
---
I sure hope you have enjoyed this post and it has blessed you. And more than anything I pray that your fellowship with the Holy Spirit would deepen and bring you great joy and peace!
Feel free to leave me a comment below. I would absolutely love to hear what you are learning about the Holy Spirit and how your walk with Him is growing.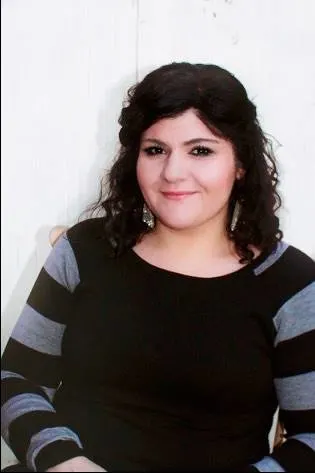 Melissa is a passionate minister, speaker and an ongoing learner of the Bible. She has been involved in church and vocational ministry for over 18 years. And is the founder of Think About Such Things. She has the heart to equip the saints by helping them get into the Word of God and fall more in love with Jesus. She also enjoys family, cooking, and reading.
She has spoken in churches in California, Oregon, Texas, and Mexico and has been featured in Guidepost Magazine and All Recipes Magazine. Read More…