In this article, we will be digging into Thursday prayer. We will focus on two main areas one on praying Thursday prayers and the other on sharing these prayers with friends or family So, let's get started…
As a Christian, prayer is such a impactful thing we can do. It changes us, and it can change situations and circumstances. God is faithful to hear our prayers and long for us to talk to Him.
I firmly believe we should be praying daily, and today we will look at some prayers we can pray on a Thursday.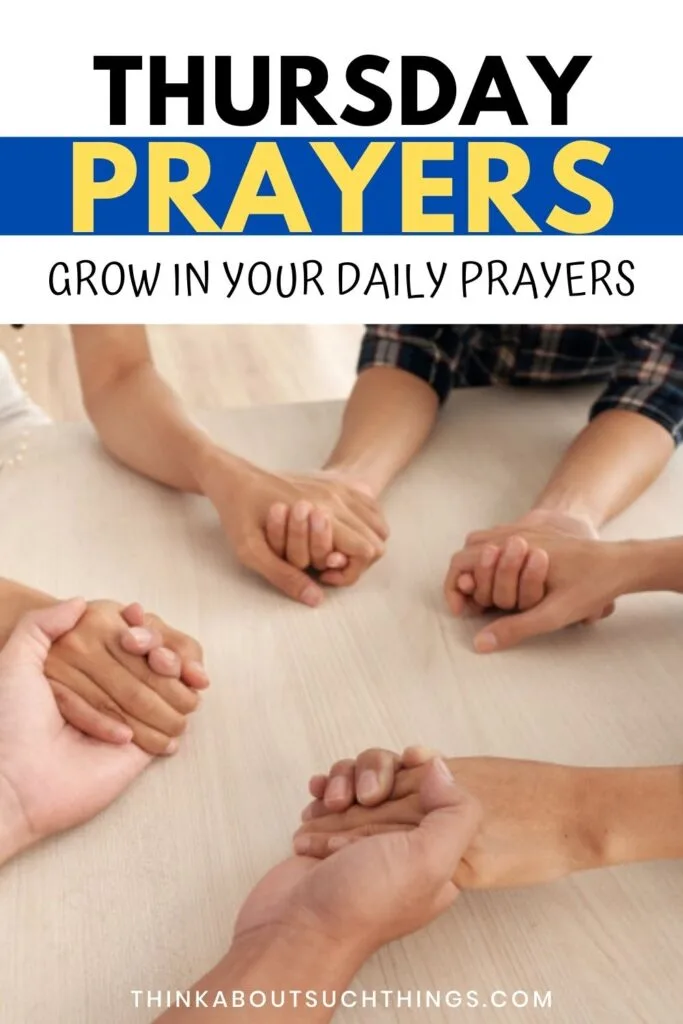 I am a BIG advocate for prayers being authentic and real before the Lord. So, before we move forward let's look at some important prayer tips that will help you.
Important Prayer Tips
I share a lot of different tips throughout my prayer and intercession posts. But I find that these 7 tips are really helpful when dealing with pre-written prayers.
I believe as Christians we need to be careful with pre-written prayers as they can become a crutch in our prayer life. These tips will help you to prevent that.
Read First- I encourage you to read the prayer before you start praying. This will help with understanding what the pray is about and if you want to pray it.

Always Personalize – Taking pre-written prayers and making them personal is a really good way to connect with the Lord and not let the prayer become just a religious act. You can mention specific situations and people.

Ask Holy Spirit – I always think it's a good plan before you start praying to ask the Holy Spirit to lead your prayer time. Ask Him to show you things to pray about. And He is faith to remind you of situations and people that need prayer. All of sudden someone will come to your heart for no reason. That's a good indicator to pray for that person.

Emotions Un Prayer – Emotionally unattached prayers and words that will never touch the heart of God. You want your prayers to be real and authentic. The Lord desires prayers of passion and heart. We see this throughout the scripture like Hannah's prayer for a child and man of David's prayers and psalms.

Be Inspired By The Prayers- Take pre-written prayer and let it become like a springboard from which you leap from and create your own prayer. These prayers can inspire you to bring forth an authentic prayer from the heart. You might not even pray that specific prayer but it can stir your heart to pray about something.

Connection – We are all in different times and seasons. Sometimes a pre-written pray hits you right in spirit. It was like if you had written it yourself. But let's be real sometimes they don't. You read and think…this is not where I am at. Don't feel like you have to pray that prayer. Just take some time aside and connect with God.

Remember pre-written prayers are just tools. They are there to help teach and inspire us. They should never replace your personal prayer time with Jesus.
Ways to Share a Thursday Prayer
If your goal is to find a Thursday prayers to share with someone you care about then you have come to right place! Sharing a prayer can really brighten someone's day and remind them that God is with them.
So, I thought it would be fun to share some other ways you can share these prayers.
Send a little email or text message using one of the prayers or prayer images.

Use one of the prayers and write it in a card to bless someone.

Place one of the prayers in/on a gift. This could be inside a book or on the package.

Write the prayer on sticky note and place where someone you know will see it and be blessed. An fun example would be to place a note in your child's backpack or your spouse's bag.

Share one of the prayers or prayer images on social media channel. This could be Twitter, Facebook, or Instagram.

Get a bouquet of flowers (you can even pick your own!) and tie a little note tag on it with a prayer.
Thursday Prayers
In this part we will look at some generic prayers for Thursday that can be prayed anytime throughout the day. After these prayers you will find some more specific like geared towards family and friends.
And feel free to use my images for personal use (like sharing on social media). If you wish to use one of the images or prayer for a site then please contact me for permission.
---
Father God, I come before you this Thursday and I ask that You would give me eyes to see and ears to hear what Your Spirit is saying and doing. Give me a spirit of wisdom and revelation. So, that I may know the hope of my calling through Christ Jesus. In the mighty name of Jesus, amen! (Ephesians 1:17)
Precious Jesus, I lift up this Thursday to you and ask that You be close to me all day. Let me be aware of your Presence and Your voice. That way I can follow your leading in everything I do. Help me to have Godly wisdom when I am making decisions throughout the day. From the smallest choices to the large ones, be my guide and help. In Jesus' name, amen.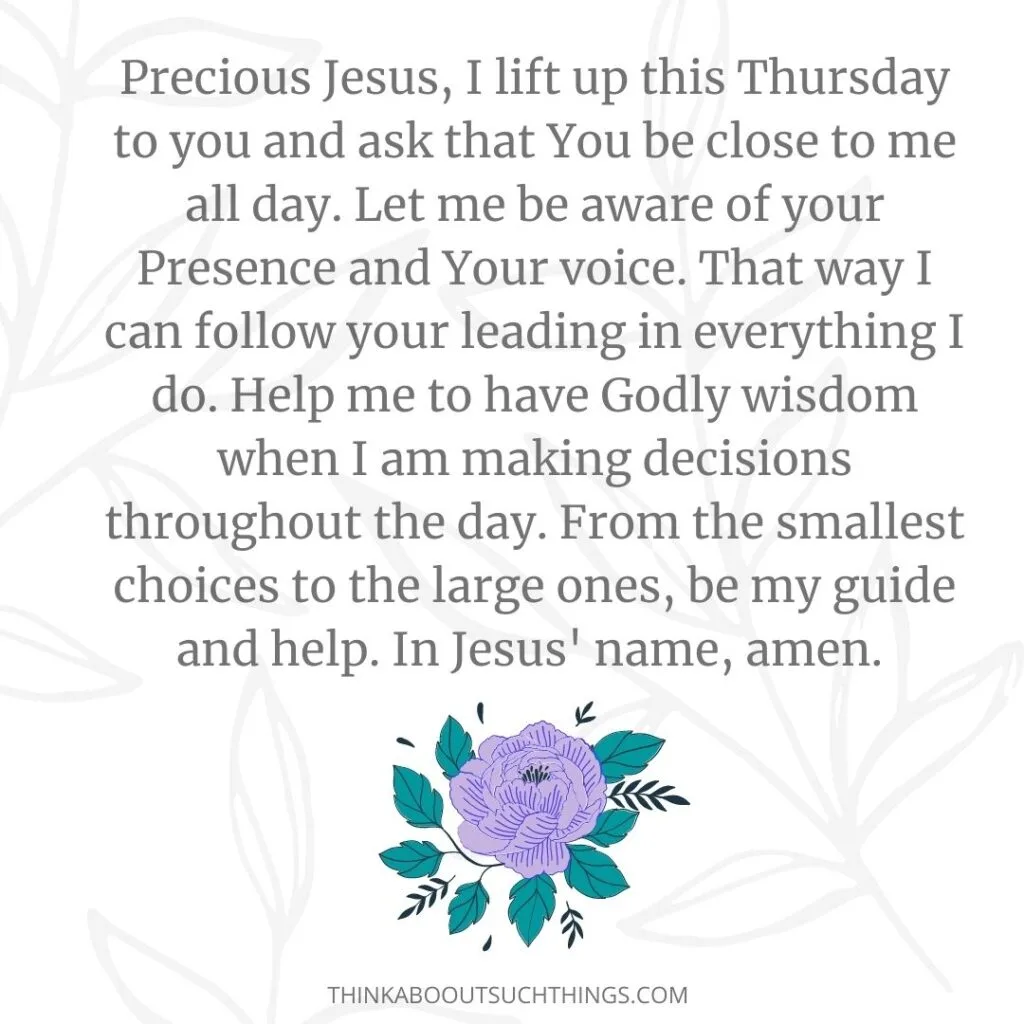 Heavenly Father, thank you for this Thursday. Help me to slow down today and to be still in Your wonderful presence. Teach me to rest in You and trust that You will guide me throughout the day.
Heavenly Father, thank you for this Thursday. Help me to slow down today and to be still in Your wonderful presence. Teach me to rest in You and trust that You will guide me throughout the day. In Jesus' name amen.
Thursday Morning Prayers
Lord, I pray that this Thursday would be a good day. That you would give me wisdom in my heart that no matter what comes. I can rest in You, knowing you will help me through it. Give me kindness and patience when working and talking with others. Let your love shine through me. In Jesus name, amen.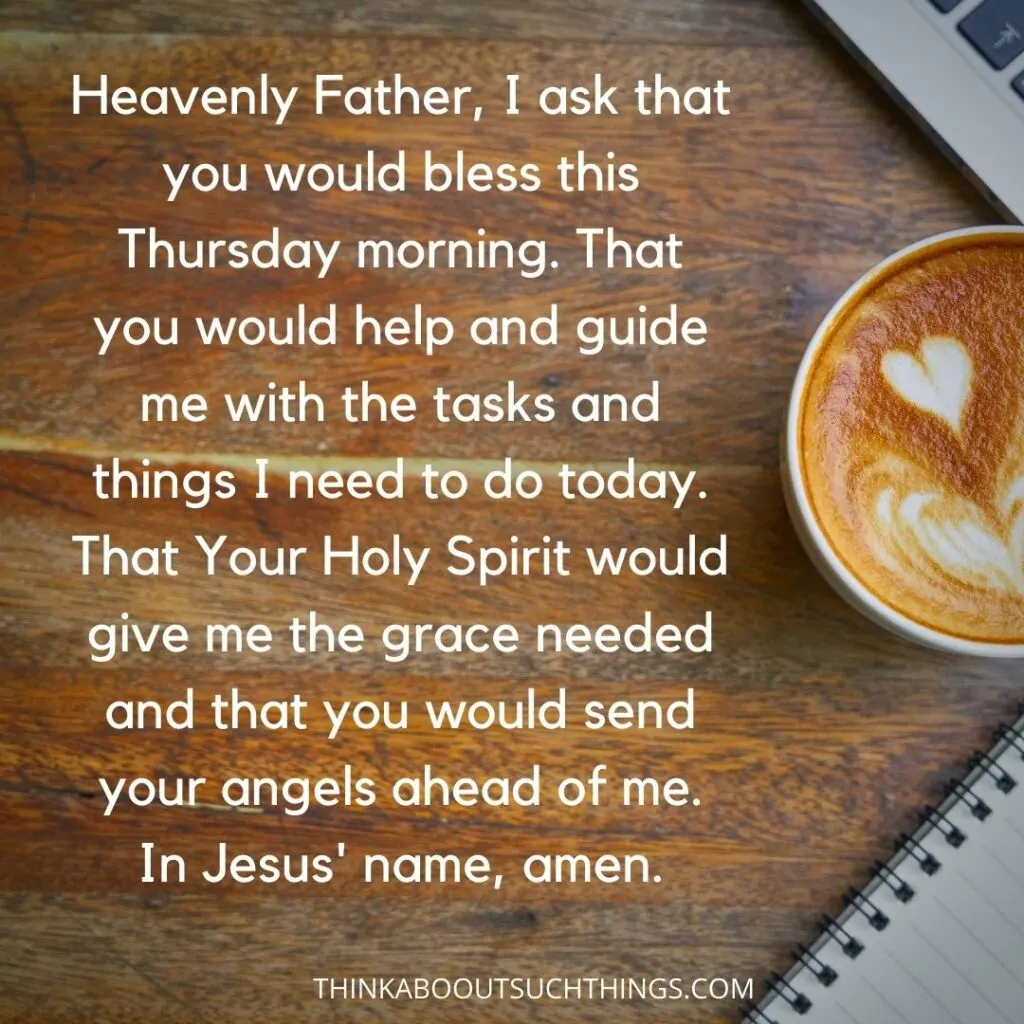 Heavenly Father, I ask that you would bless this Thursday morning. That you would help and guide me with the tasks and things I need to do today. That Your Holy Spirit would give me the grace needed and that you would send your angels ahead of me. In Jesus' name, amen.
Thursday Night Prayers
Lord Jesus, I give You praise for you are good! Thank you for this Thursday night. Thank You that You never leave me nor forsake Thank you for all that you do in my life. Lord, draw me closer to You and transform me to be more like You. Let me be one that bears good fruit. Give me the kind of fruit that lasts and that glorifies You. In the powerful name of Jesus, amen!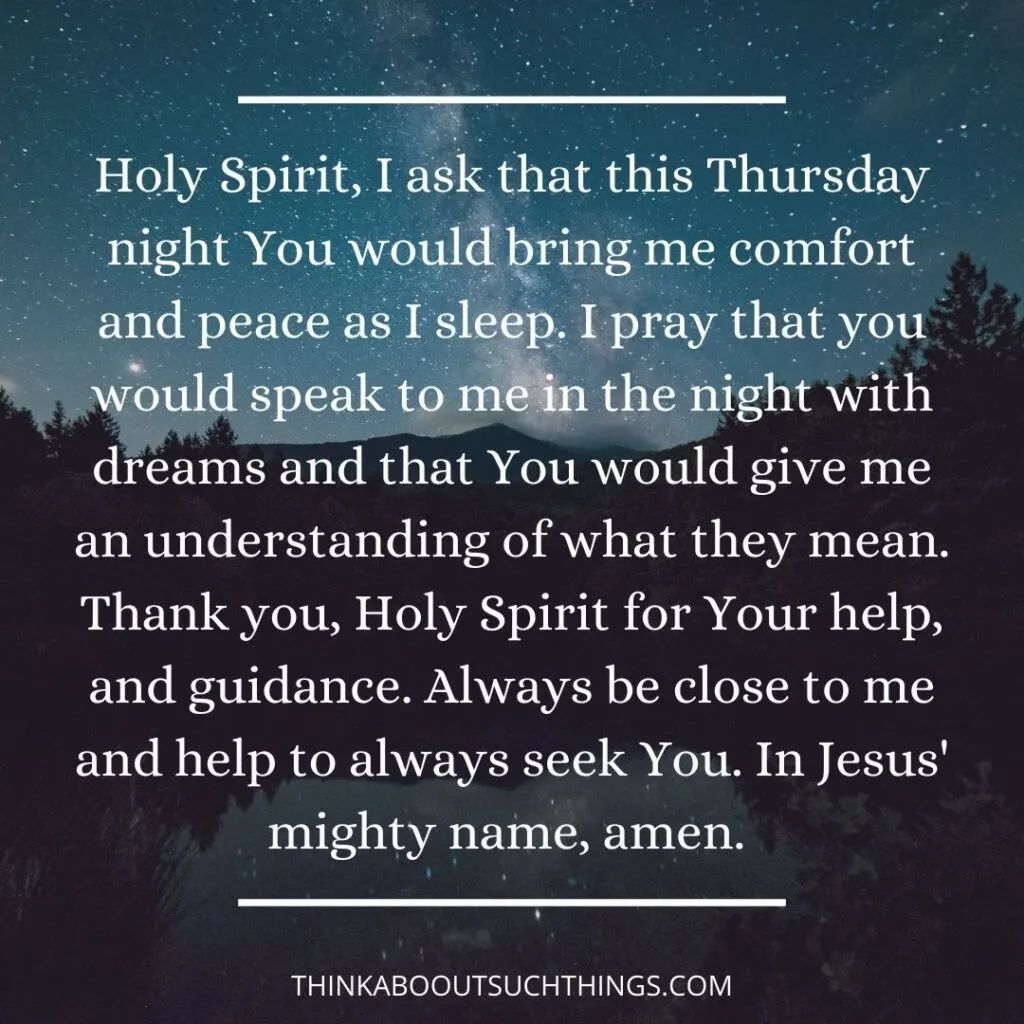 Holy Spirit, I ask that this Thursday night You would bring me comfort and peace as I sleep. I pray that you would speak to me in the night with dreams and that You would give me an understanding of what they mean. Thank you, Holy Spirit for Your help, and guidance. Always be close to me and help to always seek You. In Jesus' mighty name, amen.
Thursday Prayers for Family
Heavenly Father, I thank You for my family. Thank you for my spouse and children. You have truly blessed me and I give you praise for showing me so much kindness and goodness. Lord, draw my family close to You and wrap them up in Your loving arms. Watch over us and assign angels to protect us this Thursday. In the mighty name of Jesus, amen.
God, on this Thursday I want to thank You for my wonderful family. I ask that You keep us in unity and peace. That every single person would come to know your saving grace and accept Your son, Jesus as Lord and Savior. And for those that already know You, I ask that our hearts would be intertwined in Yours. That we would experience Your love, and grace on a deeper level. In the name of Jesus, amen.
Thursday Prayers for Friends
Lord, I lift up my friend (insert name) this Thursday. I want to say thank You for him/her. I pray that You would cover them and that they would remain under the shadow of Your wings. (Psalm 91). Bless our friendship Lord and help us to be like iron sharpens iron. That we would build each other up in faith. (Psalm 27:17). Give (insert name) the wisdom and grace needed in this season. Bless him/her greatly. In Jesus' name, amen.
Heavenly Father, I bring before You my friend. I ask that today You would pour out Your Spirit upon them. That they would feel Your presence and love. Give them wisdom and grace they need in the situations that they are facing. In the name of Jesus, amen.
More Prayer Topics
Hungry to grow in prayer?? I have section of articles all on tje topic of prayer that you might enjoy reading. You can check them out below or see all of them on my Prayer and Intercession section.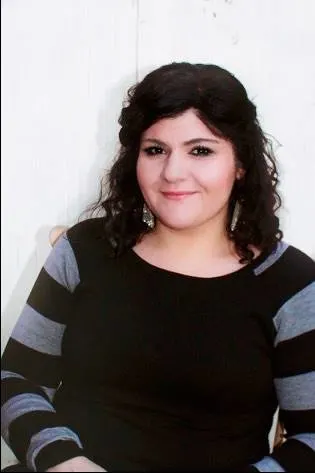 Melissa is a passionate minister, speaker and an ongoing learner of the Bible. She has been involved in church and vocational ministry for over 18 years. And is the founder of Think About Such Things. She has the heart to equip the saints by helping them get into the Word of God and fall more in love with Jesus. She also enjoys family, cooking, and reading.
She has spoken in churches in California, Oregon, Texas, and Mexico and has been featured in Guidepost Magazine and All Recipes Magazine. Read More…